Uncategorized
Nico Rosberg Beats Lewis Hamilton, Finally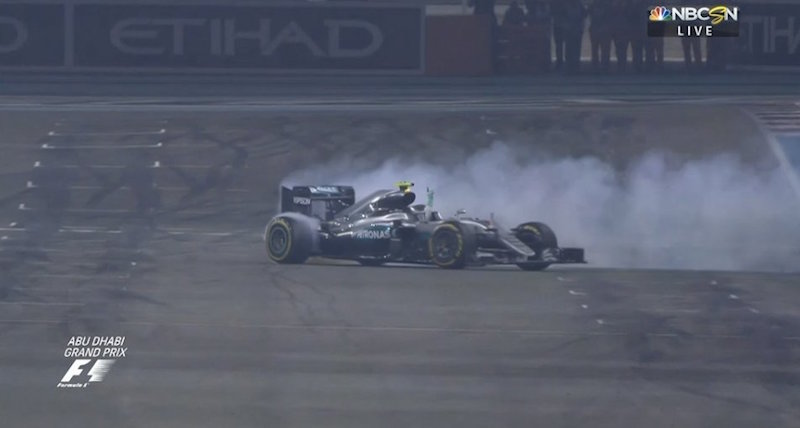 In a battle that was fought all season long, Nico Rosberg finally beat Lewis Hamilton to claim top honours and win his first-ever Formula 1 Drivers' Championship title. (Nico Rosberg Suffers From Major FOMO)
Rosberg, who has won critical acclaim for his 'clinical approach', did enough to qualify and finish the race in 2nd position earning him enough points to finish ahead of team-mate Lewis Hamilton in the Drivers' Championship. (The Best Driver Did Not Win)
The hallmark of Rosberg's championship challenge would be consistency and a simple statistic to aid this would be that Rosberg has qualified in the first two positions for the last 26 races.
By winning the 2016 Drivers' Championship, the Rosbergs (Nico and Keke) become the second father-son duo after the Hills (Graham and Damon) to become Formula 1 World Champions.
Lewis Hamilton, despite winning 10 races in the 2016 Formula 1 Season (one more than Rosberg), lost a World Championship to a teammate for the first time in his racing career. And for the record, Hamilton drove brilliantly in Abu Dhabi to not just win the race, but try and back Rosberg to the fast chasing Ferrari of Vettel and Red Bull Racing car of Verstappen in an attempt to push his teammate off the podium – a race result that would've handed him his 4th title. (Hamilton and Verstappen, F1's Dream Team?)
Social media was abuzz if Hamilton's tactics were unsporting given Mercedes' multiple team messages and instructions to pick up the pace and protect the 1-2 for the team. In a pre-race instruction from the team, Hamilton was warned to not back Rosberg up and he did just that. Was it fair? For Hamilton, I would think so. For Mercedes, of course not. A classic but rare clash between the team and drivers objectives. Paddy Lowe indicated post-race that he wasn't sure if Hamilton would earn some sort of reprimand from the team, but that's a story for next season. (Thank You For No Team Orders, Mercedes)
And here are some of our highly subscribed and listened to episodes of the Inside Line F1 Podcast for you to tune-in:
Not Hamilton or Rosberg, 2016 Will Be Remembered For Max Verstappen
Let's Not Belittle The Formula 1 Drivers' Championship
Loading...