I was in Berlin to experience Jehan Daruvala's rookie test with Mahindra Racing – also his first time racing the all-electric Formula E car. Here's my report.
---
"Yes, it is," said Jehan Daruvala when I asked him if the Formula E rookie test was an important day for his Motorsport career.
"I want to drive in Formula E in the future, so I need to do well (in the rookie test) and impress Mahindra Racing!" said Jehan.
The official rookie test of the 2022-23 Formula E season was held at the end of April in Berlin. Jehan, who is the official reserve driver for the Mahindra Racing team, was one of three rookies to participate in the test for the team.
I was in Berlin to experience this important moment – Jehan's first test for an Indian-owned works racing team, one that is also one of the founding teams of Formula E. I've followed Jehan's career since his karting days (Force India's One from a Billion Hunt in 2011), so watching the-then 12-year old karting prodigy getting to grips with a Formula E race car for the first time was a special moment for me, too.
Importance of the rookie test with Mahindra Racing
Explaining the importance of the rookie test for Mahindra Racing, Jehan said, "Obviously, there have been many big days in my Motorsport career so far. I think being part of the Red Bull junior team earlier and even Force India, having my first Formula 1 test last year (with Mclaren) and now this is another important day in my career."
"Being myself, really, I know that I'm good enough. So as long as I drive anywhere close to my best, I think that should be a good showing," said a confident Jehan when quizzed about his personal target from the rookie test.
And when asked if he was feeling any nerves before his debut Formula E run, Jehan said, "To be honest, pretty relaxed. Of course, it's my first time, so I don't really know what to expect. So there'll be a little bit of nerves (on the morning of the rookie test), but that's kind of normal for me. To drive for a manufacturer team in Formula E is different from driving for independent teams in Formula 2. But I'm going to have a good night's sleep and I'm not going to worry about it too much."
Jehan's day started early – he was at the track at 6.30 am for a track walk with the team. Along with his first time in a Mahindra Racing car, the rookie test was also going to be his first time around the Tempelhof Airport Street Circuit – also the venue of the Berlin ePrix.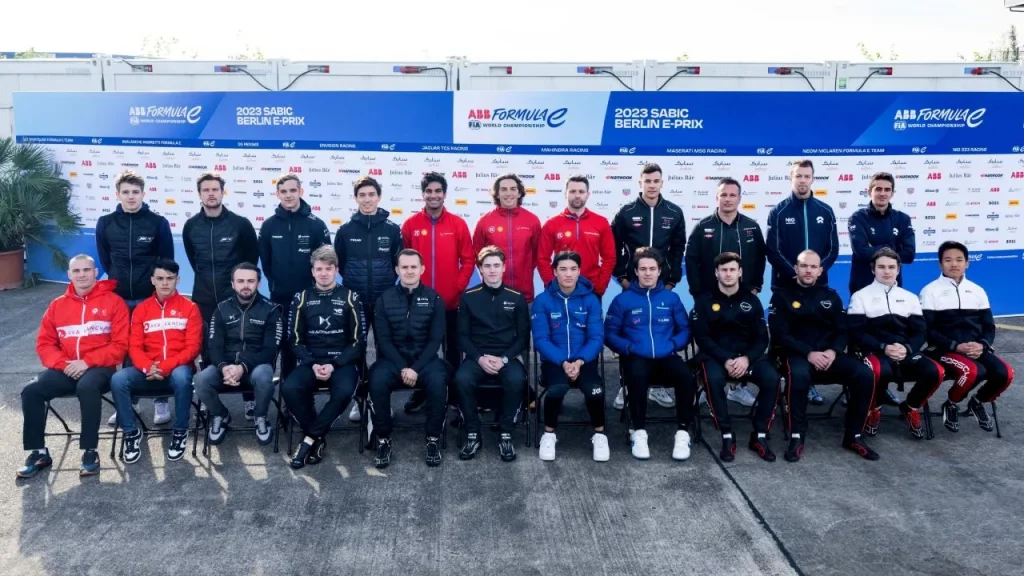 Preparing for the rookie test with Mahindra Racing
"I spent a few days in the team's simulator. I've been here all weekend (for the double header) for the Berlin ePrix. The Formula E car is a lot more complicated than what I normally drive, there are a lot more electronics to it. There are a lot more switches and buttons as well. In the simulator, I did over 100 laps – going through short runs, long runs and focusing on getting comfortable."
"Frankly, I've had all the preparations necessary apart from actually driving the real car. That's going to be my biggest test!" said Jehan.
The three-hour long morning session of the rookie test started at 9 am. The team at Mahindra Racing that was assigned to run Jehan through the day did well to help him settle in. Jehan's initial runs were done with the powertrain output set to 300 kW. However, it wasn't long before the team-driver felt comfortable to deploy the full 350kW as they chased performance and lap times.
I followed Jehan's sessions via his pit-to-car radio and two things were very apparent. Jehan and his engineer's comfort with each other – it showed that the team had prepared well on the human front as well. The second, Jehan's detailed feedback to the team on what the car was doing at each corner and the tarmac in between.
The most-impressive part for me was the little time Jehan needed to learn the track. He was almost on the pace by his third run! His early run plan included two push laps between either returning to the pits for a debrief or a cool down lap. As he got more comfortable with the car and the track, Jehan was doing one push lap – basically, qualifying simulations (or short runs).
Jehan Daruvala's maiden Formula 1 Test with Mclaren
Racing a Formula E car with Mahindra Racing
On the day before the test, Jehan and I spoke about the different cars he's driven in the last 12 months – Formula 2, Formula 1 and now Formula E; a dream for any driver pursuing a career in Motorsport.
"A Formula E car is actually more difficult to drive. These cars don't have downforce – so they're more slippery, and they use road car tyres," explained Jehan. He further explained, "I've not driven a car without downforce for 5 or 6 years now!"
"The test will be a matter of how fast I get up to speed. I have no doubt that once I am used to the car, I can get to the limit straight away and be fast. I've full confidence in my own driving ability. At the end of the day, I know that I will be compared to the other Mahindra Racing drivers (rookies and race drivers) and I expect myself to be faster," expressed Jehan.
There was gradual progression in Jehan's runs – after playing catch-up with other rookie's times as he learned his way around, he started matching them before eventually beating them!
In the dying moments of the morning session, Jehan clocked a lap that classified him 3rd – only a tenth off first place. With a time of 1:05.92, Jehan had gone quicker than Mahindra Racing's regular race drivers' (Lucas di Grassi and Oliver Rowland) qualifying lap time from Race 1 of the Berlin ePrix. There was delight and surprise in the Mahindra Racing garage and pit wall as a reaction to Jehan's super quick lap time.
Feedback on Jehan's rookie test with Mahindra Racing
Oliver Rowland, who coached Jehan during his Formula Renault days, stayed back for the rookie test to coach Jehan. Rowland was impressed with Jehan's performance and said, "He's never been in the car before. I think he did very well. He made no mistakes and built up to it slowly but steadily."
"Jordan (King, one of the other rookies for Mahindra Racing) has driven the car before so it was normal that he started ahead. There came a point when they (Jehan and Jordan) were quite close (in lap times) and then Jehan did a good job in the end to finish ahead in the classification."
"Also, Jehan's feedback was good – we can use this as a test session for the race team. He has proved that the speed is there already and then it's about finding consistency at this pace," said Rowland.
Mahindra Racing's Team Principal Frederic Bertrand was impressed by Jehan's performance, too. He said, "He's helping himself by doing good times (at the rookie test). We want to understand how Jehan's experience and performance can be transferred to Formula E. We want to understand how he can manage the car, the flow of the information, how he's approaching the test & progression through the sessions."
Jehan Daruvala interview on Formula 2, Formula 1 and Formula E future with Mahindra Racing
Adapting to Formula E
By the end of the test day, Jehan had driven 112 laps – and his fastest lap time of the day (set in the morning session) saw him classified sixth overall. Several notable drivers from other categories had participated in the test – Felipe Drugovich (reigning Formula 2 champion) and former Formula 1 driver Daniil Kvyat, to name a few. But of course, while these drivers were rookies in Formula E, they had several years of experience in other competitive racing series.
Summarising his test, Jehan said, "I was competitive in both sessions. I ticked all boxes – I didn't make any mistakes and I gave good feedback. Frankly, the car isn't that far away from the simulator."
"The car reminded me of my go-kart days! It was a lot of fun to drive. It slides around a lot and you can really fight with the car. The first lap was a bit strange – when I didn't hear much of a sound from the engine!" explained Jehan of his first time racing an electric car.
"There's a lot of power, you get all the torque straightaway! It took a couple of laps to get used to that. The other difference is the tyres. The main difference to the Pirellis (used in Formula 2) is that you get one or two shots for a good lap time. After that, they're done. In my test, I used one set of tyres (Hankook) from the end of the morning to the end of the afternoon and they were consistently delivering good lap times," said Jehan.
"Formula 2 and Formula E cars are very different to drive. There's not much one can take from one series to the other – one has to adapt to the car itself. At the level that I am racing, it is expected that I am able to adapt fast enough. I'm expected to do well in any car I jump into!"
Next up for Jehan in Formula E would be the 'FP0' session in the Rome ePrix where teams have to field a rookie driver. Mahindra Racing is yet to announce their driver for this session but one assumes that Jehan's performance in the rookie test will give the team confidence to choose him over the other rookies, Jordan King and Roberto Merhi.
This interview was first published on www.autox.in