IPL wasn't the only sport Disney+ Hotstar lost streaming rights to in the recent past; it decided to let go of Formula 1 rights as well. It has led to a situation where, for the first time in two decades, F1 doesn't have an official broadcaster in India. Kunal Shah writes.
"Where are the 31 million Formula 1 fans in India?"
I've often asked myself this question. In January 2020, Formula 1 released an official broadcast report and India was listed as one of its top-5 markets with 31.1 million fans.
For a country that's in the top-5 markets for Formula 1, the current state of affairs for Formula 1 in India is a bit of a dichotomy. For the first time in around 20 years, Formula 1 doesn't have an official broadcaster in India.
Star Sports, the official broadcaster through the ages, chose to not renew their rights with Formula 1. As the start to the 2023 Formula 1 season neared, Formula 1 failed to sign-up an official broadcaster for India — forcing the sport to launch its own live streaming service, F1 TV, in India.
The decision came as a shock to Formula 1 fans in India, however, the sport has been in a steady state of decline since the last few decades. This holds true for India hosting a Grand Prix and for Formula 1 broadcast in India.
But first, the highs
Formula 1 experienced a high in India in the early 2000s — with Narain Karthikeyan and Karun Chandhok on the brink of racing in the sport. The hype was further fuelled by a broadcast deal with free-to-air state television, Doordarshan. It was reported that Bernie Ecclestone, the then-owner/CEO of Formula 1, 'paid' Doordarshan to broadcast the races. The result was a viewership of approximately 60-70 million in India.
As the sport moved away from free-to-air television, ESPNStar (Star Sports' earlier avatar) was the official broadcaster. In fact, for a couple of seasons, Formula 1 action was broadcast simultaneously on ESPNStar and TEN Sports. I remember switching between the channels when the other chose to take an ad break!
As the seasons went by, ESPNStar added pre/post-race programming to their broadcast. Steve Slater became synonymous with Formula 1 broadcasts in India, as did his legendary race opening line, "As the five red lights illuminate…and as they go out, the race is GO!"
Chris Goodwin, Matthew Marsh, Alex Yoong and Paula Malai Ali became household names in India. ESPNStar's broadcast of Formula 1 went a long way in shaping the Formula 1 fans of that generation, me included.
The decline
As ESPNStar morphed into Star Sports, one of the first impacts that Formula 1 broadcast faced in India was with the dropping of the pre/post programming around Qualifying and the Race. For years leading up to 2022, the official broadcast only included the 'world feed' that Formula 1 would offer to all broadcasters.
Basically, Star Sports stopped investing in peripheral Formula 1 content — a key step towards engaging fans further with a highly-complex sport. While fans have expressed their displeasure over the years, for Star Sports, this was a business decision they needed to take.
Years later, the broadcast moved away from the standard definition format (with wider reach) and became high-definition only. While the quality of the feed improved for the fans, surely it would've impacted the reach of the sport.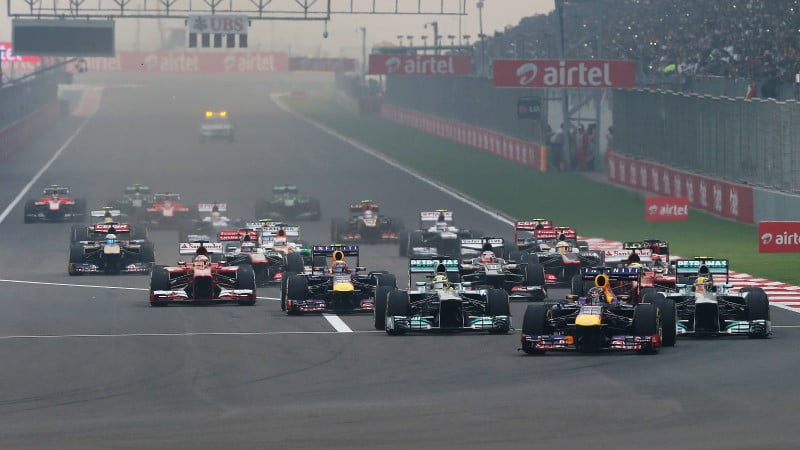 The numbers
While India features in the top-5 fan markets for Formula 1, it has been reported that from a television viewership stand-point India fails to feature even in the top-20 list. The live viewership per race is roughly in the region of 6 million (TV and streaming) – a number that's a shade of what other sports can garner in terms of eyeballs.
In comparison, the home-grown and ever-popular Indian Premier League reportedly attracts a viewership that's 10x of Formula 1. Similarly, the other home-grown leagues such as Pro Kabaddi and Ultimate Kho Kho have attracted larger audiences at an affordable cost. In many ways, the success of home-grown leagues and sports has impacted Formula 1 in India.
Understandably, Formula 1 fans have blamed the bias towards Indian sports leagues for the lack of interest shown by broadcasters. But there are some facts that need to be understood for broadcasters to move in this direction.
Formula 1 vs. India
Much as every other international business wanting to expand internationally, Formula 1 has also repeatedly expressed that India is a key market — the most-recent admission coming in February 2023 when the FIA President Mohammed Ben Sulayem visited India for Formula E's Hyderabad ePrix. However, Formula 1 has struggled to crack the Indian market despite having a Grand Prix in the recent past and an Indian-owned team, Force India.
After Liberty Media's takeover in 2017, Formula 1 has, by their own admission, focused on stabilising itself in the traditional European markets while focusing on growth in the United States of America. In 2023, Japan and Singapore are the only races in Asia – a far cry from when China, India, South Korea, Russia and Malaysia also hosted Grands Prix not too many seasons ago.
This leads me to the first question: if Formula 1 isn't prioritising India, why should Indian broadcasters prioritise Formula 1? After years of planned marketing activities and exposure, Formula 1 is finally getting a stronghold in the US. For the first time in decades, the US will host three Grands Prix in a single season. It's only fair for other markets, such as India, to expect similar wooing and investments from Formula 1 to grow the sport locally.
The second question is of cost vs. value. Is Formula 1 delivering as much value for the cost it comes at? After failing to sign a broadcaster in India in early 2023, Formula 1 released an official statement explaining their plans for India and giving some insights into why there wouldn't be an official broadcaster. "We also obviously talked to Star and one or two other more traditional platforms and we felt that they didn't value our rights in the way that we did," said Ian Holmes, Formula 1's Director of Media Rights, in a statement to Reuters.
Based on my understanding, one of the bigger concerns for broadcasters in India was the price at which the Formula 1 rights were pitched at. Yes, Formula 1 has seen a global expansion in fan base, but for India, the rights seemed overpriced. As one of my friends in the media joked, one could host another season of a home-grown league for the price of Formula 1's rights!
The third question is about commercial success: Advertiser interest in Formula 1 has also seen a declining trend in the last many years. I am told by trusted sources that Formula 1's broadcast in the mid and late 2000s attracted more advertising money than it has in the recent-past. This puts into perspective why hosting another season of an Indian-sports league, which the advertisers love, would be more lucrative than buying Formula 1's rights. Again, trusted sources have long indicated that Formula 1 rights were loss-making or in a good year, just about breaking even.
Finally, it is important to iterate the role of a broadcaster in marketing a sport and engaging its fan base. Just as every other country, India too has experienced a positive effect of Netflix's Drive to Survive, Formula 1's highly-popular documentary. The next step for a fan to get closer to Formula 1 would be to consume live and non-live content. This is where the broadcaster plays a key role.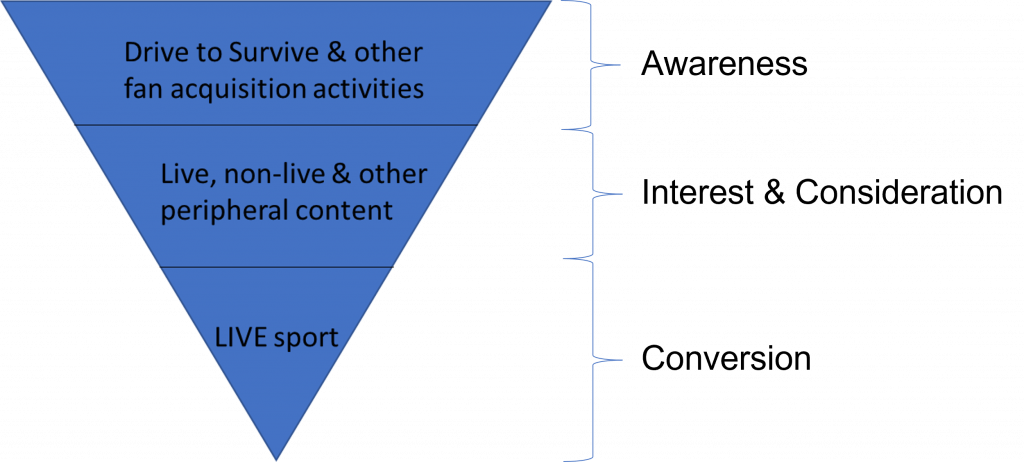 Formula 1's fan acquisition funnel envisioned
It can be argued that F1 TV could fit into this role, but not in a market like India where most consumers aren't used to subscribing to a service to access a single sport at a price that's much higher than what was paid in the many years before.
To bring more numbers to this discussion, an annual subscription of Hotstar Premium priced at INR 1,499 would give you access to Formula 1 and other sports that Disney+ Hotstar would have the rights to. Basically, one would have a higher quantity of sports to consume.
In contrast, F1 TV Pro's price in India is 2x (or INR 2,999) — in classic quantity vs. quality debate. F1 TV Pro's offering is far superior with live timing access, on-board cameras, pit-to-car radio and in-depth pre/post race coverage. The F1 TV Pro subscription also includes live streaming of Formula 3 and Formula 2 — the latter witnessing strong results from two talented Indian drivers, Jehan Daruvala and Kush Maini.
Admittedly, F1 TV Pro's service is targeted towards the purists who are eager to get closer to the sport and don't mind paying the extra bucks. For the fence sitters and casual viewers, a broadcaster is understandably the more practical option. It's definite that by not having an official broadcaster in India, Formula 1 risks losing out to those who don't identify themselves as purists.
Of course, Formula 1 is aware of the repercussions of their inability to strike a broadcast deal and the more-expensive alternative in F1 TV Pro. But I believe that they ran out of alternatives with regards to a traditional broadcast agreement and launched F1 TV Pro so that Indian fans had a way to consume the sport officially.
What's next?
India is also seeing a shift in broadcaster mindset — ownership vs. rent. There is longer term value to be created by owning a league (on-ground and on-air; a la Pro Kabaddi in which Star Sports is a majority partner) than just 'renting' rights to a league owned by someone else, which often goes to the highest bidder. Indian broadcasters have long played the bidding game when it came to rights to broadcast cricket and maybe they didn't see Formula 1 worth out-bidding each other for.
And finally, talking of bidding for rights — I suspect that the battle for Indian Premier League rights in 2023 was another reason why Formula 1 failed to sign a broadcaster. Understandably, the stakes are very high with the Indian Premier League, and it was only a coincidence that Formula 1's rights renewal came in a year when two of India's largest broadcasters were engaged in battle to grab a large piece of the pie that is cricket's most-lucrative league.
I have a feeling that Formula 1 might be successful in striking a deal once the current season of the Indian Premier League ends in May. This could mean that for the first time in India, a dual model will be pursued – local broadcaster/streaming partner and F1 TV Pro.
Could June bring good news for Formula 1 fans in India? I certainly hope so.
Kunal Shah is a former single seater racer and an FIA-accredited TV & print journalist for Formula 1 and Formula E. He was the Head of Marketing & Sponsorship for the Force India F1 Team and is the founding co-host of the Inside Line F1 Podcast.
This post was first published on www.livemint.com, India's second-largest financial news medium.