Did You Know? F1 History, Stats & Facts: Losail Circuit, Qatar GP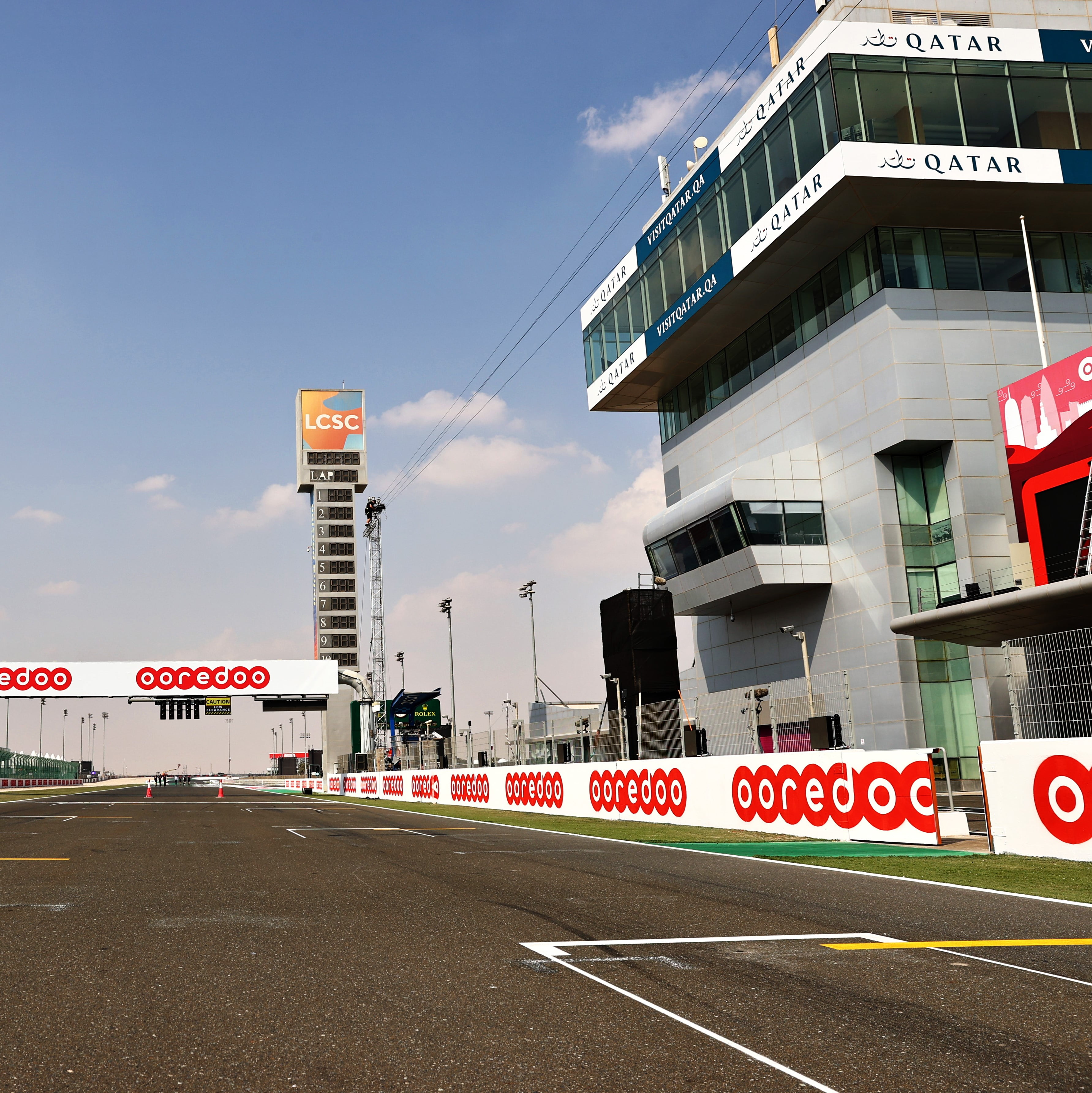 'Know Your F1 Circuit' is a new series launched on my F1 blog. The posts under this series will be penned by Saumil Patel, an avid fan of the sport. You can follow the full series throughout the season by using the 'Know Your F1 Circuit' tag. This post focuses on the F1 facts, history & stats of the 'Losail International Circuit' – the latest venue to host a Formula 1 Grand Prix!
The Losail International Circuit is situated in the desert on the fringe of Lusail town, north of capital city Doha, on Qatar's eastern coast. The closest international airport is the Hamad International Airport (DOH) at a distance of 30.1km. Travelling to the circuit takes a shade under thirty minutes. The cheapest mode of transport, if you are there for the weekend is to use the taxi service which costs around US $ 70 to 80 one way, the second option is to rent a car from the airport which costs US $ 55 per day plus a dollar fifty for gasoline one way.
One of the standouts in the last few races has been that despite very apparent performance swings, Max Verstappen & Lewis Hamilton have traded 1-2s to minimise title damage. Bottas-Perez haven't snucked into P2 to help either #1 driver.#F1 #InsideF1

— Kunal Shah (@kunalashah) November 15, 2021
Formula 1 History: Losail Circuit, Qatar:
The purpose built MotoGP circuit was constructed in a little over a year at a cost of US $58 million by the Qatar Motor and Motorcycle Federation. Nearly a thousand, strong construction crew toiled round-the-clock and completed the circuit in time for the inaugural Marlboro Grand Prix scheduled for the weekend of 30th September – 2nd October 2004.
In 2008, a permanent outdoor illumination system was installed, making the Losail International Circuit the world's largest and first night illuminated MotoGP racing venue of the period. The technically challenging installation was successfully undertaken by an American company, Musco Lighting,. Although the raw statistics are overwhelming – 500km of electrical wiring, 1,000 lamp posts, 3,600 floodlights, 44 generators (each producing 13 Megawatts), 1,300 engineering man-hours and 175 days to complete, it is the technical aspect of accurate lumen dispersion which is commendable.
The circuit is illuminated by multiple narrow light beam bands focused on the circuit which have an accuracy of one tenth of a degree. This delivers adequately high levels of illumination for the camera crew while eliminating shadows and glare for the spectators and riders who are enabled to clearly see the braking markers and warning flags unhindered.
The circuit hosted the first night race in the history of the motorcycle world championship in 2008, which doubled as the season opener.
The circuit is a busy one, regularly hosting prestigious events since its inauguration which include MotoGP, Superbike World Championship, World Touring Car Championship, Motorcross World Championship, Speedcar Series, and GP2 Asia. Losail hosted only one Grand Prix Masters championship in 2006 which was won by 1992 F1 champion Nigel Mansell.
Sergio Perez is the only driver from the current pool of Formula 1 drivers to have won on this circuit (2009 GP2 Asia Championship).
Circuit Information: Losail Circuit, Qatar:
Losail is a purpose-built permanent asphalt motorcycle racing circuit running 5.380km clock-wise with an elevation deviation of 6.7m. It features a single full throttle 1.048km straight and sixteen medium and high-speed corners (10 right, 6 left). Corner 1 is the first braking section, demanding a deceleration of 100km/h with the best overtaking opportunity. Corner 3 is a fast right hander. Corners 4 and 5 are 90° right handers.
Corner 6 is the tightest and slowest corner on the circuit. Exiting corner 7 is the beginning of the technical portion of the circuit, a fast – slow, right – left combination of corners. Corner 8 is taken full throttle. Corner 9 is a fast right hander exiting into corner 10 which is slow left hander. Corners 10 through 12 are taken full throttle. Corners 12, 13 and 14, triple right-hand apex are quite like Istanbul's corner 8 in the opposite direction.
A bit of braking section before entering corner 15 which is a reasonably fast right hander, exiting full throttle. The last braking section entering corner 16, is a fast left hander, exiting full throttle onto the DRS straight.
Modifications for Formula 1: Losail Circuit, Qatar:
Hosting a full fledge Formula 1 race on a MotoGP circuit necessitates enhancing the track safety features and upgradation of its infrastructure. From all the communiques put out by FIA and the circuit quite a few changes are going to be incorporated including some major ones.
Key changes are going to be made to the pit lane layout and its entry. Additionally ten new garages are going to be constructed.
New paddock hospitality buildings are going to be constructed.
Complete upgrades to the Tecpro and tyre barriers around the circuit. Multiple double kerbs installed on corner exits.
Apex sausages added to deter corner cutting on the inside.
Into the unknown:
Number of Laps:           57
Circuit Length:              5.38km
Race Distance:             306.66
Record Lap Time:         1:35.741 – Nico Hülkenberg, 2009 GP2
📍 Losail International Circuit#QatarGP 🇶🇦 #F1 pic.twitter.com/n9fk9YAFmf

— Formula 1 (@F1) November 18, 2021
With no previous Formula 1 history it is going to be very interesting to see how teams go into this race. Can past GP2 and stimulation data form a baseline to extrapolate a race strategy? Maybe – maybe not, but here are a few matrixes that should be considered.
Locational effects – the circuit is located between the sea and the desert which creates a challenging and variable microclimate. Torrential downpours to sandstorms are rare but plausible. Post dusk, high winds and condensation are a routine feature where the sand invades the circuit despite the artificial grass traps laid around the circuit.
Circuit – the surface has been used for the past seventeen years (2004 – 2021) without resurfacing, making It is a highly exposed, worn and rough surface which will be high on grip and traction but also abrasive, making it a high tyre degradation surface. Besides the straight and braking zone at corner one there is virtually no real overtaking opportunity, unless one goes out on a limb.
Tyre wear – two slow corners and fourteen medium to fast corners with sharp bends in the middle section add up to a high percentage of the lap time that the tyres are cornering under lateral pressure without much time to recover. Tyre degradation is certain to be high, especially the front tyres will be under much more duress. (Unless Pirelli gets in the harder compounds)
Pit stop – the layout of the circuit promotes undercut / overcut during pit stops. Having the opportunity successfully deploy this strategy should be advantageous.
The battle between Hamilton and Verstappen will unfold under lights on a track which at best is questionable. No matter who wins the cheers emanating from the single grandstand will not be enough to resonate in the desert air.
The last race in Brazil saw Hamilton score his 101st Formula 1 win from the back of the grid. The shock result helped the reigning World Champion keep his Formula 1 Drivers' Championship battle hopes alive. The odds are listed as a pick'em in most online betting options for the F1 as listed on Sports Betting Dime.
Saumil Patel is an avid fan of Formula 1. He aims to take you deeper into the sport by uncovering the lesser read.