After a three week break, the qualifying session of the 2013 Hungarian GP was just what was needed to reward fans from the longer than usual gap between two races! Red Bull Racing and Vettel looked favourites for pole position and still are my favourites for win tomorrow, but like in the previous races, a Mercedes came from nowhere to lay their hands on the much important pole position!
Pirelli's newly constructed tyres debuted in Hungary and one team particularly struggling with this new tyre was Sahara Force India. The lap time difference between the two tyres is approx. 1.2 seconds per lap; coupled with the reduced pit-lane speed, we will in all probability see two stop strategies executed tomorrow. However, overtaking is difficult at the Hungaroring, so will anyone dare a different strategy to make ground?
And we published the pre-Hungarian GP episode of the Inside Line F1 Podcast a few days back 'From Hungaroring To The A1 Ring', go hear it if you already haven't!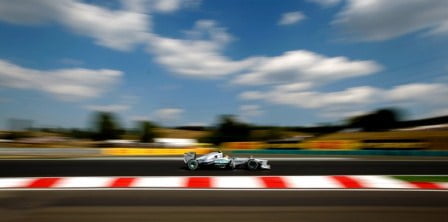 Qualifying results:
Lewis Hamilton: Surprised everyone including himself and his team by snatching pole position from Vettel. The margin was only half a tenth, but the 2008 champ clinched his 3rd consecutive and 30th career pole. His pole also confirms that Mercedes was sandbagging through the FPs this weekend. However, given the hotter temperatures, will they be going backwards in the race?
Sebastian Vettel: If anyone could, it had to be Hamilton who could dismount Vettel's pole time. Factors to be considered for the race: Vettel starts on the dirty side, but has a phenomenally quick car; his long runs in the FPs were consistent and quick. My favourite to win!
Romain Grosjean: Must love this circuit! Good lap to P3, beating Raikkonen by 3 tenths. Few Formula1 drivers have won their 'first' race at Hungary, will Grosjean win tomorrow? The Lotus seems to have the pace and likes the hotter temperatures. He just needs to stay away from other cars, barriers and anything else that can bring him to a halt in his chase for victory.
Nico Rosberg: P4 was overshadowed by Hamilton's pole lap.
Fernando Alonso: Behind Vettel, ahead of Raikkonen, but will need to finish ahead of both to keep his championship challenge alive and his team motivated. Ferrari has publicly stated that their simulator needs further calibration to extract better results. But will it be too late to challenge for the title in the 2013 Formula1 Season?
Kimi Raikkonen: Has been overshadowed by Grosjean's stellar laptimes all weekend. Will he come alive in the race? Hopefully the presence of Finnish fans will add that extra boost in the Iceman's lackluster drive yet. (Read: Kimi Raikkonen To Red Bull Racing In 2014)
Felipe Massa: Less than two tenths behind Alonso, which is mission accomplished. Two important questions before him for Race Day: Can he finish the race in the points without making mistakes? Ferrari needs to beat Mercedes in the Constructors' Championship. Can he finish ahead of either of Alonso's championship rivals? Alonso needs all the help there can be available.
Daniel Ricciardo: 4th top 10 qualifying result in as many races! Could he do any more to stake his claim for Webber's seat?
Sergio Perez: Great lap in Q2 to qualify for Q3 and beat Button. Will need to lower his antics to finish in a points scoring position. The newer tyres seemed to have helped Mclaren, even if not, them not helping Sahara Force India is a boost for Mclaren! (Sigh!)
Mark Webber: KERS failure yet again dented his qualifying chances and was visibly miffed post session. Can he get onto the podium in his last Hungarian GP appearance?
Adrian Sutil: 100th race of his career! Kudos! Got eliminated in Q2 in the dying moments of the session and by half a tenth. The VJM06 doesn't seem to like the medium tyres, which is the preferred race tyre. Will be interesting to see the team's strategy and where Sutil ends up on his special weekend.
Nico Hulkenberg: Guess this is the best he could do with the Sauber.
Jenson Button: out of top 10, out-qualified by Perez! Can he get points tomorrow? One would think so! After all, higher temperatures, tyre wear, etc. are perfect conditions for Button to excel.
Jean Eric Vergne: Out of the running for Webber's seat, but has his Toro Rosso seat safe for the 2014 Formula1 Season. Mixed feeling, I guess!
Pastor Maldonado: Heard that Lotus maybe considering him as Raikkonen's replacement. Like really? But it would be fun to have the two crash kids in one team!
Valtteri Bottas
Esteban Gutierrez
Paul Di Resta: Frustrating Q1 elimination for the driver, team and their fans. Will need to produce yet another fighting comeback to score points this weekend.
Charles Pic
Giedo Van der Garde
Jules Bianchi: Given Ferrari's engine supply deal to Marussia for 2014, it seems he will continue here for yet another season.
Max Chilton
Hungaroring isn't the best circuits for overtaking and given that Pirelli were instructed to get their act together, pit-stop strategies may be pretty straightforward too. Does this mean that we will witness a processional race tomorrow? Well, I really hope not!
The Austrian Grand Prix will be back on the calendar in 2014, read our memories of the races that were held at the A1 Ring Circuit which is now known as the Red Bull Ring.