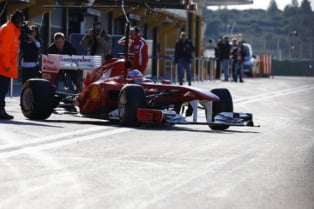 Pre-season tests are important, but at the same time to draw up an analysis of each team and driver is difficult due to the variations in their testing programs. Some drivers could be testing new bodywork and components, while the others would be doing tyre evaluations. The fuel loads during the tests are also unknown making analysis even more difficult.
However, here are my observations from 1st pre-season test held in Valencia from 1st to 3rd February 2011.
Pirelli: As promised by Pirelli, they have come up with a much more durable tyre than the Bridgestones used last year. As a result, drivers were complaining of heavy wear during the Valencia test. This is a good sign for the fans as it will almost certainly guarantee multi-stop Grand Prixs, which will also bring back the much-needed element of strategy in Formula1. Funnily, the drivers who complained about the Bridgestone tyre last year and its ineffectiveness to their driving style have spoken in favour of the new Pirelli tyre. Michael Schumacher, Felipe Massa and Jenson Button have given the thumbs up to the Pirelli tyre. Fernando Alonso and Robert Kubica were most vocal about its heavy degradation. The teams will have to make minor tweaks to the car setups and drivers will need to use controlled aggression to extract more life from the tyres.
The tyre wear was also revealed to be inconsistent, especially the rear tyres. Excessive wear in the rear tyres make the car very over-steery and that is something the teams and drivers will need to work around.
Car & body work design: The ban on the double diffuser and f-duct meant that all the technical innovations made in the last two years were scrapped. This also meant that the teams had to out-smart their rivals when it came to body work and car design and be innovative. Lotus Renault GP had most eyeballs rolling with their front exhausts which exited over the sidepods. Sauber released a video showing their adjustable rear wing in action. (Link below: wait till the last few seconds of the video to see the ARW in action)
Rookies: Paul di Resta, Gary Paffett, Jerome d'Ambrosio, Sergio Perez, Pastor Maldonado and Narain Karthikeyan were all in action over the 3 day test in Valencia.  While their programs are not known, their laptimes were competitive as against their team-mates and each other. For Indian fans, Narain Karthikeyan drove for HRT for all the 3 days and was about 4 seconds off the pace at the top. While he had no team-mate to compare his performance with, I am sure his fitness was well assessed in Valencia.
Pre-season tests to resume in Jerez (Spain) from 10th to 13th February 2011.
photo Alex Comerford