Robert Kubica suffered a high-speed crash at the Ronde di Andora rally earlier on Sunday. Images of the crash showed a completely damaged front end of the car and there are various stories doing the rounds of the internet as to the status of Robert Kubica's injury.
The Lotus Renault GP team issued a press release that read 'multiple fractures to right arm, hand and leg' for Kubica. Here's wishing Robert a speedy recovery and hope to see him in the cockpit sooner than ever.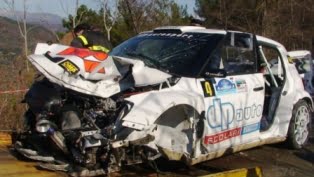 The Lotus Renault GP must be commended for allowing Kubica to participate in the Rally. F1 teams are known to sign contracts with their drivers that prohibit them from participating in such adventurous extra-curricular activities.
However, if Kubica's injuries mean an omission from the first few GPs of the season that would be a dent to Renault's attempt in making a comeback as a top team in Formula1. Fresh sponsorship by the Lotus Group and a radically designed car was what Renault had pinned their hopes on to move their way up the grid and of course with the skills of Robert Kubica. Kubica's technical skills will be grossly missed by the team in the pre-season tests leading upto Bahrain.
While Lotus-Renault GP haven't openly announced a replacement for Kubica, the most obvious choice would be Bruno Senna. The marketers would love to see a Senna in a black and gold livery, but Senna's pairing with Petrov would mean that Renault would be resting their hopes on two relative new and inexperienced drivers.
Robert Kubica's last severe crash was in the 2007 Canadian Grand Prix when his BMW crashed into the barriers at top speed. Kubica walked away from the crash without any injuries and I am hoping that his crash today doesn't mar his future in Formula1.