F1 2010 saw the new comer teams struggle to match the pace of the front runners. They were classified as 'moving chicanes' and were often thought to be unsafe moving obstacles on track. While the teams tried, they struggled to find pace throughout 2010. Whether 2011 will be any better remains to be seen, however, there is a strategy in place should they be embarrassingly slow.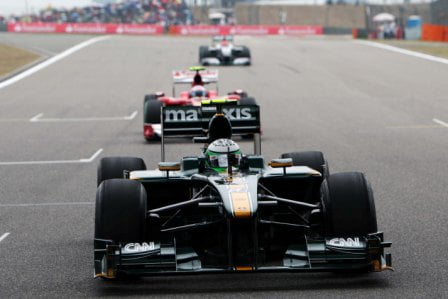 The 107% qualifying rule will ensure that each car will only be allowed around 6 seconds off the lead car's pace to qualify for the Grand Prix. While the number of seconds will vary at each venue, this rule is a welcome change to ensure that the new teams either pick up their pace or risk not participating in the race. This rule wasn't in use in 2010 and hence all cars automatically qualified for Sunday's Grand Prix.
This rule will not only bunch the mid and rear of the grid, but also make racing safe. Remember Mark Webber's crash with Heikki Kovalainen in Valencia?
Talking of the backmarkers on the grid, I remember Team Lotus Racing's Tony Fernandes and Virgin Racing's Sir Richard Branson unify their voice to ban blue flags in Formula1. Their point was that the 'blue flags' would spoil their chance of going racing and they almost always had to make way for the leaders of the GP. Foolish thought, you think?
I think blue flags are critical in Formula1. Backmarkers will always make the grid in the sport, but I don't see why a leading Ferrari or Red Bull should waste time and effort in overtaking a car it not only out-qualified, but also out-paced all weekend. Also, racing the slow moving cars will increase the chances of accidents on-track.
I don't think blue flags will be banned in the sport, but if they do end up being banned, then Formula1 racing will become dangerous and of course unfair. Maybe Branson and Fernandes should spend more time thinking on how to make their cars go quicker before dreaming of racing with the others.