Sebastian Vettel stomped his authority on the 2011 Australian Grand Prix and going by his domination on track he may well have stomped his authority on the 2011 Formula1 season. Jumping the gun, am I? Possibly yes! But if you were to map his pace against his rivals, you will agree that we might just see a repeat of the 2002 Formula1 season where Ferrari and Michael Schumacher raced away to glory and how!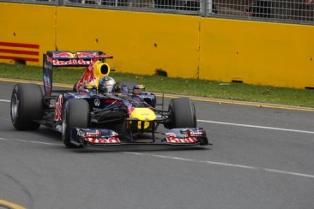 Coming back to the Australian Grand Prix, there were a lot of positives and a lot of reality checks, here are a few of my thoughts:
Sebastian Vettel will be the man to beat. He is driving with renewed confidence and started his title defense on a perfect note with a race win. Be ready to see more of the 'Vettel finger'! Red Bull Racing have the overall edge and their menacing pace in Melbourne was minus the KERS system. I wonder what it would have been like with the power boost in their kitty.
Mclaren's shift back to the conventional exhaust system has done them good. They are quick and all the pre-season talk about their lack of mileage won't hold sense any more. But I am sure the team will attempt to make their radical system work rather than give up.
Ferrari are too conservative as pointed out by Fernando Alonso. They seem to have the pace, but are not able to unlock it during the course of a Grand Prix weekend. Going by today's race, Felipe Massa does seem to be back on pace and hopefully will give Fernando Alonso a tough fight. Massa's holding off Button was a sight to the F1 fans!
Mercedes had a double retirement in Australia after both their cars were involved in accidents on track. Michael Schumacher suffered a hit in the opening lap and Nico Rosberg was taken out by an over enthusiastic Rubens Barrichello. Driving errors aside, the team lacked pace all weekend and need to claw back their 1 second deficit to the top.
Pirelli have done well and their tyres did spice up the performance on track. The drivers chose either a 2 or 3 stopper and that was against what was expected by a few. The best part of the tyre stops was that the drivers pitted when they had to and didn't wait for a time when they were able to come out without cars ahead of them.
The rookies did a splendid job. Sergio Perez had a perfect F1 debut that he termed as 'memorable' post race. He managed a single stopper and finished 7th much to everyone's delight and surprise. Unfortunately for Perez, the Sauber's were deemed illegal for a rear wing infringement and were disqualified from the final classification. One must note that Perez finished ahead of his highly acclaimed team-mate Kamui Kobayashi.
Perez's disqualification played in the hands of Scottish Force India racer Paul di Resta who also made his debut in Australia. Paul initially finished 12th behind his illustrious team-mate Adrian Sutil. However, disqualification of both Saubers meant that the Force India drivers were classified as 9th and 10th post-race. A double points finish for the Force India Formula1 team.
Reliability was key in Australia and that's what worked in Force India's favour. Williams, Sauber and Scuderia Toro Rosso, Force India's immediate competition out-qualified them in Saturday's qualifying. However, Force India's strong race pace coupled with reliability ensured that a double points finish was possible. It was very surprising to see the quick-in-qualifying Toro Rosso car fade off in the race on Sunday. Sauber's were quick, but their rear wing issue might just set them back by a few races as James Key announced that the team would need a full factory investigation to resolve the matter.
Force India kept the Indian flag waving high all weekend. Unfortunate scenarios for the two Indian drivers Narain Karthikeyan and Karun Chandhok. Narain's HRT was too slow to make the 107% qualifying mark and Karun Chandhok crashed 4 corners into his first Free Practice lap for Team Lotus Racing. I think Karun is mentally trying to overtake Narain and the sooner he addresses this thought, the better it will be for him.
Of the new teams, Team Lotus Racing had better pace than Virgin Racing. Both teams need to up their game if they wish to be competitive this season. Too many GPs at the bottom end of the grid do no good to morale of the team and sponsors. Tony Fernandes and Mike Gascoyne's tweets do sound positive and inspirational, but this can only last a while. In motorsport, you are taken seriously only if you can beat the clock!
Last but not the least, the rise of Vitaly Petrov. His drive in Abu Dhabi last year earned him loads of followers – few hated him and most loved him for fending off Fernando Alonso. Pre-season, the Lotus Renault GP had a setback in Robert Kubica's crash and were looking for a replacement who could lead the team forward. This resulted in Nick Heidfeld's appointment as the team's lead driver, but Petrov's pace in Australia and his podium finish was something that no one expected. He drove a brilliant race right from the start and took the battle to the Red Bulls and Mclarens. Pay driver or not, Petrov impressed with his mature driving and has now resulted in increased expectations as the season progresses.
The pecking order might not change much in Malaysia and I would expect Red Bull, Mclaren and Ferrari to fight for top honours. The big question will be – can Red Bull ignore KERS on the long straights of Sepang?
Photos by Alex Comerford