The Canadian Grand Prix seldom ceases to amaze and entertain. And I am only glad that the organisers have managed to find the money to afford another 10 year extension! Yay!
In what should've been a straightforward 1-2 finish for Mercedes, a mid-race issue with their electrical power units saw both cars lose pace, but still hold place. Eventually, braking issues saw Hamilton retire, his second of the season, whereas Rosberg did well to adjust to a lower powered car and keep ahead for most part of the race and eventually finish 2nd. In the Drivers' Championship, Rosberg's lead over Hamilton is now stretched to 22 points!!
Rosberg did well to hold fort and only let a Red Bull Racing car sneak by! I would stop short of calling it a 'champion's drive' just yet. But goes to show that a Mercedes with power issues is almost as quick as a Sahara Force India car with DRS issues and a perfectly abled Red Bull Racing car! And to think of it, the race may not have been as much of an entertainer had the Mercedes cars not encountered their issues. Can Mercedes race the remainder of their season without the electrical power units?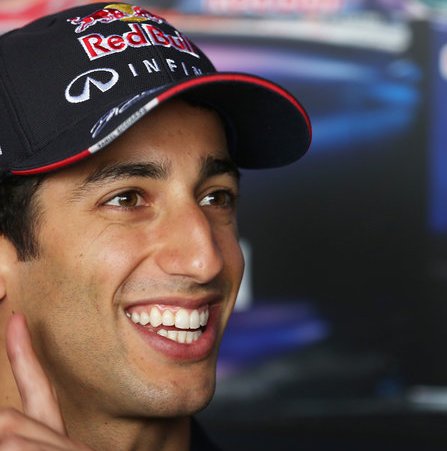 Daniel Ricciardo's maiden win makes him the fourth Australian to win a Formula1 Grand Prix, but that isn't the kind of statistic I would really go after. His win was unexpected and came at a time when the favourites were not at the top of their game. But this is what sport is all about. Ricciardo ensured that he was there to grab the cake when the Mercedes drivers were unable to eat it. And of course his sneaking Vettel's position in the first round of pit-stops will make for some post-race debrief drama.
For a change, there are multiple 'Driver of the Day' choices for me to choose from. And it is too late in this post for me to mention the superior driving of Sergio Perez who managed 35 laps on the super-soft and held back the faster Red Bull Racing cars for most part of the race and almost finished 2nd today. The Mexican reported rear brake issues which possibly led Massa to crash into him on the last lap. Loss of some very valuable championship points for Sahara Force India who are just 10 points off Ferrari in 3rd place! Hulkenberg's 7 out of 7 points finish adds strength to the tally. He finished P5 in Canada.
Perez and Hulkenberg were on varied strategies at the start of the race. Had they both been on the same strategy, could both cars have finished on the podium? Much to ponder about…
'Oh Felipe!' was the first reaction to his last lap shunt that involved and spoiled Perez's brilliant race too. While both drivers have reported to be safe, I wonder if Massa's experience could've helped him avoid this collision. To be fair to him, Perez had already reported rear brake issues and maybe his braking earlier caught out Massa?
On that topic, I believe that Massa (and possibly Smedley) could possibly do better and bring his Ferrari experience to Williams. The team's eventual finishes in Canada do not reflect their true pace. Whether it was overtaking Vettel for position or choosing tyre strategy, I think Massa and the Williams team have rusted a little after being away from the sharper end of the grid for a few seasons.
Talking of experience, I am amazed at how Vettel managed to stay out of the Perez-Massa tumble and the below vine video is the best way to explain the peripheral vision that top racing car drivers have. Super!
I am somewhat beginning to like Rosberg's attitude in his fight with Hamilton. Maybe he doesn't have the outright pace as his team-mate, but surely he seems cheekier of the two as he bent another rule today to stay ahead in the battle and this is after a cheeky out-braking manoeuvre at the start. And today's race showed just how much on the edge Mercedes and both their drivers are. They almost stared at a double retirement spoiling their dreams of finishing a perfect season. And Rosberg almost put it in the wall while driving on the limit, followed by a braking error in the heat of the battle with Hamilton. Just what Formula1 should be like, every possible race!
But this is also not how I would like the Drivers' Championship to be decided in the 2014 Formula1 Season. Hamilton brake bias was rearwards as disclosed on team radio and maybe in all the chasing he was made to do, it was only the brakes that could fail and Canada is known to be notorious on the brakes historically.
It is only prudent that the Ferraris get a mention this late in my post-race post. They raced, alright, but I don't recollect much of TV cameras covering their race. Alonso and Raikkonen finished in the points due to the retirement of three cars at the front (Hamilton, Perez and Massa). Now usually, Alonso would've been in the hunt for win had such a slip up happened with the dominating team. But today, he had to settle for P6!
And lastly, the double retirement for Marussia on the opening lap of the race! Sport can be such an equaliser! After the high in Monaco, the team's lowest low in Canada!
I am excited to record the post-Canada episode of the Inside Line F1 Podcast. Tune in tomorrow!
Race Results:
Daniel Ricciardo
Nico Rosberg
Sebastian Vettel
Jenson Button
Nico Hulkenberg
Fernando Alonso
Valtteri Bottas
Jean Eric Vergne
Kevin Magnussen
Kimi Raikkonen
Sergio Perez
Felipe Massa
Adrian Sutil
Esteban Gutierrez
Did Not Finish:
Romain Grosjean
Daniil Kvyat
Lewis Hamilton
Kamui Kobayashi
Pastor Maldonado
Marcus Ericsson
Max Chilton

Jules Bianchi