So I did an FIA, so to say, while uploading this week's episode of the Inside Line F1 Podcast. I uploaded the unedited file (yeah, they passed the draft resolution that included the 'double points' in Abu Dhabi!) Just what a boo-boo! I am sure the surprised many who heard the unedited version (some 150 of you!) realized the fun and hard work (of course) that Rishi and I go through each week to bring to you our Formula1 Podcast. (Read: Canadian GP, Just What Formula1 Should Be)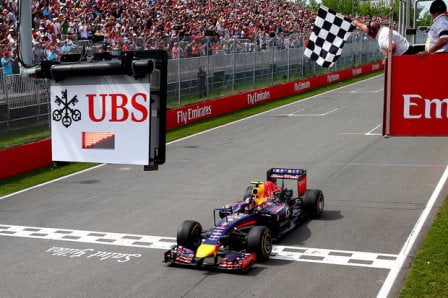 Thanks to the 2014 Canadian Grand Prix, we had this episode cross nearly 20mins before some smart editing and packaging that brought the time close to Rishi's liking. If it were up to me, I would possibly have a live broadcast of my daily thoughts, which many wouldn't be surprised are about Formula1 mainly.
Jokes apart, below is what is in store for you in this episode:
We have a fan question. This time, Mithila Mehta asks if Circuit Gilles Villeneuve is the only circuit named after a former Formula1 driver.
10 more years of enjoying Formula1 in Canada. Now can we race there like 10 times a year please?
Ricciardo's win! Kudos! Congratulations! Can Vettel go quicker?
Speed differential between a Mercedes, Sahara Force India and Red Bull Racing
Don't we love Rosberg's cheeky side! And are his German roots helping him gain more support in the Mercedes camp? (Read: Winning Matters In Formula1, Not Participation)
No prizes for guessing which current driver will value the double points scoring system in Abu Dhabi. (Read: Fed Up Of Rule Changes In Formula1)
Our verdict: Perez vs. Massa clash. Did the FIA get a little too enthusiastic?
Should Ferrari quit F1 and race in GP2? (Read: F1 Cars, GP2 Lap Times)
Sport is a great equalizer as Marussia would've realized it.
And what happens when Chilton decides to go racing for a change?
Should Formula1 re-think the Friday practice schedules?
Red Bull Racing's ploy to keep Newey away from Ferrari
Is selling a stake or sell-out the next step in the lifecycle of Sauber F1 Team?
Forza Rossa, who?
The Inside Line F1 Podcast is now available on various platforms and I would urge you to choose your platform to listen to the humour that we add to the otherwise serious and complex sport of Formula1. And while our podcast frequency is weekly, come 'like' the Inside Line F1 Podcast page on Facebook for far frequent updates on the humour in the world of Formula1.
If you are an Apple user, you can subscribe to the Inside Line F1 Podcast on the iTunes Podcast Store or via our RSS feed (for Android/Windows/Blackberry users).
The Inside Line Formula1 Podcast is produced and hosted by Rishi Kapoor and Kunal Shah. Follow us on Twitter and on our Soundcloud, Spreaker, MixCloud and YouTube channels.