Nico Rosberg clinched a super pole in the 2014 Canadian Grand Prix. And while statistically it may not be the best place to start the race tomorrow, he did prove a point by snatching it at a circuit known to be one of Hamilton's favourite. After all, Hamilton is the only current driver to have won here multiple times (thrice) and has been on pole three times. For those looking for the statistic, only 4 out of the last 12 races have seen the pole sitter win. Possibly the lowest for any calendar on the circuit. (Read: Still Friends #NoProblem)
This is Rosberg's first pole in Montreal. That it has come a fortnight after his controversial pole in the 2014 Monaco Grand Prix (Read: Did Rosberg Do A Schumacher?) somewhat proves that the momentum has possibly shifted his way. Yes, I am aware that there are no points for Saturday heroes, but he is my 'Driver of the Day'. However, it did seem like Hamilton made a small mistake in his final attempt in Q3. Mistake possibly under pressure? Well, one shouldn't be surprised if it was. After all, with stakes so high, the pressure only increases if you're the one chasing your team-mate's provisional pole time. And I somewhat feel that Rosberg's Monaco act and win has created a little psychological dent in Hamilton. (Read: Hamilton Deals With A Nico and A Nico-le)
And during the session on TV today, the reporters explained a verbal arrangement that the Mercedes drivers follow during qualifying. The two drivers take turns to choose who goes out first for the final attempt of qualifying and who does the chasing. In today's case, it was Hamilton who chose to chase. Interesting tit-bits on the team-mate rivalry which is otherwise unknown. (Read: From Friends To Colleagues)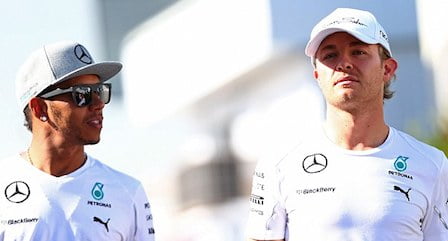 I was surprised to see Vettel grab P3 and the Williams miss out. If the FP sessions were anything to go by, Williams and their fans expected them to be the second fastest team in qualifying today. In the run-up to the GP, Bottas said that he expected to compete with the Red Bulls this weekend and I trashed it as PR talk! But, I wonder how is it that Williams always tend to lose their way in sessions that matter the most. Ditto for Massa!
For Sahara Force India's sake, I hope that the Williams cars aren't as quick in race pace. And the Mclarens too! The mid-field battle is where my interest lies more as Mercedes are expectedly running away with the Constructors' Championship this season. (Read: Mercedes Is The New Red Bull Racing)
After topping FP1 (with Alonso), Alonso and Raikkonen managed only 7th and 10th respectively. Again, I wonder how the Italian marquee team lose their way during qualifying and end up playing chase in the race! I can't recollect when was the last time someone chased down a Ferrari for victory! (Read: Someone Please Fight Back)
In a team where Kvyat is possibly more spoken about, Vergne did well today to qualify ahead of a Mclaren and in between the Ferraris. His former Toro Rosso mate and now a Red Bull Racing driver Ricciardo was the unfortunate driver to lose out on a closely contested P3 slot. P3 – P6 were all within the 1:15.5s range! Kudos!
And last but not the least, the Marussias confirmed their form in Monaco wasn't a fluke as they almost made it into Q2; arguable if Ericsson's crash would've given them that last lap to gain entry. However, both cars were just about a tenth off the Q2 time with Chilton out-qualifying Bianchi!
Sadly for Sauber, they lost a car in each of the Q1 sessions in the 2014 Formula1 Season. This time it was Gutierrez who needed a chassis change after a crash in FP3. Will the Swiss based team be able to recover and beat Marussia?
As for Race Day, I expect a straight battle between Rosberg and Hamilton. Given the long straights and DRS assist, smart defending will probably help choose the winner over an out and out attack. We might see the Pirellis a little less durable in this race than we have in any of the previous races this season; maybe that'll add to some delight too. But one thing is for sure, a wheel to wheel battle is on the cards, so don't miss out on the action for anything, or anyone!
Qualifying Results:
Nico Rosberg
Lewis Hamilton
Sebastian Vettel
Valtteri Bottas
Felipe Massa
Daniel Ricciardo
Fernando Alonso
Jean Eric Vergne
Jenson Button
Kimi Raikkonen
Nico Hulkenberg
Kevin Magnussen
Sergio Perez
Romain Grosjean
Daniil Kvyat
Adrian Sutil
Pastor Maldonado
Max Chilton
Jules Bianchi
Kamui Kobayashi
Marcus Ericsson
Did Not Start:
And for those yet to tune in to our Hamilton-Rosberg special episode of the Inside Line F1 Podcast can hear it below: