The 2013 Hungarian Grand Prix was interesting to say the least and for a change, it wasn't only the tyres that made it interesting. It was a combination of tyre strategy and driving talent that ensured edge of the seat action throughout the 70 laps of the Hungaroring. Between qualifying and the race, I had two thoughts running in my mind. First, we will have a snore-fest. Second, tyre strategy would actually make the race interesting.
Pirelli debuted their differently constructed P-Zero tyre in Hungary and effects of it were visible on track. We had no tyre blow-outs and drivers could attempt a 2 or 3 stop strategy without the scales balancing too much in favour or 'tyre conservation'. And of course, given that the 'rings' in Formula1 have seldom failed to deliver a brilliant race, should we add 'ring' as a suffix to all classical circuits? (Read: From Hungaroring to the A1 Ring)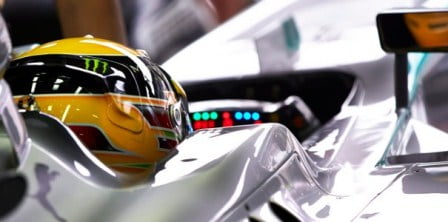 Race Results:
Lewis Hamilton: 4th win in Hungary, first win with Mercedes and 22nd career victory! Much like his pole position yesterday (Read: Hamilton Snatches Surprise Pole In Hungary), his victory would've come as a surprise to himself, his team and many in the paddock. After all, most expected the higher track temperatures to work against Mercedes and Hamilton to go backwards in the race. And I wouldn't be surprised if Hamilton sent a peg of his victory champagne to Button for holding up Vettel after the first round of pit-stops for nearly 12 laps! This helped negate Vettel's pace and tyre strategy that ultimately made it easier for Hamilton to coast to victory. Of course, along the way, he pulled off two amazing overtaking moves on Mark Webber at Turn 3, the first one being mega!
Kimi Raikkonen: The Iceman admitted post-race that lackluster qualifying performance made his race a difficult one where P2 was the best he could manage. The question I've asked at most GPs is 'had Kimi qualified higher, could he have won?' He was the only driver on a two stop strategy who could manage to get on to the podium. Believe it or not, he drove a mammoth 33 laps on his last set of medium tyres. And luckily for him, the tyres didn't go off the cliff and he could defend from a fast charging Vettel (on fresher tyres) for nearly 10-12 laps towards the end. His effort paid off eventually as he overtook Alonso to 2nd spot in the Drivers' Championship.
Sebastian Vettel: Fastest on Friday, but couldn't manage pole position or the race victory should summarize the German's weekend in Hungary. However, he still leads the Drivers' Championship by a comfortable margin of 38 points and should be the most relaxed driver in the summer break! Red Bull Racing, usually the master of pit strategies, could've done better to ensure that Vettel didn't come out behind Button twice after his pit stops. Had it not been for the time lost behind the Mclaren driver, Vettel could've won the race comfortably.
Mark Webber: After a KERS issue hampered his qualifying performance, the Australian drove a splendid race to finish 4th and less than 6 seconds behind Vettel. I expected Webber to try the conservative two stop strategy to make up ground in the running order, but he managed well with a three stopper to beat both Ferraris!
Fernando Alonso: Beaten by Vettel and by Raikkonen, his two immediate challengers in the Drivers' Championship. The Spaniard wouldn't be a happy man in the summer break and will be wondering what more does he need to do to close the gap and eventually beat Vettel. But it seems that work is more for Ferrari to do than the driver. They've suffered similar fate since 2010 and will this continue till 2016? (Read: Alonso Had No Option But To Renew With Ferrari Till 2016)Hamilton's win ensured that Vettel didn't score full points, but the gap between himself and Vettel increased nevertheless.
Romain Grosjean: Could've challenged Hamilton for the win, drove an aggressive opening lap to keep P3, but eventually lost his patience while overtaking Button and got an unfair penalty while overtaking Massa at the exit of Turn 4. Overall, he was quick on the weekend, but needs to be quick consistently and of course stay out of making contact!
Jenson Button: Mclaren seems to prefer the new Pirelli tyres and Button made a two stop strategy work to finish P7.
Felipe Massa: Thankfully no driver error!
Sergio Perez: A double points finish for Mclaren!
Pastor Maldonado: And a point for Williams, their first for the 2013 Formula1 Season!
Nico Hulkenberg
Jean Eric Vergne: Qualified behind, but finished ahead of Ricciardo.
Daniel Ricciardo: Needs to convert qualifying pace to race pace and score some points!
Giedo Van Der Garde: Finished ahead of Pic and lapped the Marussias en route!!
Charles Pic
Jules Bianchi
Max Chilton
Paul Di Resta: Retired due to hydraulic issues. Second race in succession where Sahara Force India have failed to score points. They are still 5th in the Constructors' Championship and ahead of Mclaren, but the difference is now down to only 2 points.
Nico Rosberg: Blew his Mercedes engine! Hard luck!
Did Not Finish:
Valtteri Bottas: Maldonado scores first point for Williams, Bottas scores first retirement of his career!
Esteban Gutierrez: Gearbox!
Adrian Sutil: 100th GP and given his opening stint on medium tyres, I would've expected him to finish in the points. But a hydraulic issue caused him to be the first driver to retire from the GP.
Up next is the 2013 Belgian Grand Prix and it will be held at everyone's (well, almost!) favourite circuit, the Spa Francorchamps. Traditionally, this circuit has suited Sahara Force India and I would hope that they can bring their championship campaign back in order and take the fight to Mclaren.
But of course, the Belgian GP is only after a month-long break known as the 'August shutdown', which means that fans have to survive without the action for 4 weeks. But worry not, Rishi Kapoor and I will hope to entertain you via the Inside Line F1 Podcast while the others choose to take a break and spend time away from Formula1.
The Inside Line F1 Podcast is now available on various platforms and I would urge you to choose your platform to listen to the humour that we add to the otherwise serious and complex sport of Formula1.
If you are an Apple user, you can subscribe to the Inside Line F1 Podcast on the iTunes Podcast Store or via our RSS feed (for Android / Windows / Blackberry users).
The Inside Line Formula1 Podcast is produced by Rishi Kapoor and Kunal Shah. Follow us on Twitter and on our Soundcloud, MixCloud and YouTube channels.