As a driver, I like Lewis Hamilton, I really do. Raw talent and a dog lover! However, he needs some serious media training. I dislike him for his post race comments, yes, you must've heard me say that on the Inside Line F1 Podcast. I understand the need for drama and theatricals in a sport such as Formula1, especially if you are at the 2014 Monaco Grand Prix and I don't mean that because the Cannes Film Festival is held around and near.
After winning the last four races on the trot, Hamilton came second today in the 2014 Monaco Grand Prix. After being three points ahead in the Drivers' Championship, he is now four points behind his team-mate Nico Rosberg, not a bad position to be in, right? I mean the season still has 13 races to go and barring Rosberg, there is little chance there'll be anyone else to beat this season; although I might be jumping the gun somewhere. (Read: Someone Please Fight Back)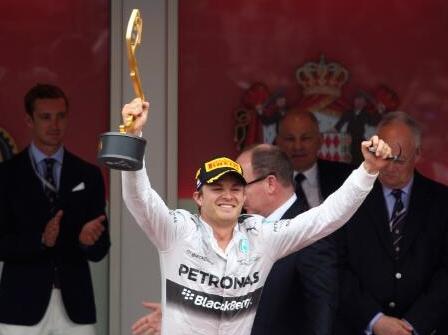 But no, Hamilton is upset. Upset at being played at by Rosberg in qualifying and being denied the 'preferential' tyre call by Mercedes in the race today. I mean, why spoil the team's 5th consecutive 1-2 finish of the season by making such a stupid allegation. His talk that 'Mclaren would've pitted me a lap earlier' wouldn't hold true this year, because Mclaren wouldn't have had a car that would allow him to fight at the top. Loss of perspective? Maybe! And this is where I would like the current drivers to learn a lesson or two from Schumacher's Ferrari diary. I still have memories of how he lost the 2006 crown due to an engine failure in Suzuka and instead of bad mouthing the team, he went and hugged everyone on the garage. You may label it as a 'PR stunt', but I rate that over publicly deriding the team!
And again, I would like to thank Hamilton. His allegation does somewhere substantiate my earlier claim that the team controls the fortunes of the driver and today it was Mercedes who decided his. Does this mean that should Mercedes dominate all the races of the season, it'll be the driver leading the race who will be favoured over the driver leading the Drivers' World Championship? Interesting thought and at the same time, too good to be true!
Away from the Hamilton-Rosberg battle, which we will hear more about, super congratulations to Marussia and Jules Bianchi (my 'driver of the day') for scoring their first ever championship points, and yes, a few million dollars in prize money! I am only glad that the FIA's new time penalty can be applied post-race, but this also goes to show that, even if a Maldonado isn't racing, his mere presence on the grid can affect the overall race time of three drivers! However, on Bianchi's performance, two immediate thoughts come to my mind, Sauber are clearly struggling with their car, are pointless this season and now behind Marussia in the Constructors' Championship; and I hope a talent like Bianchi gets a top drive sooner rather than later. But then again, this is a supply – demand logjam in which Hulkenberg is already waiting in line.
Although the Sahara Force India VJM07 is proving to be a top drive after ending the 6th race of the season only 11 points behind Ferrari, further strengthening their 4th place in the Constructors' Championship after Hulkenberg clinched P5, ahead of Mclaren yet again. Vettel's 100th race for Red Bull Racing ended prematurely after a power unit issue and Raikkonen, who had an excellent start, was robbed of possible podium finish after a puncture!
Surprisingly we saw more than a few power units blow up in Monaco in Kvyat, Vergne and Bottas; but I was most disappointed for Kvyat who in his first outing at Monaco did well to be racing in the points. And a piece on Monaco can't end without the mention of Adrian Sutil, who has somehow mastered overtaking at the slowest possible corner in Formula1; it was a shame to see him lose control and ram the barrier at the fastest past of the circuit.
Race Results:
Nico Rosberg
Lewis Hamilton
Daniel Ricciardo
Fernando Alonso
Nico Hulkenberg
Jenson Button
Felipe Massa
Romain Grosjean
Jules Bianchi
Kevin Magnussen
Marcus Ericsson
Kimi Raikkonen
Kamui Kobayashi
Max Chilton
Did Not Finish:
Esteban Gutierrez
Valtteri Bottas
Jean Eric Vergne
Adrian Sutil
Daniil Kvyat
Sebastian Vettel
Sergio Perez
Pastor Maldonado