Did Rosberg do a Schumacher? That's the question every single Formula1 fan would be wondering post the qualifying session today. The FIA are wondering and have questioned Mercedes and Rosberg too. In my view, he didn't. If you see his on-board camera footage, his right front locked up at entry and that was it. He had lost the corner and nearly lost the car. (Read: Vettel Does A Schumacher)
And yes, the counter view, if he did indeed do a deliberate act, let me tell you, his act was far better in performance (convincing!) than Michael Schumacher's! The Germans, don't I love them! Although, I am not sure which way the FIA will swing this.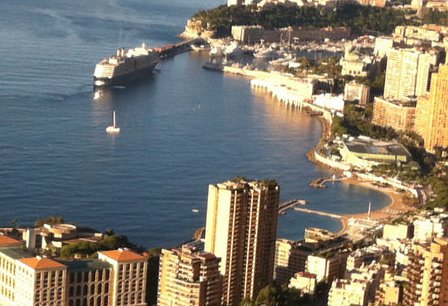 As for Hamilton, I possibly can understand why he thinks he's the one being played at here, but well now that it has happened, the best thing would be to stay focused on the race tomorrow and already think about overtaking into St. Devote. Sweet revenge, wouldn't that be?
Pole to flag win would be on Rosberg's mind tonight and one wouldn't blame him so. Stats support him anyway, the question is, will the Mercedes team do so? Will they play favourites during the pit-stop period? Anyway, the days of the classic low-fuel under-cuts are gone and usually the guy who pits first wins; usually, I did add that.
Driver of the day? Daniil Kvyat! After dancing and eventually hitting the wall in the not-so-smooth braking zone at the Swimming Pool Chicane (a la Kimi?), he managed to get into Q3 in his first ever qualifying session at Monaco. Kudos!
And a close second would be Kevin Magnussen! It takes some effort to beat Button in Monaco and he did so in style. Given that Ron Denis is trying to heat up to Alonso leading Mclaren's challenge in 2015, is Button's seat in danger? By the time the 2014 Formula1 Season concludes, we could see some helmets roll and some change garages!
The weirdest part of the qualifying session was not seeing Nico Hulkenberg make it through to Q3. It is sort of a given, right? I hope to see the German climb up the field during the race, although it might just be a tad too difficult.
Maldonado, who qualified a lowly 15th, might just be an important factor in the race. Although he's won here before, he's crashed in three of his previous races and in the last three times he's raced in Monaco (if I remember the stats correctly!). Will his antics bring out the Safety Car and jumble up the race order? Either way, I think it is a Mercedes win and it would be super if a Red Bull could sneak in between. Ricciardo more so over Vettel. But then you know my love for Germans already. Over to Race Day! (Read: Red Bull's Best Chance Yet)
Qualifying Results*: (provisional)
Nico Rosberg
Lewis Hamilton
Daniel Ricciardo
Sebastian Vettel
Fernando Alonso
Kimi Raikkonen
Jean Eric Vergne
Kevin Magnussen
Daniil Kvyat
Sergio Perez
Nico Hulkenberg
Jenson Button
Valtteri Bottas
Romain Grosjean
Pastor Maldonado
Felipe Massa
Esteban Gutierrez
Adrian Sutil
Jules Bianchi
Max Chilton
Kamui Kobayashi
Marcus Ericsson