Red Bull Racing missed their best chance yet of the 2014 Formula1 Season to stop the Mercedes dominance. But Nico Rosberg didn't! And strangely, I am yet to come to terms with a distraught Hamilton's comments and reactions. I wonder how he deals with Nico and Nico-le in his life on and off track. (Read: Someone Please Fight Back)
I also wonder if pressure got the better of Rosberg as erred on his final qualifying attempt. One too many in the season already? And would Hamilton be grumpier if he had the Ferraris, Mclarens and Red Bulls to fight too? I mean we do seem to have two former World Champions whining a lot of late. Alonso, I empathise with, Hamilton, I don't. (Read: From Friends To Colleagues)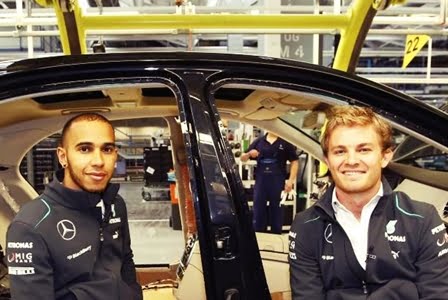 In the latest episode of the Inside Line F1 Podcast, we look back at the 2014 Monaco Grand Prix and we overlook the growing tension in the Mercedes camp and focus on Bianchi's spectacular drive for Marussia and Adrian Sutil's mastery of possibly the slowest corner in Formula1. And here's what else is in store in our Formula1 Podcast:
Hamilton's plight; dealing with a Nico and a Nico-le! #Sigh
And a thank you to Hamilton for substantiating our claim!
Ferrari let Kvyat and Vergne down? And Alonso too?
Much like Sutil possibly let his fans and Sauber down.
But Bianchi did exactly the opposite. Kudos!
We rarely get to do this, so we discuss Bianchi's future in Formula1.
And we always discuss Maldonado's future; is the pay driver's nightmarish run coming to and end?
Raikkonen's rotten luck, double #Sigh
Formula E seats for Chandhok and Senna! (Read: Mahindra Racing and Formula E)
Fans believe and somewhere I do too, that the equation will tilt back towards Hamilton as we visit Canada. But I am not entirely convinced. And I say this after seeing Hamilton's reactions to Rosberg's cheekiness in Monaco. Is Rosberg mentally stronger and calmer? Difficult to tell, but surely Rosberg is more fun to listen to even when he finishes second! I am certain there's some absolute PR talk in the Hamilton-Rosberg rivalry and the other is more than what meets your eye and mine!
The Inside Line F1 Podcast is now available on various platforms and I would urge you to choose your platform to listen to the humour that we add to the otherwise serious and complex sport of Formula1. And while our podcast frequency is weekly, come 'like' the Inside Line F1 Podcast page on Facebook for far frequent updates on the humour in the world of Formula1.
If you are an Apple user, you can subscribe to the Inside Line F1 Podcast on the iTunes Podcast Store or via our RSS feed (for Android/Windows/Blackberry users).
The Inside Line Formula1 Podcast is produced and hosted by Rishi Kapoor and Kunal Shah. Follow us on Twitter and on our Soundcloud, Spreaker, MixCloud and YouTube channels.