The Indian Grand Prix inspection was delayed by a month and this raised a lot of eyebrows and questions amongst the Indian F1 fans. Will the circuit be ready? Can India pull this off? These feelings are only amplified after last year's Commonwealth Games fiasco.
However, on two of India's most auspicious religious days (Eid and Ganesh Chaturthi) FIA's Charlie Whiting visited the Buddh International Circuit for a routine inspection. Considering the auspiciousness of the days, Whiting was 'impressed' with the progress being made with the construction of the track and that they had 'exceeded expectations' (No official quote released yet by FIA or Charlie Whiting).  Charlie Whiting is FIA's Formula One Race Director, Safety Delegate, Permanent Starter and head of the F1 Technical Department; basically he manages the logistics of each Formula1 Grand Prix on the calendar (Read post: 2012 Formula1 Calendar Confirmed)
So what does this inspection and Whiting's reaction mean for the Indian Grand Prix? Does it mean that the Indian Grand Prix is confirmed? Does it mean that the Buddh International Circuit is finally homologated by the FIA and can host its first ever F1 race in October? The answer to all of the above is NO.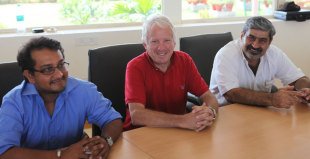 But, leaving all negativity aside, this is a planned routine inspection made by the FIA to assess progress made in construction. Typically, the Grade-1 Certification is issued a week prior to the date of the race, which could also mean that a confirmation will need to wait till as late as 20th October. Nervous news after you have already bought your Indian Grand Prix Tickets? (Read post: Airtel Indian Grand Prix: Which Stand Is The Best?)
Well you don't really need to be. Last year's Korean Grand Prix was issued its certification less than 10 days before the race date. So let's sit back and wait in excitement for the first ever Indian Grand Prix.