No, I am not thanking them for finally announcing their driver line-up for the 2015 Formula1 Season. Nor am I thanking them for announcing the much logical and sentimental Alonso-Button partnership instead of the mental Alonso-Magnussen partnership, which would force Jenson Button, the 2009 Formula One World Champion, into retirement. I am instead thanking them for creating and maintaining the suspense behind the driver decision. Something that Red Bull Racing didn't let Sebastian Vettel and Ferrari maintain. And as a Formula1, Ferrari and Vettel fan, I was slightly disappointed. (Read: Drivers Play Musical Chairs)
For a team owner, driver decisions are about business and they should be. After all, they need to run their racing teams as a business and you would rather have the fastest guy (available) in the car who can score points, podiums and wins (not necessarily in that order) or have the driver with the fattest wallet on the grid (yes you, Pastor Maldonado).  And Ron Dennis, who stated that his driver decision will be 'clinical and emotionless analysis of the options', did indeed take his time to make this announcement. Oh those bored meetings!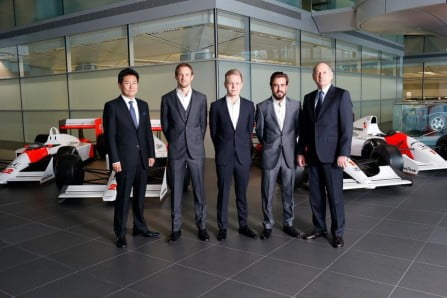 But this late an announcement has possibly taken precedence over the exciting news of Alonso rejoining forces with his former Woking based employer Mclaren with whom he had more than a tumultuous relationship back in 2007. Funnily enough, Alonso's departure from Ferrari wasn't as celebrated (as compared to Massa's) and now his arrival has been overshadowed by Button's renewal. So much for being regarded as one of the most complete drivers in Formula1! (Read: Fernando Alonso To Endorse Raymond Suitings)
As for Mclaren-Honda, they possibly have the most experienced driver pair on the grid racing for them next year, but I wonder if this pair will remain long-term with the team given the team's struggle in the 2014 Formula1 Season. Alonso is desperate for his third World Championship before deciding to call it a day and it has been largely reported (and seems logical) that he will have a performance linked exit clause should Mclaren fail to deliver a winning car to him.
While one shouldn't go by Mclaren-Honda's testing form in the post-season test in Abu Dhabi, should Mclaren fail in their endeavor (or seem promising enough for 2016), we could see Alonso end his reunion with Mclaren by the end of 2015 and sign up for another team (IF Mercedes and Hamilton are unable to renew) or go race in another series (FIA WEC or FIA Formula E?). And it would be a bit of a shame if one of them most regarded drivers on the grid ends his career with only two World Championship titles!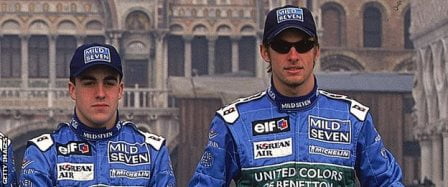 On the other side of the garage, I believe that Magnussen would need to be brought back for racing duty for the 2016 Formula1 Season which would mean that the 2015 could well be Button's last (and 16th) year in the sport. After earning much respect for battling hard and fair with Hamilton for three years in Mclaren, the time now is for Button to prove his worth and mettle against the much (or more?) talented Fernando Alonso. Exciting prospects for 2015 already! Thank you Mclaren!
And here's a link to the Inside Line F1 Podcast's Facebook Page where some nostalgic pictures of Alonso-Button have been shared. Take a look!