I got up this morning and checked my Twitter timeline to see Karun Chandhok show his new helmet design which has a tribute to the those killed and injured in the recent Mumbai bomb blasts. 'Be Strong Mumbai' are the words on his helmet and while I agree it's a good PR story, I wondered where he would be using this newly designed helmet. I probably assumed confidently that it would be used in the Friday Free Practice session of the German GP which is scheduled this weekend.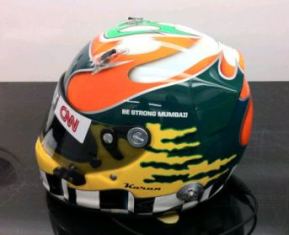 However, hours later, I read another tweet which 'congratulated' Karun for the German GP drive and soon it was all over the internet and congratulatory messages poured in via Twitter and other mediums. It was officially announced that Karun Chandhok would replace Jarno Trulli for the 2011 German Grand Prix in Team Lotus Racing's driver line-up.
Karun Chandhok hasn't driven a Formula1 race since the British GP last year, which he drove with the Hispania Racing Team. He has since then been Team Lotus Racing's test and reserve driver and has driven a few Friday Practice sessions for the team this season.
Karun Chandhok's promotion doesn't come as much of a surprise for two reasons. First, the team always has maintained that they would give him a chance to prove himself. This means that the team management has kept their word. Second, Jarno Trulli has struggled in the car in the first half of the current season. He has been out-qualified by team-mate Heikki Kovalainen eight times to one in 2011. Trulli has often complained of the power steering problems with his Team Lotus car which haven't allowed him to drive to his potential so far.
Karun's promotion comes at a time when Team Lotus are looking at their options for the future. Many believe that Trulli should be announcing his retirement at the end of this season and might be retained by Team Lotus in an advisory / mentor role. This would mean that Karun's performance this weekend will be monitored closely and should he do well, he should expect more race drives this season leading to full drive next season. Leaving talks of next season aside, I would expect him to drive in the inaugural Indian Grand Prix later this year.
The tale of the two Indian Formula1 drivers can be said to be of irony. Narain Karthikeyan was dropped by HRT just prior to the British GP (Read: Why Narain Karthikeyan Was Dropped) and will now be driving for the team in the Friday Free Practice session in Germany, while Karun Chandhok has been promoted to a racing seat from his usual Friday driver's role.
Karun's yardstick for the weekend would be simple to measure. His performance will be matched against the super quick Kovalainen all weekend and his difference to Trulli's times. Should he be quicker than Trulli, I would not be surprised if he was awarded more races in the second half of this season. As of now, the team has only confirmed Karun's drive for the 2011 German Grand Prix, which means that Trulli will be back in the cockpit for the Hungarian Grand Prix.
The other irony of this announcement is that Team Lotus is in negotiations with Jarno Trulli to extend his contract with the team for next year. The obvious indications are towards a non-driving role. Let's wait and watch while wishing Karun all the best for Germany!