F1 History & Stats: Spa-Francorchamps, Belgian GP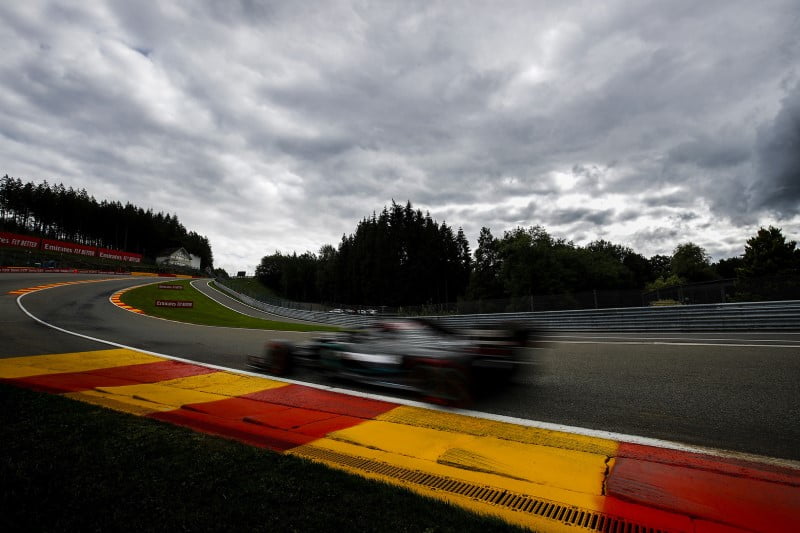 'Know Your F1 Circuit' is a new series launched on my F1 blog. The posts under this series will be penned by Saumil Patel, an avid fan of the sport. You can follow the full series throughout the season by using the 

'

Know Your F1 Circuit'

 tag. This week's post focuses on the 'Circuit de Spa-Francorchamps', the home of Formula 1 in Belgium and arguably one of the most-challenging circuits in the world of Motorsport. 
Circuit de Spa-Francorchamps nestles in the triangular expanse between the towns of Francorchamps, Stavelot and Malmedy in the heart of the hilly Ardennes Forest located in eastern Belgium. The moniker Spa is a misnomer, Spa is actually a bit further northwest.
The current circuit layout (1983 onwards) albeit shorter and tamer retains its core motor sporting genes, much to the credit of its legendary corners Eau Rouge, Blanchimont, La Source and the recently added Pouhon. Long straights and demanding fast corners allow the drivers to test their skills and push their cars to the edge of its performance capability. The uncertain weather adds to the thrill of racing on a dry, wet or dry and wet circuit. For sure, this is the track drivers and teams would be eager to go around.
For the Formula 1 fans, it is a spectacular viewing circuit which does not restrict viewing to a select few in the grandstands. Hike a couple of miles (sometimes braving the elements and muddy slush) and you will find your vantage point.
Before I dig further into the interesting 100-year old history of the Circuit de Spa-Francorchamps, here are some 'did you know?' facts about the circuit and the several races it has hosted.
F1 History & Stats: Spa-Francorchamps, 

Did You Know?
Spa has the highest elevation deviation of 102.2 meters between the lowest and highest sections.
The 1998 Grand Prix, which began under very wet conditions, had a massive first-lap crash involving thirteen cars with an estimated repair bill of $13 million USD.
Circuit de Spa-Francorchamps is the longest Formula 1 circuit at 7.004 km.
Damon Hill scored Jordan's first victory in 1998, after thirteen cars were eliminated in the start.
In 1969, the drivers boycotted the race over safety concerns.
Drivers change gears an estimated 42 times per lap, the lowest per lap on the longest circuit.
The Eau Rouge stream flows beneath the Eau Rouge chicane.
After the exit of La Source (Turn 1) into the braking zone for Les Combes (Turn 5) is an uninterrupted 1,875 metres.
The fearsome Eau Rouge/Raidillon corner, arguably the most famous on the current F1 calendar, features an elevation change of 35 meters from its lowest to highest point.
Drivers experience the highest lateral G-force of 5.2g through Pouhon (Turn 10).
The 'bus stop' chicane used to be a real bus stop. It has nothing to do with the reduced 'bus like' speed after heavy braking.
11 of the last 20 Belgian Grands Prix have been won by less than five seconds.
In 2019, Charles Leclerc became the first driver to score a maiden Grand Prix Victory at Spa after Michael Schumacher in 1992.
In 2016, Renault's Kevin Magnussen miraculously limped away with only minor cuts and bruises after crashing at the top of Eau Rouge at 300 kmph.
Lewis Hamilton took his 97th career podium in 2016 starting last on the grid and climbing his way through the field to claim third place.
The circuit has claimed the lives of 23 drivers.
The last 4 races for our title rivals –

LAPS LED
Verstappen – 142
Hamilton – 6

POINTS SCORED
Verstappen – 56
Hamilton – 76#F1 #F12021

— F1 StatsGuru (@f1statsguru) August 10, 2021
F1 History & Stats: Spa-Francorchamps
The iconic Circuit Spa-Francorchamps completes a hundred years (1921 – 2021) of hosting exciting, fast and often dangerous motorcar and motorcycle competitive sporting events. Wonder if Jules de Thier and Henri Langlois Van Ophem saw that in their wildest dreams when they charted out the original circuit in 1921.
What started as a 14.9 kms fast and perilous open public road circuit in 1921 is in its current iteration, the longest permanent circuit on the Formula 1 calendar at 7.004 kms and has remained true to its racing DNA. It is still very fast and quite unforgiving. The first Grand Prix was held in 1925 with twelve participants, only two finished. Both were in Alfa Romeos with a 22-minute gap between them.
The circuit has had multiple updates and revisions over the years mainly to increase the safety quotient as the circuit over the years had grown to be fearfully accident prone. The most noteworthy and extensive one was in 1979, when the circuit was modified and shortened from a 14.10 km circuit of using public roads with 24 corners to a 6.96 km permanent circuit with 19 corners due to safety concerns.
The second major renovation commenced around November 2006 and finished in May 2007 at a cost of around €19 million. The Bus Stop chicane was moved back towards Blanchimont and the La Source hairpin moved forward. This freed up much more space for the new pit lane and gave a longer start/finish straight.
COINCIDENCE: 👀@Schumacher 🤝 @LewisHamilton

• future 7x champions
• 1st title winning season
• won #BelgianGP on the road
• lost win hours after the race to nearest title rival
• ended the season winning title by 1 point from same title rival in chaotic fashion #F1 pic.twitter.com/UadOFcuSIf

— Motorsport Stats (@msportstats) August 24, 2021
F1 History & Stats: 

Spa-Francorchamps, The Circuit
Easily the most challenging and demanding high speed venue on the Grand Prix calendar, the drivers have regularly voted Spa as the best circuit with Eau Rouge and Raidillon delivering the biggest adrenaline rush.
As with most iconic circuits, corners play a definitive role. Silverstone's Maggotts – Becketts, Laguna Seca's Cocrkscrew and Istanbul's Turn Eight, infuse a lot of character to their respective circuits.
Spa, though is leagues apart. Every corner at Spa is stimulating and larger-than-life. Each corner has its history and some have been the Achilles heel for the champions. Drivers over the years have learned to fear and respect them. Eau Rouge – Raidillon is undoubtedly the biggest test for car and driver. No other circuit presents a bigger challenge even though modern-day cars take them flat out. The addition of Pouhon only elevates the quotient. Even the flat out straights are not so straightforward.
Circuit Certification: Grade 1
Circuit Classification: Permanent Circuit
Circuit Direction: Clockwise
Lap length: 7.004 km
Race laps: 44
Race distance: 308.052 km
Pole position: Right-hand side of the track
Number of Corners: 20
Track Width: 10 m to 14 m
Track Elevation: 365.6 m to 467.8 m
Race Lap record: 1:46.286, Valtteri Bottas (Mercedes, 2018)
Fastest lap: 1:41.25 Lewis Hamilton (Qualifying 3, 2020)
Maximum speed: 319.6 kmph
DRS zones: Pit straight and Kemmel straight
Grid to turn one: 271 m
Full throttle: 70%
Longest flat-out: 2015 m
Downforce level: Medium
Gear changes per lap: ~42
Fuel use per lap: 2.3 kg
Pit lane time loss: 17.4 s
The most successive driver is Michael Schumacher with six wins (1992, 1995, 1996, 1997, 2001 & 2002).
The most successive constructor is Ferrari with eighteen wins (1952, 1953, 1956, 1961, 1966, 1975, 1976, 1979, 1984, 1996, 1997, 2001, 2002, 2007, 2008, 2009, 2018 & 2019)
F1 announces a new 'Overtake Award' that will award the driver with the highest number of on-track overtakes. The award will commence from the 2021 #F1 season.

The top-3 overtakers of the season are (YTD):
1. Sebastian Vettel: 72
2. Fernando Alonso: 69
3. Lance Stroll: 64

— Kunal Shah (@kunalashah) August 24, 2021
F1 History & Stats: 

Spa-Francorchamps, Strategy
This iconic circuit has blistering straights with fast and technical corners which requires the right balance between power and setup. Most teams would be vying for the optimum balance between low downforce for the flat outs and high downforce for the twenty corners. On throttle and off throttle setting which would address both the slow corners and traction stability and a suspension setting for riding out the kerbs in sector two without compromising the front and rear balance.
The asphalt being quite aggressive and tyres being subjected to heavy vertical and lateral forces one can expect medium tyre wear. For the drivers who can preserve their tyres the best strategy would be single stop soft (18 to 20 laps) – medium. The second single stop option is starting on soft for the first 16 laps moving on to hard. The last feasible strategy would be soft 14 laps – soft 14 laps – medium 16 laps.
Saumil Patel is an avid fan of Formula 1. He aims to take you deeper into the sport by uncovering the lesser read.