Well, let's face it; there are only a possible 24 seats available in Formula1 and possibly over a hundred drivers who are eligible for those seats. To be eligible for even one of those 24 seats, you either need talent or money or both, sometimes even your nationality works in your favour. My reasons to state the above is to let you know how difficult it is to get a drive in Formula1, it is also to let you know how privileged one is to be a Formula1 driver.
However, this post is not about getting a drive in Formula1. This post is about how drivers can lose a drive in Formula1. In the recent past, we've seen several drivers including World Champions be sidelined by a team to promote a new or upcoming talent. The Formula1 driver market is a tough place to be for a talented young driver and more so for a team, who has to 'gamble' on young talent at the expense of a few million dollars every year.
There is enough reaction on the internet since the past few days on how Toro Rosso let go of their existing drivers Sebastian Buemi and Jaime Alguersuari to promote new talent, Daniel Ricciardo and Jean-Eric Vergne. What shocked most was the nature in which the announcement was made and the team themselves agreed that they were 'harsh' in their methods. Alguersuari was told a few weeks prior that he was a part of the team's 2012 plans and Buemi was infact in the Red Bull simulator when he got a call from Tost and Marko informing him of their driver decision for the 2012 Formula1 season.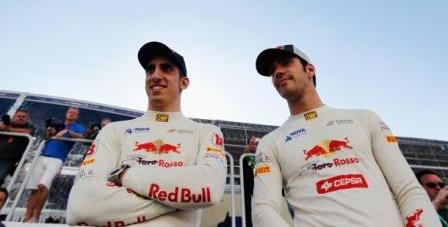 The team has taken a bold call by putting two near rookies in their car for the next season. By doing so, the team has re-affirmed their reason for existence in Formula1 (as Red Bull Racing's breeding ground for rookies) and Buemi and Alguersuari are no longer rookies in Formula1. While I do feel for Buemi and Alguersuari, it is interesting to see how Red Bull Racing is going all out to seek their Vettel #2 for the near future; similar to how teams were (and still possibly are) on a hunt for the next 'Schumacher'!
However, moving back to the topic, there have been instances where many drivers have been given the boot even after consistent performances in the top-flight of motorsport. Schumacher, Raikkonen and even Barrichello suffered a similar plight with Ferrari. From the current grid of drivers, Petrov, Senna, Grosjean, Hulkenberg and more have all gone through similar downs in their racing careers.
Ricciardo and Vergne have expressed great delight and excitement for their race seats for next year. However, they must remember that they could well go down the 'Buemi-Alguersuari' route as 'Perform or Perish' does seem to be the mantra at Toro Rosso.
Read posts: