Sebastian Vettel clinched his 6th pole in 7 races, taking his total tally of poles to 21. Ferrari looked quicker than they ever have while Mclaren seemed to lack pace in yesterday's qualifying session.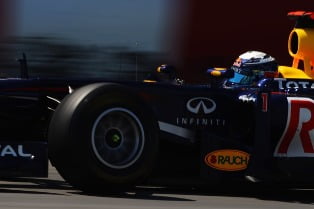 Observations from the 2011 Canadian Grand Prix Qualifying:
Sebastian Vettel clinched his 6th pole of the season and this was also Red Bull's first ever pole in Canada. Vettel's pole was surprising as Red Bull cars are known to dislike the long straights at the Gilles de Villeneuve circuit. Mark Webber's 4th place was 4 tenths off and was suffering from KERS troubles all of Saturday.
Red Bull is rumoured to be using a start-only KERS system which allows them a short burst of energy when needed. This system works off the start line, ensuring that the competition don't run away with their KERS boost. This system makse sense because it is rumoured to be compact and lighter in weight. The reports haven't been confirmed, but this does seem to be an innovative way to use KERS on your car.
Ferrari looked quicker than they ever have this season. For a change, we also saw Felipe Massa challenging Fernando Alonso's pace in qualifying. In Q2, we saw Massa lead the time sheets, however, in Q3, Alonso managed to edge Massa 2 hundredths of a second. Ferrari have brought a new suspension to Canada and it is rumoured to like the soft tyre better than the hard tyre. Ferrari's race pace is quick as we have seen in the earlier rounds and I would expect them to be challenge Vettel for victory.
Felipe Massa's last pole was in the 2008 Brazilian Grand Prix and this was his best qualifying performance in 2011.
Mclaren drivers qualified 5th and 7th, Hamilton ahead of Button. They somehow seemed to lack pace during the entire qualifying session much to the disappointment of the drivers. However, there are reports in the pitlane suggesting that Mclaren have gambled on a wet weather setup and are carrying more downforce. Yesterday's qualifying performance was Mclaren's worst this season.
Highlight of the qualifying session was Sauber's substitute for Sergio Perez, Pedro de la Rosa. The Spanish F1 veteran qualified in 17th position and only 3 tenths off his team-mate Kamui Kobayashi's pace. He managed to be on the pace in a car he had never driven before the Canadian GP. Infact, he participated in only one and a half practice session prior to qualifying.
Williams brought a blown diffuser update this race but it didn't work to their effect. As a result, they weren't quick enough to compete with Renault and Force India. GP2 Champion and F1 rookie Pastor Maldonado qualified ahead of F1 veteran and team-mate Rubens Barrichello by 3 tenths. This was the third race in a row where Maldonado out-qualified Barrichello. Post-qualifying it was also revealed that Barrichello had a stuck DRS wing (Read previous post: Adjustable or Ambigious Rear Wing) and hence lost time in the corners. Like the Mclarens, Barrichello too has gambled with a wet weather setup.
HRT's Vitantonio Liuzzi qualified ahead of both Virgin Racing cars for the first time this year. Tonio's pace was 1 tenth quicker than Timo Glock. Jerome d'Ambrosio couldn't manage to match the 107% target qualifying laptime. However, the Stewards have allowed him to race today. HRT's have been quicker than Virgin's in the last few races and I am glad that they have finally caught up.
Scuderia Toro Rosso's Jaime Alguersuari was the fall guy in Q1 of qualifying yet again. There are reports that STR might consider giving their Friday test-driver Daniel Ricciardo a break with a racing weekend later in the year should Alguersuari not be able to up his pace. Sebastian Buemi was 15th and behind the Force India car of Adrian Sutil. The STR drivers clocked the fastest speed in the speed trap, however, I doubt if they will gain positions in the race.
Paul di Resta qualified and impressive 11th, 4 positions ahead of team-mate Adrian Sutil. Resta has out-qualified Sutil 6 times out of the 7 races this season. (Read previous post: Force India's Smart Driver Line Up Will Work)
Mercedes GP cars were super quick in the practice sessions, but only managed 6th and 8th positions in qualifying. Nico Rosberg qualified ahead of Michael Schumacher yet again. While I don't think Schumacher can challenge for victory in the race, I would like to highlight that he has won this race 7 times in the past.
Reasons why I think today's race will be interesting:
Tyres: In qualifying, the difference between the primes and option tyres was about 0.3-0.5 seconds. This is unlike what the teams and drivers have experienced in the previous races. Tyre strategy will be crucial in the race, but the minor pace difference would mean that trying something out of the ordinary might only be slower.
Double DRS: The FIA has classified two DRS zones in Canada. The back and the front straights will be DRS zones. This is being implemented for the first time this year and has the backing of the F1 drivers. Post-race question might just be – is over-taking too artificial this season?
Brakes: This circuit is heavy on the brakes and they will be tested in the race. Canada is one of the few circuits where we see brake dust being emitted under-braking. However, this is also a circuit that has seen many retirements due to brake failures.
I would expect Sebastian Vettel to be beaten by one of the Ferraris in today's race. Should Vettel win, it would be a well fought victory. Winning aside, I am sure this race is going to be yet another Formula1 spectacle!