I wrote a similar piece at the start of the 2011 Formula1 Season explaining various options that Karun Chandhok would have for the season. You can read the post here: Where Will Karun Chandhok Be In 2011?
Hours before the Italian Grand Prix start, Jarno Trulli and Team Lotus announced an extension to their contract till the end of the 2012 Formula1 season. This announcement was after much speculation that Trulli would retire at the end of the 2011 season and leave a vacant seat at Team Lotus. This seat was expected to be filled by Team Lotus reserve drivers Karun Chandhok or Fairuz Fauzy.
However, Trulli's contract extension is good news for the Italian Formula1 fans and of course for Team Lotus. Trulli's experience is much needed by the Malaysian racing team to develop their car and team infrastructure as they aim to establish themselves a mid-grid team next year.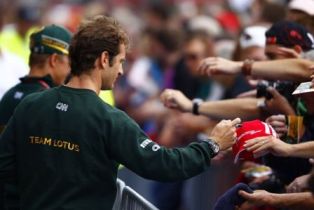 Trulli's extension also leads me to one important question – 'Where will Karun Chandhok be in 2012'? While I hope that he graduates to a race seat with one of the teams and competes in a full Formula1 season, current trends lead me to believe that he will spend the 2012 Formula1 season as a test driver for Team Lotus Racing.
Where do you think Karun Chandhok will be in 2012? Share your thoughts in the comments section below.