I usually try and update my blog within a day post the GP, however, my Force India F1 Academy duties have kept me away from scribbling.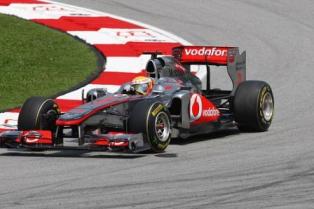 I had to list down my thoughts before Turkey began, so here they are:
The 2011 Chinese Grand Prix showed that strategy was key to victory and to confusion! Like most, I too was lost during the race (calculating who is on what strategy!) and was unable to predict the winner till the last few laps. Interestingly, the GP saw 6 different race leaders, most number after the rain-marred 2008 Japanese GP in Fuji.
Lewis Hamilton's race can be well summed as a blockbuster movie. From almost making it to the grid to clinching a convincing win! Tyre strategy and clean driving were key factors in his win. He was one of the few drivers that didn't rely on the KERS + DRS alone to overtake. Also, he is the first driver to win the Chinese GP for the second time in its short history!
Narain Karthikeyan did a one-stopper, but was still overtaken by his team-mate Vitantonio Liuzzi, who was penalized with a drive-through penalty. Narain has picked up speed, but needs to beat Liuzzi to make a second impression in the Formula1 Paddock. On the other hand, I was excited to see the HRTs close the gap to the Virgins and register a double finish.
Jenson Button's driving into the Red Bull Racing pit box was funny. While Red Bull Racing mechanics alleged that it was done on purpose, Button claimed that he was playing with the buttons on the steering wheel and hence the goof up. Button does need to get used to his buttons!
Reliability amongst the teams is at an all time high and only one car failed to finish, that of STR's Jamie Alguersuari. His DNF was due to a faulty pit-stop that saw him lose his right rear tyre on his out-lap. The bouncing tyre was certainly a dangerous one!
Team Lotus Racing had their most impressive race till date. They beat a Williams and a Sauber each and were faster than Fernando Alonso, Nick Heidfeld and a few other established names on race pace. While I hope they go faster on track, I am also hoping to see less of Tony Fernandes' tweets claiming that they are doing very well for an 18-month old team!
Talking about tyre strategies, there has been talk about teams and drivers compromising qualifying strategy, basically saving a set of fresh tyres and then utilizing them in the race. Mark Webber's run from 18th to 3rd was down to his tyre strategy and Christian Horner even questioned the importance of qualifying this season. However, I think qualifying will still be key and we will see the top guys fighting every inch of the track for a higher starting position.
Force India were unfortunate to not have scored any points today. They chose the conservative two-stop strategy and were overtaken by drivers who had opted for the three stopper. Adrian Sutil was hit by Sergio Perez towards the end of the race and was forced to pit the 3rd time. This was the first GP this season they failed to score championship points.
Sebastian Vettel had radio troubles during the race, but that is manageable. Red Bull Racing need to sort out their KERS issues and the Chinese GP showed that KERS is important not only at the start, but also during the course of the race. We did see a KERS'ed Michael Schumacher, trying to defend a KERS+ARW'ed Fernando Alonso in Shanghai. A Schumi-Alonso battle is always interesting.
Talking about Michael Schumacher, his driving in Shanghai was very good and reminded me of the old Michael Schumacher. Hoping Mercedes GP give him a car that can prove his worth!
Turkey is up next and it will be interesting to see what updates are brought by which team. Mind you, it is one thing to carry and install updates in the car, but another to get them to work.
Photos by Alex Comerford