Back-to-back racing weekends are a treat for racing fans. Barely 4 days break between the Malaysian Grand Prix and the Friday Free Practice in Shanghai. However, this also means that teams are spending more time in air than on ground to cover distances. Consecutive races also mean that performances are pretty much standard and room for improvement is less!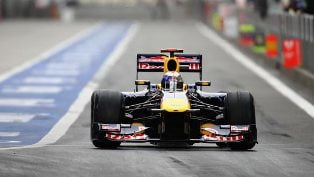 Here are a few quick thoughts on the 2011 Chinese Grand Prix Qualifying;
Red Bull Racing can't seem to fix Mark Webber's car right. KERS issues still prevailed on Webber's car and a wrong tyre strategy meant that Webber was unable to make the cut through Q1. It was surprising to see Red Bull send Webber out on hard tyres when he attempted to qualify himself for Q2. The Bulls are first time World Champions and are still learning how to stay there on top.
Mark Webber's 4 stops in Malaysia saw him finish 4th on the grid without his KERS. I don't doubt that he can repeat the same feat today.
Tyres will play a crucial role in Shanghai. Pirelli have indicated that a one-stopper is possible if drivers look after their tyres. However, tyres added colour to Q1 of qualifying yesterday. Most top runners, that included Ferrari, sent their drivers out on soft tyres to ensure a laptime quick enough to progress through Q2. The difference between the hard and soft tyres in Shanghai is nearly 3 seconds (Vettel's fastest was 1:33:706 and Webber's was 1:36:468)
Ferrari's using of the soft tyre in Q1 indicates that they are not confident of their qualifying pace as compared to their other rivals. This also means that the Ferrari drivers will have to choose their tyre strategy smartly. They will have one set of soft tyres less.
The surprise of Q3 qualifying were the Scuderia Toro Rosso drivers and Paul di Resta from Force India. The STR drivers qualified 7th and 9th fastest in yesterday's qualifying. It will be interesting to see if their race pace stays similar or fades away as it did in Australia.
Paul di Resta has had a dream start to his F1 career. He not only out-qualified his team mate Adrian Sutil, but also managed to book a row 4 slot for the VJM04. The Force India team have brought a few updates to Shanghai and they seem to be working. I am hoping that their consistent and reliable race pace allow them to register yet another double points finish today.
The Lotus Renault GP team couldn't unlock the true pace of their car after Nick Heidfeld's shunts in Friday Practice. Vitaly Petrov , who qualified 10th in qualifying, suffered from a gearbox problem immediately after registering his fastest lap in Q2. Nick Heidfeld needs to string in a few perfect weekends together to prove himself capable to fill in Robert Kubica's shoes.
Both HRTs were well within the 107% time set for qualifying. The good news for the HRT camp were that their cars were nearly 2 seconds quicker than the elimination laptime and only half a second off the Virgin Racing cars.
Narain Karthikeyan's qualifying lap was only 2 tenths off his Italian team-mate Vitantonio Liuzzi. Here's hoping that Narain completes today's Chinese Grand Prix.