The data released after the Italian Grand Prix qualifying (Read: 2011 Italian Grand Prix Qualifying Report) indicated that it would be almost impossible for Sebastian Vettel to win the race and betting on him would be considered as foolishness. However, Vettel went on to win the comfortably, thereby closing in on his second driver's title.
My observations from the 2011 Italian Grand Prix: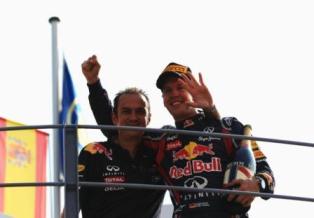 –          Sebastian Vettel's victory was his 8th of the 2011 Formula1 season and he is on his way to his second driver's World Championship title. Not many drivers would win 8 races in a Formula1 season and not be crowned a world champion! Mathematically, he can clinch his title in Singapore.
–          This was also Red Bull Racing's first ever victory at Monza.
–          The two DRS zones in Monza led many people to believe that artificial overtaking would be rampant. However, the Schumacher-Hamilton battle proved that with or without DRS, wheel-to-wheel racing is still possible. Schumacher drove splendidly while defending his position. What came to his aid was the extra 6kmph that his car was generating due to the lower downforce setup. Hamilton with a fully open DRS wing was unable to pass Schumacher for nearly 28 laps!
–          The funny part of their battle was when Hamilton and Mclaren were upset at Schumacher's multiple swerves on track to protect position. To me, the moves seemed extremely fair and I am glad that Hamilton didn't clobber the back of Schumacher's Mercedes GP car in the chase! Thank god!
–          I was extremely keen on seeing Rosberg's tyre strategy unfold during the race, but due to Liuzzi's error, he could barely make it past the first corner on the first lap. Shame! A spinning Liuzzi took out himself, Rosberg and Petrov, while causing damage to Barrichello, Kobayashi and Buemi. He was slapped with a 5 grid spot penalty post race, which means that he will most certainly start the 2011 Singapore GP from 24th and last place!
–          Fernando Alonso, who eventually finished on the podium in 3rd, made a spectacular start to the race from P4. He entered Turn 1 in first position, overtaking Hamilton and Vettel en route. Massa finished 6th after being nudged into a spin by an out of control Mark Webber. While Alonso showed good race pace, the Ferrari were struggling yet again on the hard compound tyre, something that has been their Achilles heel this season.
–          Webber looked off colour all weekend after a not-so-good qualifying and by crashing out in the race after losing his front wing in a clash with Massa while fighting for position in the first corner. Webber's crash marked Red Bull Racing's 1st retirement since the 2010 Korean Grand Prix. As an F1 statistic: Webber's DNF also affected RBR's 100% race finish record of the 2011 Formula1 season.
–          Apart from losing his front wing in Monza, Webber also lost his second place in the Driver's Championship table to Alonso. He now trails Alonso by 5 points.
–          Bruno Senna scored his maiden points at Monza. He was also the only driver to make 3 stops and battled with Toro Rosso's Buemi before finishing the race in 9th.
–          The other Italian racing team, Toro Rosso had one of the best racing weekends. They scored a double points finish with Alguersuari finishing 7th and Buemi finishing 10th. Alguersuari's career best finish must have been even more pleasing after he lost out in Saturday's qualifying and started the race from 18th spot. This was STR's first ever double points finish.
–          I presume that the circuit characteristic (low downforce) aided Toro Rosso the most. I don't expect them to show this pace on the streets of Singapore.
–          The top 5 finishers: Vettel, Button, Alonso, Hamilton and Schumacher – 5 World Champions in the top 5 in one race. Don't know if this has ever occurred before.
–          Yet another interesting F1 stastic: Sebastian Vettel has led 500 racing laps this season. No other driver has led even a 100 laps yet!
–          Also, Schumacher's performance has improved vastly in the last few races of this season. He is now only 4 points behind his team-mate Rosberg in the Driver's Championship.
–          Maldonado, who was running 6th for a large part of the race ultimately finished 11th and ahead of Barrichello in 12th.
–          There were only 15 classified finishers in the 2011 Italian Grand Prix.
–          Force India drivers split their tyre strategy at the start of the race with Paul di Resta starting on softs and Adrian Sutil on mediums. However, Adrian retired from the race with hydraulic problems and di Resta went on to finish 8th after battling hard with Alguersuari and Senna. His 4 points haul helped Force India overtake Sauber in the Constructor's Championship and the Indian F1 team is now placed 6th with 36 points. Their next target is Renault who are currently on the table with 70 points.
–          However, if there trend of strong points performance continues, Force India could potentially overtake Renault in the remainder of the season. In the last 6 races, the Indian racing team has scored 26 points as opposed to Renault's 10. The new driver pairing at Renault could help Force India's cause in the Constructor's Championship.
–          The other Italian driver Jarno Trulli extended his contract with Team Lotus Racing till the end of the 2012 Formula1 season. Great news for Trulli and Team Lotus, but where will Karun Chandhok be in 2012? (Read post: Where Will Karun Chandhok Be In 2012?)
Up next is Singapore and I hope Vettel doesn't clinch the championship just yet! He should probably wait till he comes to India for the first ever Indian Grand Prix!