After weeks of speculation regarding their driver line-up for the 2014 Formula1 Season, Ferrari finally announced the much anticipated, debated and rumoured pairing of Fernando Alonso and Kimi Raikkonen. Although I am a few days late for this update on my Formula1 blog, the Prost-Senna type pairing will be the talk of the Formula1 Paddock for the remainder of the 2013 Formula1 Season and further! (Read: Ferrari Steal Vettel's Thunder)
Infact, I wouldn't be the only fan who wouldn't mind handing (gladly and deservedly so) over the 2013 Championships to Vettel and Red Bull Racing only to bring forward the start of the 2014 season! After all, rule and engine changes will now be accompanied with new driver pairings and more than half of the grid is yet to be confirmed! Here are my thoughts on Ferrari, Fernando Alonso and Kimi Raikkonen. And how it also affects Nico Hulkenberg and Felipe Massa.
Ferrari
The sport's most iconic team that was unbeatable till a few years ago during the Schumacher-Todt-Brawn days has now become the team that has failed to deliver a fast car on a consistent basis. And if they've managed a reasonably fast car, the calls from the pit-wall have been most non-lethal or un-Ferrari like!
The Alonso-Raikkonen pairing indicates that the Italian team, who hasn't tasted success in the Constructors' Championship since 2008, is willing to take bold steps to reclaim their lost glory. After nearly two decades of relying on the 'number one' driver strategy (since Schumacher joined in 1996), they are now keen to employ two near numbers ones in 2014. And this strategy delivered 6 Drivers' Championship titles, a few near misses (Massa, '08) and 8 Constructors' Championships (nearly a third of all titles since the arrival of Schumacher).
However, their recent successes can be dated back to the 2007 (Raikkonen, Drivers' Championship) and 2008 (Constructors' Championship) seasons, which by Formula1 (and Ferrari) standards is a tad too long. And in this period, it isn't their traditional rivals (Mclaren / Williams) they've been fighting against, but an emerging giant, Red Bull Racing. Which leads me to ask, is this decision based on frustration rather than logic? My votes are still split…
Firstly, much like every other team, Ferrari's interest is in reclaiming the Constructors' Championship; after all, that's where the money lies! Massa's lack of pace has hurt them the most and by having a strong driver pairing, the team hopes to fare better as a Constructor next season. With two World Champions in the cockpit, the pressure will be higher on the technical team to design, build and develop a car that allows the champions to perform their magic on track. So from a motivation point of view, the decision seems spot on.
On the other hand, the decision does seem to lack some logic when it comes to successor planning. Both their drivers are in their 30s and nearing the end of their Formula1 careers. Would it have helped to bring in a junior driver who could then be groomed under Alonso to take over post-2016? Possibly yes! But then again, Ferrari haven't really groomed their top driver in recent history. They've believed in 'buying' top talent from whichever team and this has worked for them (Schumacher, Raikkonen and Alonso). But interestingly, Raikkonen and Alonso's contract end around the time Vettel's expires with Red Bull Racing. Is this an indication that the scarlet red overalls will await the quadruple World Champion (he's nearly there!)?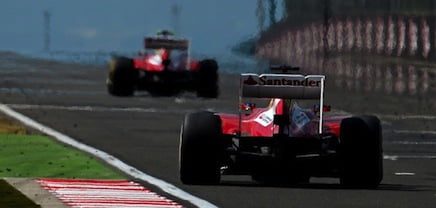 Fernando Alonso
The Spaniard would be surprised to see himself in this position after an agonising few years at Ferrari where they've collectively failed to achieve Championship success. While Alonso has battled an uncompetitive car for most of his Ferrari tenure, the one thing he hasn't battled yet is a competitive team-mate. This scenario will certainly change in 2014.
Analysts (mostly current and former Ferrari / Mclaren engineers who have worked with the two) have indicated that Alonso would have the edge over Raikkonen and I would take their analysis seriously. After all, engineers see drivers as robots who should be able to drive the car to its absolute limit (at all times) and I have encountered some very precise data comparisons between drivers in the recent past. And should Alonso beat Raikkonen, I expect his already high stakes in the driver market to only rise further.
However, I expect all hell to break lose inside the Ferrari camp should Raikkonen have the edge over Alonso more than a few times next season, where he will not start as the team's de facto no. 1 driver. Alonso has battled a competitive team-mate only once out of his twelve years in Formula1; during the 2007 season alongside Lewis Hamilton. And we all know how that panned out!
While regarded as a 'complete' driver, dealing with a competitive team-mate has historically been Alonso's weakness. Is there a possibility that Alonso could leave Ferrari ahead of his contract? Or will Ferrari sack him due to lack of team-player conduct (he was accused of this in his Renault days)? And while I have written in the past that Alonso has no option but to race for Ferrari till 2016, would Mclaren-Honda be his next destination? Given that old flames are reuniting, I wouldn't bet against this one too!
Kimi Raikkonen
The Iceman is the biggest beneficiary in this love triangle! And deservedly so, in my view. The Finn has gone from being unwanted in 2010, where he was paid millions to 'not' race for another team, to now being paid a few millions extra to comeback and race for Ferrari. While his talent and raw pace have never been in question, his re-signing with Ferrari indicates that his comeback to the sport has been beyond expectations and he's probably a better driver now. After all, he had Red Bull Racing too showing interest in hiring him for next season. (Read: Raikkonen Almost Raced For Red Bull Racing In 2014)
The Iceman's target is his second Drivers' Championship and it was clear that Lotus isn't in the best position (technically and financially) to help him do so. With new regulations in 2014, it makes absolute sense to be with a manufacturer team like Ferrari who have the necessary engineering experience and the moolah to fund it! However, it must be noted that his first option was Red Bull Racing and not Ferrari.
Raikkonen would know that he would need to work harder in his second stint at Ferrari given that his partner will be a double World Champion who has made Ferrari his home for the last 4 seasons. While his monosyllabic ways are adored by fans (Read: Raikkonen The Entertainer), he will need to participate more to have his say in the team and swing the forces in his favour. And in my view, Raikkonen is probably more mature now and this should work in his favour as he dreams of retiring as a World Champion with the Scuderia. And we all know how good Ferrari's retirement benefits are!
And if ever there's a part II to the movie Rush, the expected Alonso-Raikkonen rivalry would be an ideal story-line and Raikkonen would like to be the driver who beat the 'near perfect' Alonso in equal machinery!
Nico Hulkenberg
'So near, yet so far' would be the best way to describe the Hulk's signing with Ferrari. After being on pole position to replace Massa, he lost out to a late manoeuvre by Raikkonen and his management. With him being a free agent for 2014 and Lotus being the only competitive cockpit available, I hope that the young German secures one sooner than later.
This would be the Hulk's fourth team in as many seasons and it is time he shows stability in his career, anchors himself with a team and produces the results we all know he is capable of. And since he's one of the best drivers I have worked with, I would quote one from The Matrix and offer some solace: "Fate, it seems, is not without a sense of irony"
Felipe Massa
The almost 2008 Formula1 World Champion and one of the sport's best ambassadors now seems himself out of Ferrari after 8 solid years with the team where he partnered World Champions Michael Schumacher, Kimi Raikkonen and Fernando Alonso. His services were paid respects to by the team management and rightfully so. Massa is probably the best no. 2 driver on the grid and this is also what caused his downfall psychologically and on-track.
The Brazilian has the unique distinction of having raced in Formula1 with teams powered only by Ferrari engines and there's a very slim chance that he may go back to Sauber next season. However, given Sauber's current state of finances (though they've secured Russian funding), there's a chance they may choose a pay driver over Massa.
Lotus has revealed that they're in talks with Massa and I think that while he is a good bet for mid-field teams, his lack of performances post 2009 (his accident year) will make teams think otherwise. His experience could come handy, but at the cost of valuable championship points?
In my view, Massa has two possible career paths to choose from. He could follow his fellow Brazilian and former Ferrari driver Rubens Barrichello who chose to leave the Ferrari stables and race with a mid-field team for a year or two and then retire to compete in other racing series for fun and engage in some TV commentary. Or he could go the Giancarlo Fisichella route where he sticks to being a Ferrari driver and participates in the team's Le Mans and other similar campaigns and then chooses to drive Ferrari's showcars at various roadshows around the world! Ferrari have been kind and patient with Massa post his accident and I wouldn't be surprised if they continue to be so for the years to come.
While Ferrari wait to see if their explosive driver pair will bring them success, Formula1 fans are assured of year long gossip from the 'fire & ice' relationship at the Scuderia!