The weekly Formula1 Podcast with RJ Rishi Kapoor got missed due to travel to the 2012 Indian Grand Prix. However, we will be back with a post-race podcast so do catch it when live! (Read: Massa Renews, Raikkonen To Renew)
The news that came in earlier this evening was that of 'Son of Sardar' starcast of Ajay Devgn and Sonakshi Sinha singing the national anthem prior to the start of the race on Sunday Race Day! With F1 in India this week, this will be the first of many film promotions that have happened via Formula1 partnerships . Sahara Force India team partnered with Shahrukh Khan's 'Ra One' for last year's race. (Read: Sports Marketing Around The Indian Grand Prix)
However, apart from this promotion, I am expecting quite a few leading celebrities from the world of sports, politics, movies and entertainment to be present at the race via guests of various Formula1 teams. (Read: Formula1 Needs Better Marketing As It Enters Newer Territories)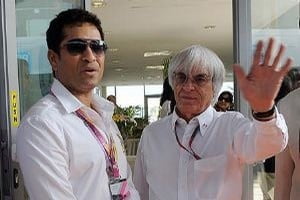 The other big question will be, who will get the honour of waving the chequered flag at the end of the race? Last year it was Sachin Tendulkar who had this distinct honour.
And then of course, which dignitary will give away the trophy to the winning driver? Last year it was Mayawati, the then Chief Minister of the state of Uttar Pradesh, who had done so. Will it be the Sports Minister Ajay Maken this year? Or someone else? Could it be Akhilesh Singh Yadav, the current Chief Minister?
Leaving aside who it will actually be – which esteemed Indian would you like to see give away the trophy to the winner? And with the changed format, who do you think will do the post-race podium interviews?
***
If you've not already purchased your tickets for the 2012 Indian Grand Prix to enjoy F1 in India, go ahead and do so right away! Read the '2012 Indian Grand Prix Ticket Purchase Guide' and get yourself the best seats possible!
Read latest posts on my Formula1 blog on Narain Karthikeyan, Indian Grand Prix and my Formula1 Podcasts recorded with RJ Rishi Kapoor.
Also read the most read posts on my blog: