The 2011 Monaco GP was nothing less than a thriller for Formula1 fans. We saw tyre strategy spice up the action yet again, followed by mid-race crashes and Lewis Hamilton's multiple penalties.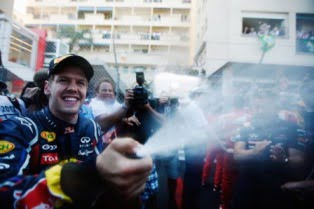 In the end, Sebastian Vettel scored his first ever victory in Monaco and thereby clinched his 5th victory of the season in only 6 starts. Fernando Alonso raced his Ferrari home in 3rd, followed by Mclaren's Jenson Button.
Here are a few thoughts from the 2011 Monaco GP:
Sebastian Vettel drove like a World Champion. He had two former World Champions breathing down his neck in faster cars and fresher tyres, but he still managed to soak up the pressure and come out victorious. Two back to back weekends when he has held off charging competitors to clinch victory, he did the same at last weekend's Spanish Grand Prix. Vettel was the 10th driver to win the Monaco GP in as many seasons.
While Vettel won, his first pit stop was a lousy 6.9 seconds, which saw him lose track position to Jenson Button and also delayed team-mate Mark Webber's pit stop since he was waiting in queue. The pit call was so late that the Red Bull mechanics didn't have enough time to gather his tyres.
Sebastian Vettel ultimately won because he did 60 laps on his option tyre and was consistently clocking 1:19s on his long stint. His driving allowed him to not only save one entire pit stop, but also not lose too much pace in the bargain. He was up against two other World Champions in different teams and more importantly on different tyre strategies.
Fernando Alonso put his Ferrari on the second row of the grid to start 4th, their best qualifying result of this season. Alonso drove a spirited race and fought every metre on track with Vettel in an attempt to overtake him. In the end, Alonso had to settle for second place and finished the race a second after Vettel.
Ferrari haven't won a race in Monaco for ten years and they will only have to wait another long year to make better of this statistic. Ferrari seemingly were better in their tyre usage than the other teams and that allowed Alonso to go longer during his first and second stints. Felipe Massa had yet another weekend to forget as he crashed while defending position from Lewis Hamilton. He was off line in the tunnel on the marbles that caused a loss of grip and Felipe eventually crashed and dragged himself along the barrier on the left. An unexpected and rookie error from the Ferrari ace!
Mclaren had an action packed weekend. Jenson Button provided all the action on track, while Lewis Hamilton did so off it. Button attempted a 3 stop strategy as opposed to Vettel's single-stopper and Alonso's two-stopper. Unlike Button to stop for tyres more than the others, but his strategy did seem to work as he was always faster around the track than the others.
Where his strategy failed was where he was expected to overtake Alonso and Vettel on track around the twisty Monaco circuit. The result was a classic duel for first place between three World Champions – Vettel, Alonso and Button.
Lewis Hamilton started 9th and pulled off a classic overtaking move on Michael Schumacher, one that I believe was the best of the 2011 season so far and Lewis' only highlight of the Monaco GP. Considering Mclaren's pace and Lewis' confidence in the car, I expected him to qualify on pole and win the race. However, a wrong strategy in qualifying followed by over-ambitious overtaking moves on Felipe Massa and Pastor Maldonado saw Lewis finish 6th. He received a drive through penalty in the race and a 20 second penalty after it. Hamilton has been summoned 6 times across 6 races already this season. A frustrated Hamilton's racist remark after hearing about his summon will surely make the headlines in the coming week.
In Monaco, the pit crews were in a battle to be the worst crew of the race. Both Red Bull and Mclaren crews were not ready to pit when Vettel and Hamilton came for their first pit stop. Or was it because the teams called for pit a tad too late?
The Mirabeau hairpin saw a lot of action and overtaking from Hamilton, Schumacher and Paul di Resta. Schumacher made a lunge on his team-mate Rosberg when they were fighting for 14th place. Resta's move on Jaime Alguersuari was declared unclean and earned him a drive through penalty, ultimately finishing the race in 12th. At one time in the race I was wondering if Resta was playing chitty-chitty bang-bang after TV grabs showed front wing and other body work hanging!
Mercedes' race pace was shocking once again as both drivers failed to make an impact after starting the race from the top 10. Michael Schumacher suffered from an airbox fire that led to his retirement while Nico Rosberg finished 11th and outside the points.
Up until the Monaco GP, the Safety Car hadn't been used in the 2011 season. In Monaco, we saw two SC periods, first due to Massa's crash and second due to Petrovs'. The beneficiaries of these SC periods were Force India's Adrian Sutil and Sauber's Kamui Kobayashi. They pitted under the SC period that saw them lose little time and track position. Sutil eventually finished 7th, earning Force India 6 valuable points, while Kobayashi finished 5th.
WillamsF1 scored their first ever points of the 2011 season after Rubens Barrichello finished 9th. They would've finished higher up on the charts had Hamilton not taken out Pastor Maldonado who was running a strong 6th position.
6 laps to the end we saw a typical Monaco accident when Sutil lost a tyre and slowed down the entire bunch behind him. While Hamilton slowed down in time, Sebastian Buemi and Vitaly Petrov didn't, causing a massive shunt and the race's second SC period. Petrov was taken the hospital after he complained of leg pain. The SC period was short lived as the race was Red Flagged to allow the marshalls to clear the damage and repair the barriers.
The Red Flag meant that viewers were robbed of a classic finish to the GP. The trio of Vettel, Alonso and Button were separated only by a second and were gunning for victory in the closing stages. The Red Flag period allowed drivers to change their tyres, which pretty much meant that the drivers resumed the race on an equal footing.
Sebastian Vettel has been unbeatable in qualifying, but the last two GPs have shown that he is vulnerable in the race and can be beaten. The only question is when?
Up next is the Canadian GP and the circuit is known to be least favourable for the Red Bulls. Can Ferrari and Mclaren mount a challenge on the mighty Bulls?