Hours before the 2011 German Grand Prix, Timo Glock announced a 3 year extension of his contract with the Marussia Virgin Racing Team. The German GP also happens to be Timo's home GP and he will start today's race in 19th position after a gutsy qualifying performance that saw him beat the Team Lotus racing car of Karun Chandhok. (Read: 2011 German GP Qualifying Report)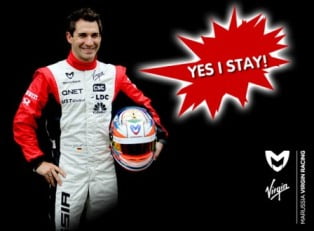 Glock's announcement doesn't come as a surprise for the following reasons:
Earlier this month, Virgin Racing announced a partnership with Mclaren. This is after they sacked Wirth Racing Technologies and Nick Wirth as their Technical Director. Mclaren's partnership with Marussia Virgin Racing is expected to be on similar lines as their partnership with Force India. You can read my thoughts on this partnership here: Marussia Virgin Racing Tie Up With Mclaren
This partnership offers a strong future to the Marussia Virgin Racing team. Whether this future will be stable in terms of finances and performances is something that the Marussia management can control. But with Russia expected to join the GP bandwagon in 2014, the Marussia Virgin Racing team is here to stay at least till the 2014 season.
Timo Glock had an illustrious career with Toyota Racing. However, following their exit from Formula1 (Read: Is F1 Dying For More Car Manufacturers?), the only drive option in front of him was with Virgin Racing. It was a bad career decision and he probably knew that too, but it was probably better than having no drive whatsoever!
Virgin Racing's first year in the sport was as disastrous as it could get. An all-CFD designed car started on the wrong foot and dented Glock's chances of showcasing his racing skills in an attempt to secure drive with a big manufacturer team in the future.
Glock first debuted with Jordan Grand Prix at the German Grand Prix a few years ago before moving to the Toyota F1 team. While there are positive vibes in his contract extension with Virgin Racing, I also believe that this was his only option to secure a long-term future in Formula1.