The 2011 Spanish Grand Prix was a mixed bag for me. I was certain that the ARW wouldn't aid overtaking and it didn't. I was also certain that the Pirelli tyres would once again come to the rescue of the F1 fans and they did.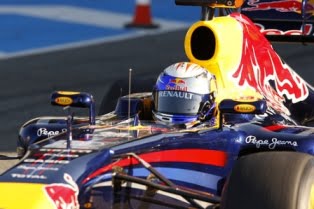 Sebastian Vettel won his 4th GP of the season, from 5 starts. His start has been the 5th best start to a Formula1 season ever (matched Schumacher's start in 1994 and 2004) and Vettel has been Schumacher-esque in his victories this far. That would mean that he has demolished the opposition that includes his team-mate Mark Webber while chasing victories this season. Also, it was the first time in 11 years that the driver who started on pole didn't win.
As with my previous posts, here are a few observations:
Fernando Alonso's classic start was due to Ferrari's KERS system and he was able to jump the Red Bulls due to the long nature of the start-finish straight. Alonso started 4th and entered the first corner first, overtaking the Red Bulls of Sebastian Vettel and Mark Webber and the Mclaren of Lewis Hamilton. Alonso lead the race till the first round of pitstops and his pace was truly commendable. He did manage to race the Ferrari in a position it didn't have the pace to be in. However, the Ferrari lost much of its pace once it bolted the Pirelli hard compounds. Their pace difference was very high compared to the Red Bulls and saw Alonso finish 5th and a lap down on the leaders.
Alonso's start surprised a few, but it was the extra distance that he got by starting on row 2 that helped him use his KERS boost for overtaking. Felipe Massa on the other hand had a race to forget. He retired from the race with gearbox and tyre problems. I am particularly upset about Ferrari's result in Spain. After leading the race in the first segment of the race, finishing 5th was an anti-climax.
Sebastian Vettel too jumped Mark Webber at the start and was chasing Alonso with consistent pace. Vettel had the pace to overtake Alonso, but the nature of the circuit meant that overtaking was next to impossible. Infact, Vettel managed to overtake Button and Massa after his first round of pitstops for new tyres in a span of 3 corners. Both the moves were in the non-DRS zone and were due to the freshness of Vettel's tyres.
The Spanish GP did throw some realities in front of the F1 management. The DRS system is innovative, but not always leads to overtaking. Pirelli tyres may be heavy in degradation, but are adding to the show for the fans. The least of all, Circuit de Catalunya also proved that it is circuit design that is important for overtaking on track.
Lewis Hamilton grabbed second position on the podium and did so with slightly different pit stop strategies. He had a longer second stop that saw him jump position over Alonso and Webber. Hamilton's last stint was quick and helped him chase down Vettel, but he was unable to pull off a maneuver and claim victory.
Jenson Button once again proved that he is hell bent on making his different tyre strategies work. He pitted thrice as compared to everyone else and this time it did work for the Brit as he finished 3rd in the race. However, he finished 35 seconds behind race leader Vettel. While I love the fact that Button's trying different things to beat competition, maybe once he should attempt to do the regular and see if a race win comes his way.
Mclarens were a full second off in qualifying, but were 4 tenths quicker than Red Bulls on race pace. The Mclarens also seemed to look more comfortable on the Pirelli hard compound tyres. Till Ferrari and Mercedes develop their cars, I see 2011 becoming a two horse race between Red Bull Racing and Mclaren Mercedes.
Mercedes GP were two seconds off the race pace and saw Michael Schumacher and Nico Rosberg finish outside the top 5 a lap down on the leaders. Michael Schumacher in particular had a good race. Infact, he had a spectacular start off the line which saw him overtake 4 drivers and round corner 1 in 6th position. Schumacher finishing ahead of Rosberg was good for the legend's confidence. However, his reverse tyre strategy in qualifying didn't yield an unexpected result.
Reverse strategy however did work for Renault's Nick Heidfeld who started 24th and finished 8th in the race. He charged his way up the middle order to break into the top 10 beating his Russian team-mate Vitaly Petrov in the bargain, who finished 11th.
Sauber had a good race in Spain and scored points in the 4th race in succession. Had their rear wing not be deemed illegal, they would've scored points in the opening round in Australia as well. Rookie Sergio Perez finished ahead of Kamui Kobayashi. Perez's move on Massa in the middle of the race could well be an indication of the future. Perez is a part of the Ferrari Driver Academy and should Massa's form not improve, I don't see why Ferrari won't promote Perez.
The biggest loser from the top 10 starters has to be Pastor Maldonado. He qualified and started in 8th position, but could only manage a 15th place finish in the race. Williams have been consistently inconsistent this season.
Force India's used an interesting tyre strategy in qualifying and managed to save a set of soft compound tyres for the race. While they managed to jump 4 places in the race, they finished their second consecutive race outside the points.
Narain Karthikeyan's qualifying pace was only a tenth of Vitantonio Liuzzi. Both HRTs started ahead of Virgin Racing's Jerome d'Ambrosio, but only one HRT (of Narain) managed to finish the race. Tonio had a gearbox issue that saw him retire from the race. Narain finished a lowly 21st in Spain.
The first free practice of the Monaco GP is only 2 days away and I wonder who will be able to Sebastian Vettel and more importantly, how!
Photos by Alex Comerford