It was a typical Malaysian Grand Prix and you know what I mean when I say that! The late start in the day meant that the threat of thunderstorms was apparent and they did disrupt the race for nearly 50mins before we had a restart.
In yesterday's Malaysian Grand Prix Qualifying Report I had spoken about tyre strategies and how crucial they would be in the race. However, the arrival of rain pre-race meant that all strategy talk went down the drain! Pre-race, Rosberg was allowed to replace his flat spotted front tyre from a previous set, something that I am surprised didn't make for controversial news.
Here are my thoughts from the 2012 Malaysian Grand Prix:
–          In one of my buildup columns to this weekend, I had written why one shouldn't write Ferrari off and you could read that column here. Alonso proved yet again why he is one of the best drivers in Formula1 by winning in a car that isn't designed to win! Alonso's class driving, aided by Ferrari's strategy and a mixture of good luck saw him win a race he would've never dreamed of winning after yesterday's disastrous qualifying session (he start P8).
–          The two lucky instances that helped Alonso stay ahead of the pack where when Massa's pit entry delayed Hamilton's release (this wasn't intentional) from his pitstop and when Perez had an off-track moment while chasing down Alonso's F2012 in the closing stages of the race.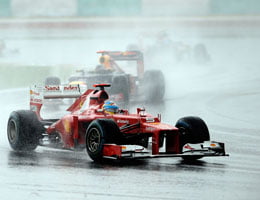 –          I am not much of an Alonso fan, but this truly was one of his best race victories so far.
–          The Sauber of Sergio Perez should've clinched victory, but a driver error while closing in on Alonso meant that Perez had to settle for 2nd. The Sauber was quicker than Ferrari in both the wet and dry phases of the races which adds that much more flavor to Alonso's win. Many speculate if the message to Perez a few seconds before he went off was a 'team message' in disguise, while the team outrightly denied it, the truth behind it will never be known!
–          Off all the teams on the grid, the only one to get a double points finish was Sahara Force India after their drivers finished P7 (Paul) and P9 (Nico) in the race. The team collected 8 valuable points in the Constructor's Championship.
–          I have always written about the competitive mid-field and in the top 10, 5 drivers were from the mid-field teams. Infact, 9 teams scored points in the race with one driver from each team making it into the points.
–          While all six World Champions started from the top 10, only four ended up with points. Button and Vettel, both who had separate incidents with Karthikeyan finished outside the points.
–          Sticking to the Karthikeyan issue, while Button has apologized, I wonder why Vettel has gone ahead and laid the blame on Karthikeyan for this clash. From the TV replays, didn't Vettel move further to the left in Karthikeyan's line?
–          For Karthikeyan, he got a 20 second penalty, which is alright, but he went ahead and apologized for these incidents! I wonder why! He ruined races of two front runners, but they weren't intentional!
–          And again, HRT's decision to start the race on full wets paid dividends as Karthikeyan was racing in the top 10 while others pitted to change from inters to full wets. If only he had the pace to fight in the top 10!
–          Williams again had the race pace, but a late race engine failure for Maldonado saw him classified 19th and one lap down. Although Senna, who finished 6th, scored his first points for Williams. Also, Maldonado has retired from Australia and Malaysia with one lap to go – wonder if this is some kind of taboo!
–          The Mercedes cars went backwards as expected but frankly I didn't think their tyre degradation would be this high. Schumacher inherited 10th place after Maldonado retired to score a single championship point.
–          If Perez was the star of the day, Massa was the biggest disappointment. One can never justify a 15th place finish when your team-mate wins in the sister car! I have a feeling he will be replaced mid-season by Ferrari and the man who will take his place will be Sergio Perez.
–          The bottom teams finished the race but were way off to create any impact in the mid-field. Petrov, Glock, Kovalainen, Pic, Rosa and Karthikeyan was their finishing order.
–          The other disappointment of the day was Grosjean, who after a brilliant start beached the car yet again due to a driver error. Grosjean has completed only 4 laps in the two races he's participated in so far.
–          While Webber scored points for Red Bull Racing (finished 4th), the team seemed out of control towards the end of the race when they asked Vettel to retire the car immediately only to frantically ask him to stay out. I suspect that they wanted him to retire the car for strategic reasons as finishing 11th wouldn't have benefited them in anyways.
–          The other rookie that shone today was Toro Rosso's Jean Eric Vergne, who went from 18th to 8th and was the only driver in the top 10 to make only 2 pit stops. His stint before the race suspension must be applauded as he was the only driver lapping on intermediates in a treacherously wet track.
–          Hamilton looked grim when he finished 3rd after starting from pole. For those who love statistics, Hamilton is yet to win in Sepang though he has always been in the points every year he has competed.
While the Malaysian Grand Prix was interesting and offered a nail-biting finish, I think the organisers need to re-think their strategy to start the non-European races later in the day. This was the second time in four years where we have had thunderstorms and bad light affect racing.
After two back to back Grand Prixs, the 2012 Chinese Grand Prix is three weeks away. Keep coming back for more updates till then.