Believe it or not, but it took me nearly 10 minutes to come up with a suitable title for this blog post. Vettel did a Schumacher yet again and created history, but only after much deliberation I chose this title; because after a long long time, did I see Vettel working hard for a win. That the win came at his home GP was an icing on the cake! No doubt!
The Lotuses finally came out of hibernation and displayed pace that they did in the early few races of the season. As for Alonso, he was found waiting for a quicker Ferrari yet again! Will that happen in the 2013 Formula1 Season?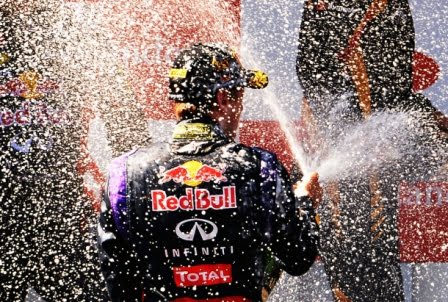 I was expecting a Ross Brawn vs. Adrian Newey fight in this race which of course didn't happen. Whether it was the change in spec of the Pirelli tyres (ironic, isn't it?) or the warmer conditions, only time will tell! And also, thankfully we didn't have 'Puncture-ring' this weekend! (Read: From Puncture-stone to Puncture-ring?)
Race Results:
Sebastian Vettel: 4th win of the season, 30th win overall, 1st win in Germany and 1st win in July! This man is making records alongside his driving! But records aside, full credit to the German for driving a perfect race under pressure from the Lotuses. And for a change, his RB9 wasn't the fastest car on track as well. While I praise Vettel for his racing talent, I am also the first one to take it away from him by saying 'Vettel did a Schumacher'! Still leads the Drivers' Championship as Alonso and Raikkonen show their pace in patches! A 4th title nearer in sight?
Kimi Raikkonen: The Iceman finished only a second down on Vettel and indicated post-race that he probably didn't need his third stop, which was anyway a change of strategy only mid-race. While it is always good to see him do well, I wouldn't jump the gun too soon to say that Lotus has made a step forward and we will see him as strong as we did in Germany. And of course, rumours are only getting stronger that Kimi Raikkonen will race for Red Bull Racing in 2014.
Romain Grosjean: While 'Crash'jean hasn't come to the fore too much in the 2013 Formula1 season, I believe that the criticism kept Grosjean away from his best. He drove a good race and should've had P2 if not for the team orders. But will he have a cockpit to race in the 2014 Formula1 season?
Fernando Alonso: Always in the fray, always in the fight, but his 'prancing horse' isn't proving to be a mighty competitor it seems. Is it going to be like this all season long? And of course, he followed Massa post-race and parked his Ferrari in the same spot!
Lewis Hamilton: Pole to P5 shouldn't please the former World Champion. But this is the best that Mercedes could do today. Did the warmer conditions or tyres limit them?
Jenson Button: Mclaren's best result of the season, isn't it? That says a lot!
Mark Webber: Amazing recovery after a Red Bull goof-up in the pit-stops. Are sub 3 second pit-stops getting dangerous? While it is great to see the mechanics in action (much like poetry in motion!), are the teams pushing their limits a little too much? Well, if they weren't, this wouldn't be Formula1. And I hope the cameraman recovers well and in time!
Sergio Perez: Double points finish for Mclaren! Sigh for Sahara Force India and Indian Formula1 fans!
Nico Rosberg: I had tipped him for victory this weekend and a bad qualifying position resulted in a bad race result. While this underlines the importance of qualifying, do team orders by Mercedes to let Hamilton pass indicate the driver status in the team, or does it?
Nico Hulkenberg: So barring Sutil, all German drivers scored points in their home GP! The Saubers looked faster this weekend. Again, was it the warmer conditions and change in tyres?
Paul Di Resta: Missed out on a points finish after being overtaken by Rosberg and Hulkenberg in the last few laps of the race.
Daniel Ricciardo: From P6 in qualifying to P12 in the race.
Adrian Sutil: Switched strategies mid-race and could only manage P13.
Esteban Gutierrez
 Pastor Maldonado
Valtteri Bottas
Charles Pic
Giedo Van Der Garde
Max Chilton
Did Not Finish:
Jean Eric Vergne
Jules Bianchi: Marussia testing driverless technology for their cars?
Felipe Massa: His spin was caused by a mechanical failure, gearbox failure in my view! Would've loved to see him fight for points and maybe only one of the Mclarens would've scored!!
The 2013 German Grand Prix doesn't change much from an overall championship point of view, but I think the scales tilted further in favour of Vettel and Red Bull Racing after a fantastic display of racecraft and tyre strategy under constant pressure from the faster Lotus duo. And more on the race in the next episode of the Inside Line F1 Podcast! Do tune in!
If you are an Apple user, you can subscribe to the Inside Line F1 Podcast on the iTunes Podcast Store or via our RSS feed (for Android / Windows / Blackberry users).