We've all been discussing that the 2012 Formula1 Season is one of the closest ones yet and the Bahrain GP Qualifying was a testimony to that. While most expected and predicted a Mercedes powered car to clinch pole position honours, it actually turned out to be a Renault powered car!
Here's my qualifying report from the 2012 Bahrain Grand Prix:
Q3:
Sebastian Vettel clinched his first pole of the season and also his 31st overall Formula1 career pole. I would give Vettel credit for his pole because the Red Bull isn't the quickest car and is still not over their balance issues. Webber was just about two tenths down and finished in P3.
Mclaren's Lewis Hamilton finished a tenth down on Vettel in P2, whereas Button was three tenths slower in P4. I had expected a Mclaren vs Mercedes fight for pole, with Red Bull taking up whatever was remaining.
Mercedes had a disappointing session as Rosberg, who opted for one run in Q3, could only manage a P4 with a lap four tenths slower than the pole position time of Vettel. Schumacher on the other hand had technical issues that hampered his second run in Q1 ultimately leading to elimination.
The star of Q3 would be Toro Rosso's Ricciardo who secured P6 (career best?) just ahead of Lotus' Grosjean in P7 and Sauber's Perez in P8.
Alonso and Paul Di Resta opted to not run in Q3 and will start P9 and P10 respectively. Although there were reports that Di Resta did one out lap on the hard compound tyres as a part of his tyre strategy. However, there was controversy surrounding the Sahara Force India cars with Twitter going abuzz that FOM TV had decided to black-out their coverage due to the team skipping FP2 yesterday!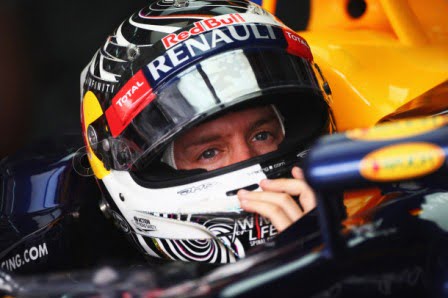 As a result of the alleged black-out, Sahara Force India was trending on Twitter and I would recommend you going and reading most of the humourous tweets. Here are two very interesting tweets that I read:
Sahara Force India should've run their cars on absolutely empty tracks in qualifying hopefully then FOM would've been forced to show them
(And even better) Sahara Force India cars should drive around the shortcuts of the Bahrain International Circuit and then see if FOM will still avoid showing them on TV!
Q2 Eliminations:
The big eliminations in Q2 were Raikkonen and Massa. Although I am not too surprised about Massa. This is probably the first time that a Ferrari driver has missed Q3 four consecutive times in a season. However, to be fair to Massa, his first Q2 attempt was quicker than Alonso, only that in the second attempt, Alonso went half a second quicker, a time that Massa couldn't match. He will start tomorrow's race from P14 and Raikkonen from P11.
Post session, Raikkonen did admit that the team hoped that they would squeeze through into Q3 and opted to not run again to save tyres for the race.
Sahara Force India's driver Hulkenberg qualified in P13, a thousandth (0.001) of a second behind the Sauber of Kobayashi, once again indicating that the mid-field is very close and competitive. P11 to P14 were separated by just over a tenth!
The other Sahara Force India driver, Di Resta, managed to pull out three tenths over Hulkenberg in Q2 and qualify for Q3. A great lap that was of course missed by TV!
The Williams duo of Senna and Maldonado suffered in qualifying were at the bottom of the mid-field pack. Maldonado, who managed a P16, will start P22 after a five place grid penalty due to a gear-box change, whereas Senna will start P15.
The surprise entry into Q2 was that of Caterham's Kovalainen, who managed to clinch P16, ahead of a Williams, Mercedes and a Toro Rosso. The Finnish driver has shown resilience in his struggling team and has always managed to pick up the spoils should a top team goof up their qualifying.
Q1 Eliminations:
The big eliminations in Q1 in Bahrain were Toro Rosso's Vergne and Mercedes' Schumacher. This was Vergne's (P19) third straight Q1 exit somewhere reminding one of the Alguersuari days last season!
As for Schumacher, the team reported a rear wing problem for his inability to do a second run in Q1. He starts P18 and I would expect him to charge up the field with his double-DRS and sets of tyres saved.
While I expected Caterham, Marussia and HRT to bring up the rear of the pack, they did so with a bit of a shuffle!
Petrov, who was a second down on his team-mate Kovalainen, was P20 (for the 4th race in a row!). Had Petrov matched Kovalainen's Q1 team and made it through to Q2, we could have well seen a Mclaren (Hamilton or Button) join Schumacher and Vergne in the eliminated list!
As for the battle behind him, Pic got the better of his team-mate Glock, who I suspect had some car problems and was also beaten by HRT's de la Rosa. These three drivers were separated by less than three tenths!
And the rear of the grid was completed by Karthikeyan, who was half a second down on his team-mate and four tenths behind Glock's Marussia in P23. (Read more: Has TATA Made The Wrong Decision With HRT?)
As Schumacher put it in one of his interviews pre-qualifying that with the advent of the KERS and DRS qualifying position isn't as important for victory and that tyre strategy would matter more. I would suspect that tyres will hold the key in the race tomorrow and maybe a few teams would try radical tyre strategies to make up ground.
I wouldn't expect Vettel and Red Bull to clinch victory, however, I wouldn't be surprised if they were to be on the podium. I would still put my money on a Mclaren for victory tomorrow! Hamilton has the pace, Button knows how to manage the tyres, but the question is: who will win?
Hear RJ Rishi Kapoor and my 2012 Formula1 Podcast on the Bahrain Grand Prix