Formula1 fans would be delighted with the back to back races held in Japan and Korea this week. The icing on the cake for Indian Formula1 fans is that these two races are broadcast LIVE just before noon – marking a perfect way to start the weekend!
However, the 2012 Korean Grand Prix Qualifying session was an exciting one. Once again Pirelli rubber made for interesting tyre choices all through the session and also were one of the reasons why timings were so close. As you wait for Race Day, do hear RJ Rishi Kapoor and me speak about the 2012 Korean Grand Prix in our latest Formula1 Podcast "Alonso vs Vettel, Red Bull vs Mclaren".
Here is how the qualifying session unfolded for me:
Q3:
Mark Webber took a surprise pole position over team-mate Sebastian Vettel. This was Webber's first pole of the 2012 Formula1 season and he managed a lap that was only 0.07 of a second quicker than Vettel. This was also Red Bull Racing's second and consecutive front lock out of the season. Their last 1-2 in qualifying was last weekend in the 2012 Japanese Grand Prix.
Somewhere I expected Vettel to come up with an excuse for his P2 and he almost did blame Felipe Massa for slowing him down on his out lap. However, will Red Bull Racing initiate team-orders and order Webber to let Vettel through? If not, will they slyly put Vettel on the favoured pit-stop window over Webber? I am certain that Webber won't come in the way of Vettel tomorrow.
And interestingly, Vettel logged in only 13 laps in the entire qualifying session! The least from any driver in Q3.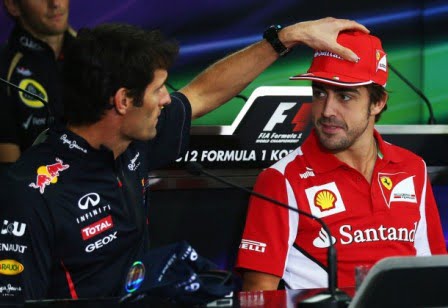 Fans expected Alonso and Ferrari to be slower in Korea. However, they managed P4 and this means that row 2 will see former Mclaren team-mates Alonso and Hamilton line up together. This will make the first few laps interesting to watch!
Hulkenberg was the only driver from a mid-field team to make it into Q3 and he managed to out-qualify both Mercedes cars to P8. (Read: Does Formula1 Need Michael Schumacher?)
Massa was quicker yet again than Alonso in the sessions leading up to qualifying, however, in the end he managed P6, three tenths off his team-mate.
Lotus' will line up P5 (Raikkonen) and P7 (Grosjean).
Q2:
Button was the biggest name to get eliminated in this session and he was out paced by Schumacher by 0.05th of a second. However, there was a yellow flag in a few of the corners that made the Brit lift off. Did this cost him a place in Q3?
Rosberg and Raikkonen were last minute entries into Q3 whereas both Saubers were eliminated. A good chance for Sahara Force India to score points and close the gap to Sauber?
P8 to P12 was separated by only 0.05 of a second! Some close racing in the mid-field as well.
Ricciardo managed a P16 but suffered a gearbox failure at the close of this session leading to a yellow flag. And of course he will take a five place grid penalty for a gearbox change.
Q1:
Hamilton almost got eliminated in this session. He was only 2 tenths away from elimination. Alonso too was in the elimination zone but a last minute run on super-softs saw him through.
Senna was the fall guy yet again. I would say that the toss between the inevitable P18 slot has been between Senna and Vergne. I do see Senna being replaced in the Williams next year. (Read: Narain Karthikeyan To Drive For WilliamsF1 In 2013)
However, for the bottom grid teams, Petrov and Pic beat their illustrious team-mates Kovalainen and Glock in qualifying. The Caterham vs Marussia battle intensified as Caterham was slightly more than a second ahead of Marussia. However, I doubt if Caterham can claim 12th place back in the Constructor's Championship.
And unfortunately for Karthikeyan, a brake disc failure in the session saw him retire prematurely from the session. He was unable to post a qualifying time and hence will rely on the Stewards to grant him permission to race. (Read: Has TATA Made The Wrong Decision With HRT?)
Karthikeyan has had a good run on his team-mate Pedro de la Rosa in the last few races and in Korea too he was quicker in the practice sessions. And going by his practice pace, I do see the Stewards allowing him on the starting grid.
I believe it will be Alonso vs Vettel all the way and that was how it was in qualifying too. And to the surprise of many and Alonso himself, Ferrari's F2012 has shown better pace in Korea. However, with Webber and Hamilton in the mix, the championship fight is only going to be more interesting. Will Raikkonen have the pace to join the fun?
And in Korea, the Pirelli rubber will play a larger role in race strategy as the time difference between the softs and supersofts is small. Will we see Button and the Sauber's attempt a one-stopper? And can Hulkenberg race his VJM05 to the podium? And of course, will Grosjean have a clean race finally? Lots of questions to be answered in Race Day tomorrow!
If you've not already purchased your tickets for the 2012 Indian Grand Prix to enjoy F1 in India, go ahead and do so right away! Read the '2012 Indian Grand Prix Ticket Purchase Guide' and get yourself the best seats possible!
Read latest posts on my Formula1 blog on Narain Karthikeyan, Indian Grand Prix and my Formula1 Podcasts recorded with RJ Rishi Kapoor.
Also read the most read posts on my blog:
1. Narain Karthikeyan To Drive For WilliamsF1 In 2013
2. TATA Increases Investment In Karthikeyan, TATA Tea To Enter Formula1 With HRT
3. Hamilton To Mercedes, Schumacher To Retire
4. Airtel Partners Mercedes AMG Petronas For The 2012 Indian Grand Prix
5. Has TATA Made The Wrong Decision With HRT?