The 2012 Bahrain Grand Prix was possibly the most controversial race on the Formula1 calendar of the 2012 Formula1 season. However, what the race wasn't was a 'Bore-rain' like its last edition held back in 2010.
My thoughts from the 2012 Bahrain Grand Prix:
Sebastian Vettel clinched a pole to flag win (well almost!) after clinching a surprise pole in qualifying. This was Vettel's first race win of the season and the good part (for us fans!) was that it wasn't a dominating one! Vettel's performance in Bahrain saw him score a hat-trick, win, pole position and fastest lap in the race.
While Vettel made a perfect start and pulled away in the opening laps, he was put under constant pressure by Lotus' Raikkonen who finished a little over 3 seconds behind in 2nd. This was Raikkonen's 5th podium in Bahrain and first on his comeback to the sport.
I somewhere believe that Lotus were wrong in calling Raikkonen in on the same lap as Vettel for their third pitstop. The Lotus' were quick on both tyre compounds and while there was DRS, Raikkonen could have attempted to beat Vettel in the battle of the pit crews!
A further 6 seconds down on Raikkonen was his team-mate Grosjean, who scored the first podium finish of his career. Grosjean's opening laps deserve special mention after he managed to outpace the front runners and set early pace. What Lotus did show is that they are capable of regular podiums and victories if they do manage to have an incident free weekend!
Vettel's team-mate Webber claimed the fourth spot for the fourth race in a row! This also meant an all Renault podium (and fourth spot!) after we witnessed an all Mercedes podium in the last race in China (2012 Chinese Grand Prix)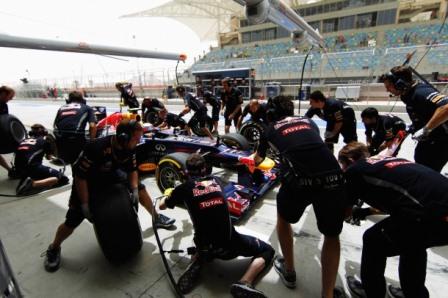 Rosberg narrowly managed to pip Sahara Force India's Di Resta to 5th in a race that we all expected him and his Mercedes team to dominate and challenge for victory. Also, his moves to defend position against Hamilton and Alonso will be investigated post-race. While there are a lot of opinions flying around on social media, I believe that while he was aggressive, he was well within the rule book!
Paul Di Resta was my driver of the Grand Prix, after he finished 6th by making the best of this two stopping strategy. He was the only driver on the grid on this strategy. A great way to end the weekend for the team! They finished ahead of the Mclarens and Ferraris!
However, luck wasn't on Daniel Ricciardo's side after his P6 turned into a P15 in the race! I wonder what went wrong with the Toro Rossos! Vergne started P19 and finished ahead of Ricciardo in P14.
While all expected Mclaren to dominate, they had a disappointing weekend in Bahrain. First, the Mclarens really struggled with their pit-stops and Hamilton was at the receiving end this time. Two out of his three pit-stops had an issue with the left rear. This compromised his position in the race eventually finishing P8. Button on the other hand had a late race puncture and then had to retire the car due to mechanical problems.
And Alonso's post-qualifying prediction of Ferrari fighting for P6 or P7 came true after he brought his F2012 home in P7, a second ahead of Hamilton. However, it was the other Ferrari of Massa that surely made the Ferrari pit garage happy. He finally scored his first champion point of the season by finishing P9 and only 7 seconds behind Alonso! Massa also became the 18th driver this season to score a championship point!
Schumacher brought up the top 10 after starting P22 due to a gearbox change penalty. He spent much of his race battling with the mid-field runners to gain a solitary point. However, post-race he did express that his progress up the field was hampered by tyre issues.
The one team that would be most disappointed would be Williams, who suffered from a double retirement in Bahrain.
From the newcomer teams, Kovalainen suffered from a first lap puncture after a good qualifying performance yesterday and finished P17. Petrov managed to finish ahead of him in P16.
And interestingly, Karthikeyan and de la Rosa managed to make a race out of the last position in the classification with the Spaniard beating the Indian to the line by just half a second!
The close and competitive field this season has seen 4 different drivers from 4 different teams win the opening 4 races. Also, we have seen 4 different drivers lead the Drivers' Championship table! This is great for the fans and also for the drivers as they are all taking points off each other rather than have one driver run away with the spoils. As it stands, the top 5 in the Drivers' table are separated only by 10 points.
While the next race in Spain is only three weeks away, I look forward to the mid-season tests in Mugello where I am sure most teams are aiming to bring major upgrades before the start of the European leg of the 2012 Formula1 season.
If you're an Indian Formula1 fan, do read 2012 Indian Grand Prix Tickets Go On Sale and go buy your ticket for the Indian Grand Prix!