The 2013 Italian Grand Prix was one of those races where it was easy to predict who the winner would be. Infact, I would take this a step further to say that it was probably easy to predict the top 4-5 finishers after yesterday's qualifying session (Read: A Walk In The Park For Vettel). For those playing the predictor games, I bet that very few would've had Hulkenberg in 5th position.
Pirelli had indicated that should it stay dry, a one-stopper was possible and that was to be. The race was boring in parts (most of it), with some entertainment offered towards the end by a charging Hamilton. Yet again, are we relying on the Rain Gods a little too much to make Formula1 exciting? And I still can't imagine it is the Italian Grand Prix that we are talking about. After all, how many fans remember races being labeled as boring here?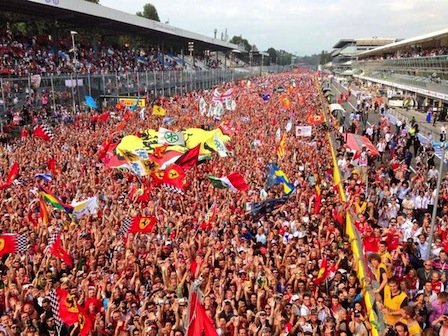 And boring or not, I must admit that the Italian GP was fiercely contested. That we had Button, Hamilton and Raikkonen fight for P10 tells you how competitive it was!
Race Results:
Sebastian Vettel: 32nd career victory, equalled number of overall wins with arch-rival Fernando Alonso! Even more staggering is the statistic that he's won 50% of the GPs concluded this season (6 out of 12!). And in Monza, he did what we feared he would do. Lead from the start, drive at a consistent pace, clinch a pole-to-flag win! And of course, he got boo-ed on the podium for doing exactly that and accused by a few fans for making the race boring. Very Schumacher-esque! iLike! (Read: Helmets Off To Vettel)

Fernando Alonso: In my qualifying post, I mentioned that the fight would be for P2 and it actually was an interesting one. Alonso's overtaking move on Webber at the entry of Variante Della Roggia was stunning. Payback for Eau Rouge? Most certainly! But with a 53 points deficit to Vettel, is Alonso fighting for a lost cause? (Read: Alonso Has No Option But To Race For Ferrari Till 2016)

Mark Webber: Finally got onto the podium in Monza, after racing here for the past 12 seasons! I mean, Vettel's done it three times in 5 years, is it really that difficult if you're in a Red Bull?

Felipe Massa: Should've been in P3 had Ferrari not miscalculated his pitstop that saw him lose ground to Webber. And then of course, would he have been higher had he not let Alonso go? A question just not worth asking, I guess. Will he be retained for the 2014 Formula1 Season though?

Nico Hulkenberg: From P3 to P5 and just a second behind Massa, I thought he would finish further down in the race! Has he shown that he can't be ignored as Massa's replacement for next year? And if Ferrari choose Raikkonen over Hulkenberg, will he then be off to Lotus? The German has had a tough few years in the sport and would be good to see him in a top team fighting for a World Championship! (Read: F1 Drivers Playing Musical Chairs)

Nico Rosberg: Best finisher amongst all Mercedes powered cars. But I seriously think that if it weren't for their issues in FP, they could've finished higher. Result? Mercedes losing 2nd place in the Constructors' Championship to Ferrari. Exciting battle is this!

Daniel Ricciardo: P7 to P7, brimming with confidence after his promotion. Unlike what happened to Perez towards the end of last season! (Read: 'Hips Don't Lie' For Ricciardo)

Romain Grosjean: Ahead of Raikkonen and in the points! And no crashes! Job well done? I guess not, Lotus have lost further ground to Mercedes for 4th place in the Championship.

Lewis Hamilton: Gritty drive from P12 to P9 to score points. Provided some excitement. But a lesson well learned for the Brit?

Jenson Button: Sole point for Mclaren!

Kimi Raikkonen: Championship challenge over? Well, almost… (Read: When Kimi Almost Drove For Red Bull Racing)

Sergio Perez

Esteban Gutierrez: Needs to up his game if he needs to be retained by Sauber for 2014.

Pastor Maldonado

Valterri Bottas

Adrian Sutil: Some good overtaking moves by Sutil; not the best day in the office for the team and driver!

Charles Pic

Giedo Van Der Garde

Jules Bianchi: Just 8 seconds behind the Caterhams. Can he get the Marussia to finish ahead of Caterham in the Championship?

Max Chilton: Closest he's even been to Bianchi in a race? (12 seconds!)
Did Not Finish
Jean Eric Vergne: Would've surely scored points had it not been for a technical retirement.

Paul Di Resta: His first ever first lap retirement in Formula1.
ESPNStar / Star Sports / Fox Sports Asia (whatever they finally are) added to be boredom during the race. The non-HD broadcast was upsetting coupled with an ad-break almost every 5 laps and it seems that their ad duration has only become longer. And sadly, on their HD channel, they chose to broadcast the highlights from the 2011 Champions League T20! I wonder what programming logic was put to use!
And this was also the last ever (or is it?) GP in Europe that used the V8 spec engines. With the 1.6 litre V6 being introduced next year, is it time we save Formula1: Let Us Save Formula1.
Up next is the 2013 Singapore Grand Prix, but before that do remember to tune in to the new episode (post-Monza) of the Inside Line F1 Podcast. Keep racing!