In the week leading up to the 2013 Bahrain Grand Prix, Rishi and I joked on the Inside Line F1 Podcast whether Bahrain will actually be 'Bore-rain' come Race Day (Read: Bahrain or Bore-rain)! While we had 'facepalm' for cracking this joke, but you can't blame us considering that the previous editions of the Formula1 race in Sakhir have been boring!
With Pirelli altering the tyre choice for the weekend, I was expecting the worst in terms of strategy and action on track. However, I was proven wrong on that front too! With that, my GP Predictor predictions too were completely off the line!
This was one of the few races where we saw a somewhat inconsistent approach towards tyre strategies. We had 2, 3 and 4 stopping cars and of course Felipe Massa suffering delamination on both the compounds! (Baffling!)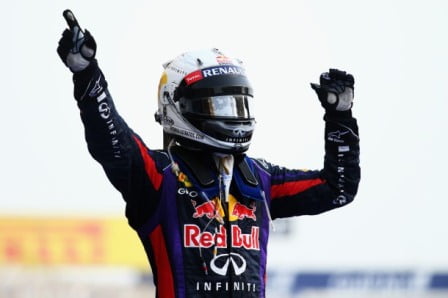 Below are the race results and my views on how it panned out for each driver:
Sebastian Vettel: Great drive; fought for the lead and grabbed it early on and then drove a Vettel-esque race. The only driver to have won two races this season. Won by a comfortable margin and was largely unchallenged. He is also the only driver on the grid to have led at least one lap in every race concluded in the 2013 Formula1 Season. And with his win, the a historical statistic stays intact too – no driver starting below P4 has won this race yet! Also, his post-race sexist comment was NOT welcome, at all.
Kimi Raikkonen: Expected and completed the race on a two-stopper. Mr. Consistent has recorded 21 consecutive points finish since his comeback. 2nd was the best Lotus could've managed. Needs to qualify higher on the grid to be able to challenge for wins.
Romain Grosjean: Confidence boosting race; used a three stopper to get on to the podium. Overtook Paul Di Resta in the closing stages of the race to get on to the podium. Spent much of his early and mid-race sandwiched between the Mclarens. It read as BUT-GRO-PER!
Paul Di Resta: A strong drive throughout the race with battles with the top team drivers; Paul equaled his best performance by finishing 4th. The podium was oh-so-close for the Sahara Force India driver. A strong haul of 12 points for the team and driver on a day when no other mid-field team scored.
Lewis Hamilton: Surprising to see him beat Rosberg in the race! But good drive to finish 5th. The last lap scrap with Webber was decisive.
Sergio Perez: Finally, baptized as a Mclaren driver! Great battles with Button, Webber and Grosjean. His final lap overtaking of Webber and the race overall should boost his confidence! My 'driver of the day' for actually putting his elbow out as a racing car driver.
Mark Webber: 6 places down from Vettel, now isn't he slotting himself as the number 2 driver in the team?
Fernando Alonso: Unfortunate race for Alonso and Ferrari. Early race DRS failure (Read: Ambiguous Rear Wing) saw him pitting twice to correct his wing position. Great fight back to 8th place minus the DRS wing though. Trails Vettel by 30 points in the Drivers' Championship! Ah!
Nico Rosberg: He went backwards as the race started; not what one would expect after starting from pole position (Read: Rosberg's Bahraini Surprise). He stopped four times for fresh rubber!
Jenson Button: Should be delighted to score a point, but was beaten to tyre management and race position by team-mate Perez. He pitted four times too!
Pastor Maldonado
Nico Hulkenberg
Adrian Sutil: Seemed like a part of Webber's luck from China came Sutil's way in Bahrain. An opening lap scrap with Massa led to a tyre puncture and compromised his race. Fought back but could only manage 13th. Needs luck to back his speed and score a big chunk of points in the 2013 Spanish Grand Prix.
Valtteri Bottas
Felipe Massa: And most of Webber's bad luck from China was collected by Massa. His race was expected to be better after he started on the hard compound tyre. However, he went backwards in the race, followed by two delaminated Pirelli tyres on his Ferrari forcing him to pit four times! Grosjean, who started P11, was on the same strategy as Massa and managed a podium!
Daniel Ricciardo
Charles Pic: Should take pride in having beaten a Sauber! And Bianchi…
Esteban Gutierrez
Jules Bianchi
Max Chilton
Giedo Van Der Garde
Did Not Finish:
An entertaining race overall with lots of battles up and down the racing order; wouldn't know if the Pirellis should be thanked for a last minute change in their allocation. Do you think?
And we will have the post-Bahrain GP episode of the Inside Line F1 Podcast published tomorrow. If you would like us to air your views on our Formula1 podcast, feel free to share them. Over to Catalunya…
Winning Matters In Formula1, Not Participation – read a sports psychologist's view on the unique challenges a Formula1 driver faces in the sport.