In this week's episode of the Inside Line F1 Podcast, we've gone overboard with our excitement about the 2013 Bahrain Grand Prix. Great race, greater on-track battles followed by a stupid podium comment! All that and more in our Formula1 Podcast: (You Tube Channel: http://youtu.be/libXpaXq2jU)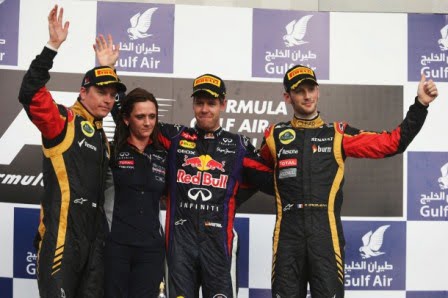 More on two stops, Raikkonen did the fastest race on two stops!
Had Alonso's DRS not been stuck, do you think we would have a 3-way fight for the first place?
No. 2 in Ferrari, but No. 1 in bad luck, you know who we are talking about…
And a driver who didn't want to be stuck as number 2 was Perez! Good battle with Button
'Thank you Heikki' and Pic beat Gutierrez!
Also, can Pirelli resurrect HRT and make them win?
And, Formula1 drivers will now be fitter post Bahrain, thanks to Bernie. Hear the last segment to find out why!
We've introduced 'fan comments' now on the Inside Line F1 Podcast and if you wish to get your views or opinions featured, share them with us. Until next week 'Keep racing, but preserve your tyres!'
And if you are an Apple user, you can subscribe to the Inside Line F1 Podcast on the iTunes Podcast Store.
The Inside Line Formula1 Podcast is produced by Rishi Kapoor and Kunal Shah. Follow us on Twitter and on our Soundcloud and YouTube channels.