The 2013 Canadian Grand Prix is one of the three Formula1 races that are telecast close to mid-night in India. While I am not complaining and would watch the telecast irrespective of the hour of broadcast, I hope that the entertaining qualifying session was the choice most Indian fans made over a night at a pub / lounge or even their bed! And I don't consider Champions Trophy as competition!
In the pre-Canadian GP episode of the Inside Line F1 Podcast, Rishi and I had explained why the 2010 Canadian GP is actually to blame for our current tyre woes. If you've not heard it already, here's a link 'Montreal Is To Blame'.
Moving to the action on-track, we had a mixed weather qualifying session and the rain added to the excitement and suspense. It was one of those sessions which had a mix of a drying track, followed by rain and then only a few corners where it was raining! Super stuff!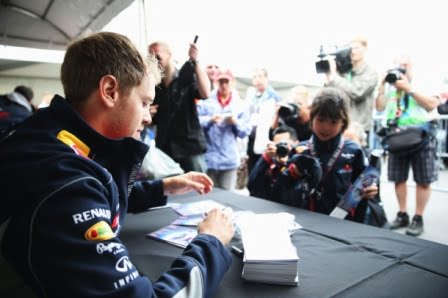 Below are the results of the 2013 Canadian Grand Prix Qualifying:
Sebastian Vettel: 39th career pole, hat-trick of poles here! Drove well in the mixed conditions to narrowly edge Hamilton to P1. However, Vettel has NEVER won in Canada, a surprising statistic for a three time World Champion. If it stays dry, he could be caught and beaten, if it is mixed conditions, he could fly away at the start only to be seen at the chequered flag.
Lewis Hamilton: Less than a tenth between himself and Vettel, however, P2 is a good effort. Finally out-qualified Rosberg! Funnily, the 2013 and 2012 front row positions are the same. But in 2012, Hamilton won the race! Will he do so tomorrow? I see him off the podium!
Valtteri Bottas: Driver of the session for me! Stunning pace in the mixed conditions from the Finn. Out-paced, out-qualified and out-shone Maldonado. If conditions remain as-is, he could score Williams's first points of the 2013 Formula1 Season. If it is dry, I see him rolling backwards and out of the top 10!
Nico Rosberg: Six tenths off pole. Will his Mercedes go forward and finish on the podium, or will he go backwards? All eyes will be on the two 'Silver Arrows' to pick any clues on their 'secret' tyre test aiding their performance.
Mark Webber: 7-0 is his qualifying score against Vettel! Sigh!
Fernando Alonso: The F138 didn't seem as quick in the wet as it did in the dry. Shockingly he was a second off pole! Alonso and his fans would be hoping for a dry race tomorrow, his best bet for victory.
Jean Eric Vergne: Career best grid slot. Trying to stake his claim on Webber's seat for the 2014 Formula1 Season?
Adrian Sutil: Along with Bottas, he too was the star of the session. He made it into Q3 with a late attempt and then was the only driver in Q3 to make an improvement on his final attempt. I hoping it's dry and then will look to cheer him on the podium!
Kimi Raikkonen: Should be disappointed to have qualified this lower down the order. The Lotus didn't look as though it enjoyed being driven in the rains. Hard work to do in tomorrow's race to finish higher up in the order.
Daniel Ricciardo: First time in the team's history, Toro Rosso have both cars in Q3! Doubt if they will score a double points finish though!
Nico Hulkenberg: Missed Q3 by less than a tenth, but P11 is a good slot to start from and charge your way into the top 10.
Sergio Perez: For the first time since I can remember, both Mclarens failed to get into the top 10. For Perez though, he qualified ahead of Button. Will they have the pace to fight for points tomorrow?
Pastor Maldonado: Please do not crash into anyone tomorrow. Barriers? Well, yes, if you have to!
Jenson Button: Disappointed to see him in P14. He missed crossing the line for his final qualifying attempt by a second or two. However, one would normally expect Button to shine his way through in such mixed conditions! Shame!
Esteban Gutierrez
Felipe Massa: Now has the distinction of crashing three Ferraris on three separate days! It seems he prefers the barriers these days over the finishing line!! Brain fade situation in my view. Replacement rumour talks to only grow…! Kobayashi? Webber? Hulkenberg? Bianchi? (Read: Felipe Massa's Potential Replacements)
Paul Di Resta: First big elimination of the session. Needs to repeat his 2013 Monaco GP performance to score points for himself and the team tomorrow!
Charles Pic: Beat all of minnows and Romain Grosjean.
Romain Grosjean: Starts P29 after his penalty from Monaco. I would expect the team to change his car setup and start from the pitlane and hope for a point or two.
Jules Bianchi
Max Chilton
Giedo Van Der Garde
The mixed weather conditions have offered us mixed up grid positions for the race tomorrow. While it adds for all the excitement and fun, I am hoping for a dry race tomorrow and see Sutil and Di Resta charge their way up the field and score BIG points on the team's 100th GP!
As for the others, I would expect the usual suspects to make an appearance on the podium. In which order? Well, your guess is as good as mine!
If you are an Apple user, you can subscribe to the Inside Line F1 Podcast on the iTunes Podcast Store or via our RSS feed (for Android / Windows users).