After narrowly edging Lewis Hamilton to pole position in the 2013 Canadian Grand Prix Qualifying yesterday, Sebastian Vettel led the race from pole to flag (almost!) to clinch a dominant win. His nearest competitor and championship rival Fernando Alonso could only manage to come within 15 seconds of his race time. And believe it or not, this was Vettel and Red Bull Racing's first ever win in Canada!
On the note of statistics, Mclaren failed to score a point at a GP weekend for the first time in over 60 races and of course, Sahara Force India started and finished their 100th GP! And like the 2010 Canadian Grand Prix, the 2013 Canadian Grand Prix too did teach us a thing or two. The dependence on Pirelli rubber and DRS was minimal and we saw drivers pushing hard and fighting as hard to either attack or defend competition! Like the Inside Line F1 Podcast, we will say it yet again 'Monteal Is To Blame'!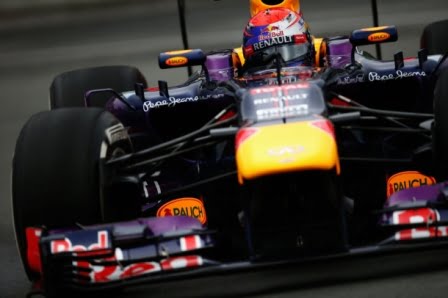 A quick glance at the race results:
Sebastian Vettel: 'Baby Schumi' did a 'Schumacher'! Utter dominance to the point of boredom, but surprisingly 'Vettel' didn't trend on Twitter while 'Alonso' and 'Hamilton' did (India trends). This was Vettel's 29th career win in Formula1. Austin is now the only circuit on the calendar that is yet to be mastered by the German driver. Will he do so in the 2013 Formula1 Season?
Fernando Alonso: Drove a stunning race with some brilliant overtaking moves to claim second, which he did say after race was like 'winning'. He moves second in the Drivers' Championship and still needs to close 36 points to Vettel. Will he be able to take this fight down to the wire?
Lewis Hamilton: I expected the Mercedes to go reverse in Canada, but they didn't. While I don't have the data to make a conclusion, I do suspect that the 'secret' tyre test has helped them deal with their tyre issues better. Although it is good to see Hamilton on the podium, maybe it was better deserved by another driver!
Mark Webber: The Aussie driver finished nearly 26 secs off Vettel. Although he would take heart in his fastest lap of the race, but there are no points for that! Vettel has scored nearly double Championship points. Will he be able to score a win this season?
Nico Rosberg: Well, atleast one Mercedes suffered from tyre woes, but I guess it was more driver related than car. And he was the only three stopper in the top 10.
Jean Eric Vergne: Career best finish, hopefully a battle will commence between him and Ricciardo to claim Webber's seat for the 2014 Formula1 Season. Who would be your pick?
Paul Di Resta: Outdrove his tyre strategy and made up 10 positions en route to finish in the points. His personal best of 5 consecutive points finishes. Highest placed one-stopping driver. Contender for Driver of the Day!
Felipe Massa: Sadly, we make merry on him finishing races and scoring single digit points. Needs to be higher up and alongside Alonso, consistently! And had the FIA not acted weird, P8 would've been Adrian Sutil's.
Kimi Raikkonen: Terrible position to finish if you are fighting for the World Championship and your nearest rivals finish 1-2. Lotus seemed lackluster all weekend and one expected dry weather on Sunday to aid them. However, he equaled Schumacher's record of 24 consecutive points scoring finishes. Mr. Consistency indeed!
Adrian Sutil: Contender for Driver of the day, but would've done himself a favour had he not spun while overtaking Bottas. After being subjected to 'Crash'analdo and an unjustified (in my view!) drive through penalty, he still managed to recover and score a point! Valiant effort!
Sergio Perez: So near yet so far, 1.2 seconds away from the much coveted '10th' place and '1' Championship point! Well, he atleast outpaced his team-mate.
Jenson Button: What on earth!!
Romain Grosjean
Valterri Bottas: P3 to P14, story of Williams's current campaign! And he's making Maldonado look like a complete joker!
Daniel Ricciardo
Pastor Maldonado: Should not enter India for a few weeks. Fans will be livid with him for missing his braking point and ramming into Sutil's rear wing.
Jules Bianchi: Either he is really good, or an underperforming Chilton is making him look good. Will he take Massa's seat next year?
Charles Pic: A lap down on Bianchi? What are these minnows even doing!
Max Chilton: Will he ever beat Bianchi this season on merit?
Esteban Gutierrez
Did Not Finish
Nico Hulkenberg
Giedo Van Der Garde
Up next is the 2013 British Grand Prix, but before that do tune into the post-Canada episode of the Inside Line F1 Podcast. If there are any specific topics that you'd like Rishi and I to discuss, you know where to write to us! Keep Racing!