One a day when his title rivals fumbled, Sebastian Vettel displayed his brilliance yet again to clinch his 40th career pole position in Monza. This was also Red Bull Racing's 50th overall pole! The qualifying session of the 2013 Italian GP was exciting as always and probably one of the fastest and closest of the season.
In the build-up to the race, Daniel Ricciardo was announced as Mark Webber's replacement by Red Bull Racing and we featured this story and more on the weekly episode of the Inside Line F1 Podcast as 'Hips Don't Lie'.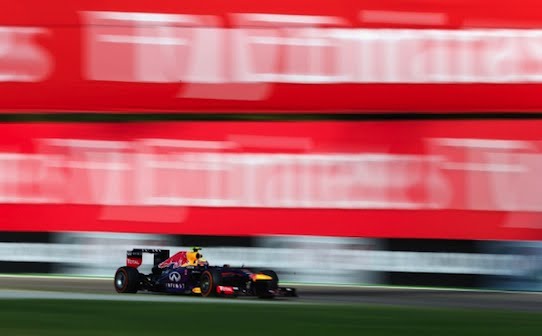 Qualifying Results:
Sebastian Vettel: 4th pole of the 2013 Formula1 Season! It was evident from the FP sessions itself that Vettel would be the man to beat in qualifying. And his pole seems sweeter after knowing that his title rivals fumbled in their attempts in qualifying. Will they be able to beat him in the race tomorrow?

Mark Webber: Only other driver on the grid to have managed a laptime in the 1:23s, but he still had a Vettel to beat and he couldn't. Should be on the podium given the car advantage he has. But will a slow start from Webber have him lose positions at the first corner? And will his slow start trigger a series of incidents from the mid-field drivers? I get a feeling that it may just…

Nico Hulkenberg: Brilliant lap! Beat both Ferraris on merit. No better place to impress the Ferrari bosses and fans than in Monza. Good haul of points for 'The Hulk' tomorrow, I hope!

Felipe Massa: Silly of Ferrari to over-engineer the 'tow' for Alonso with Massa. After all, they need to find half a second and not a tenth or two to fight with the Red Bulls. But glad to see Massa ahead of Alonso, but this surely won't be the result in the race tomorrow.

Fernando Alonso: Not surprised by his outburst on the radio during Q3. There's only so much a driver can do in a car which is clearly not the class of the field. A podium finish tomorrow? For the tifosi and keeping the championship challenge open, I really do hope. (Read: Alonso Had No Option But To Sign With Ferrari Till 2016)

Nico Rosberg: A case of missed opportunities for Mercedes? Missing FP3 due to a car issue did cost the team and driver some vital preparation time.

Daniel Ricciardo: Spurred to 7th after his Red Bull promotion? And he's taken to beating the Mclarens already! And aren't we glad that his 'hip size' didn't get between him and his Red Bull seat? (Read: When Raikkonen Almost Raced For Red Bull In 2014)

Sergio Perez: 7 hundredths of a second ahead of Button, but ahead nevertheless! Hoping he isn't involved in some first lap carnage tomorrow.

Jenson Button

Jean Eric Vergne: One of the few races where we see both Toro Rossos in the top 10 in qualifying. Kudos! And glad that Vergne didn't let the Ricciardo announcement affect his performance.

Kimi Raikkonen: Lotus! Sigh! Will this be Kimi's only option for the 2014 Formula1 Season? Title challenge over? I hope not! And after suffering brake issues in Spa, will his brakes stay put in Monza?

Lewis Hamilton: A silly driver error at the exit of Parabolica saw him lose a set of tyres, time and track position that eventually led to an elimination in Q2. And from the visuals I got to see, I don't think Sutil impeded him purposely. A further downhill for the Hamilton-Sutil relationship.

Romain Grosjean: In a perfect position to cause a mayhem in the opening lap tomorrow?

Adrian Sutil: Three place grid penalty for impeding Hamilton means he will start 17th. Lots of work and overtaking to do to score a few points for the team tomorrow. They need to take the fight to Mclaren!

Pastor Maldonado: Hope he doesn't read 'Variante di Rettifilo' as 'wreck-a-fly-o' and decide to wreck a few cars by flying over them!

Paul Di Resta: #FeelTheForce

Esteban Gutierrez: With contract renewals under discussions with most teams, Gutierrez isn't doing himself any favours by getting himself eliminated in Q1. This was his 7th Q1 exit of the season. Worse is when his team-mate is P3!

Valtteri Bottas

Giedo Van Der Garde: The Garde vs. Pic battle is getting interesting.

Charles Pic

Jules Bianchi

Max Chilton: 22nd yet again. Closer to Bianchi, but not yet in a position to beat him.
Predictions? If all systems remain normal, I don't see anyone being able to beat Vettel tomorrow. A pole to flag finish? Possibly so! With the others fighting for and settling with P2 and lower.
The race tomorrow is expected to be a one-stopper if it remains dry; does that mean that it could be a boring one? And there's also a 60% likelihood of rain during the race, which I hope does arrive to spice up the action. After all in Spa, Bernie Ecclestone forgot to turn on the sprinklers!