Daniel Ricciardo, who got confirmed as Mark Webber's replacement in Red Bull Racing for the 2014 Formula1 Season, believed that 'hips' may just be an issue for him when he would sit in one of the compact Adrian Newey designed race cars! Now who would've thunk that 'hips' could've tilted the scales in favour of Kimi Raikkonen, who we were convinced was on his way to Red Bull Racing next season. (Read: Kimi Raikkonen Almost Raced For Red Bull Racing In 2014)
And amidst Ricciardo's news, we also have the 2013 Italian Grand Prix coming up this weekend, at the historic Monza. After a month of no racing action, it is only fair to reward fans with races in Spa and Monza. Although I hope that this weekend's race isn't as boring as the 2013 Belgian Grand Prix. (Revealed: Bernie's Goof Up In Spa!)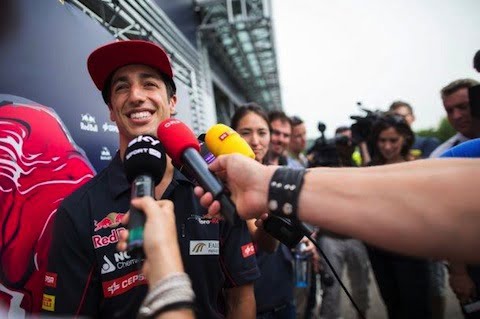 Here's what's in store for you in this weeks episode of the Inside Line F1 Podcast: (YouTube link: http://youtu.be/0F9ms-B_3c8)
As Rishi practices his Italian accent, we wonder what other Italian things have lasted as long as the Italian Grand Prix…
Variante Della Roggia, Lesmos, Curva Grande, Parabolica, some exotic corner names. I reveal my favourite and why!
After Spa, are Hamilton and Alonso's title challenges back on track?
Do you agree with Berger's comments on Vettel breaking Schumacher's records? We offer our view.
And Vettel's new team-mate, good or bad for Ricciardo? Good or bad for Red Bull Racing?
Dr. Rishi Kapoor meets Funny Man Rishi Kapoor where he takes physical anomalies with Formula1 drivers to a new level! (Applaud!)
And then again, we offer our predictions. Will Kimi Raikkonen win his first ever Italian Grand Prix?
The Inside Line F1 Podcast is now available on various platforms and I would urge you to choose your platform to listen to the humour that we add to the otherwise serious and complex sport of Formula1.
If you are an Apple user, you can subscribe to the Inside Line F1 Podcast on the iTunes Podcast Store or via our RSS feed (for Android/Windows /Blackberry users).
The Inside Line Formula1 Podcast is produced by Rishi Kapoor and Kunal Shah. Follow us on Twitter and on our Soundcloud, MixCloud and YouTube channels.