Phew! The 2013 Malaysian Grand Prix was one helluva race! As I write this blog post on my Formula1 blog, I have a feeling that this will be a long one. So I hope not to keep it too long and even if I do, I hope my loyal readers read all of what I am about to type! And, I am attempting a new format, so let me know how you like it! (Yes, change is the only constant and jazz!)
The weekend started with Sebastian Vettel clinching his second pole of the 2013 Formula1 season (Read: 2013 Malaysian Grand Prix Qualifying Report). However, for Rishi and me, it started a few days before when we recorded our pre-Sepang Formula1 Podcast in which we predicted that a new pecking order would be expected in Malaysia (Hear the 2013 Malaysian Grand Prix Podcast) and we did! (Woohoo!)
Lotus and Ferrari fought for honours in the 2013 Australian Grand Prix, whereas we had Red Bull Racing and Mercedes do so in the 2013 Malaysian Grand Prix. Vettel won a hard fought race, which didn't seem hard fought after he was involved in a situation where he disobeyed team orders to not overtake Mark Webber. On the other hand, in Mercedes, Rosberg's request to overtake Hamilton in the latter parts of the race was turned down. And Rosberg complied. Maybe Sepang did tell us the story of two teams and four drivers! And for all Formula1 fans, I would say a quite interesting start to the 2013 season.
Race Results:
Sebastian Vettel – 27th career win. Many hearts lost? Was he unfair in overtaking Webber? Well, I might lose a bit of followers for saying this, but if Vettel was in a mood to fight, Webber should've retaliated. Vettel's intentions were clear to ignore the 'multi 21' message were clear much before he actually made the move. Webber had opportunities to put him in the grass and should've! Many comparisons between 'Baby Schumi' and 'Schumi' himself, which I agree with. And on the same lines, it will be Vettel who will be remembered for multiple World Championship titles. And if he wishes to be remembered as a good guy, there are plenty of charitable causes he can associate with! You participate in a sport to win! No feeling like going home with 25 points when your nearest competitor (Alonso) fails to finish the race. The post-race apologies were a farce! (Like the Schumacher-Barrichello incident in Austria)
Mark Webber– Heart goes out to Webber, but how is it that he always manages to put himself in a position where he loses a race he should actually win. Great driving aided by a good start and tyre strategy. And I feel that this incident will go a long way in Webber confirming (or not!) his retirement from Formula1 in 2013. Or well, he could move elsewhere! But where?


Mark Webber – 2013 Malaysian GP (Courtesy: Red Bull Racing)

Lewis Hamilton – Before celebrating his podium finish, I would like to congratulate Lewis for the funniest moment of the race, when he drove into the Mclaren pit-box out of habit! It'd have been fun though had the Mclaren crew changed his tyres out of habit too! Leaving more headaches for the FIA to deal with! And on his podium, again a beneficiary of team orders. His aggressive style has seen him wear his tyres more than others. Ditto for fuel consumption. I wonder why Rosberg should be penalized for driving smartly and managing his fuel over the race distance! And also, good to see Mercedes show good race pace. Hopefully they are consistent and we get to see 'Ross Brawn vs Adrian Newey' this season. (Read: Will It Be Ross Brawn vs Adrian Newey?)
Nico Rosberg – Deserved 3rd place. Will the team act in a similar manner if positions were reversed "Remember this one!"? Britney has been convinced by the team that they will. Whereas I think not!
Felipe Massa – Good drive to 5th. Shame that he couldn't manage better after starting from P2.
Romain Grosjean – Always good to see Grosjean finish a race without affecting others. Even better for him if he's finished ahead of Raikkonen. Lotus' needed one less pit-stop to finish the full race distance. However, it didn't yield as much benefit in Sepang as it did at Albert Park. Did the hot and humid conditions make them slower?
Kimi Raikkonen – Lacklustre performance in my view after storming to an easy win last weekend. Needs consistent top 5 finishes to remain a genuine contender for the championship.
Nico Hulkenberg – first race for Sauber, good to see him score points and finish ahead of Perez. Would've loved to see the Sahara Force India drivers him fight him for points today.
Sergio Perez – funny to see him pit on the penultimate lap for new Pirelli tyres. Probably explains his fastest lap of the race. Mclaren have work to do! And maybe Perez too!
Jean Eric Vergne – first championship point of the season for Vergne and Toro Rosso! Only mid-field team after Sauber to score a point in Sepang.
Valtteri Bottas – Missed scoring a point by only 1.4 sec! But of course, finished the race, something Maldonado couldn't do for the second weekend in a row!
Esteban Gutierrez
Jules Bianchi – Impressive yet again. Even more so given that he has no prior racing experience at Sepang. Can Marussia develop their car to fight the Toro Rossos and Williams in 2013? I hope he can score their first point this season. (Read: Marussia – Mclaren Technical Association)
Charles Pic – home race for Caterham. Result? A pit-stop incident and no points! Well, they beat one Marussia though!

Giedo Van Der Garde
Max Chilton – A lap down on the Caterhams and his team-mate. Needs to do much better!
Jenson Button – Should've been in the points. Victim of an unfortunate pit-stop error!
Daniel Ricciardo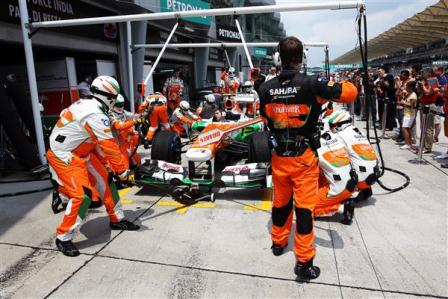 Did Not Finish
Pastor Maldonado – Crashed! Can't remember what and how! Thankfully didn't take anyone along with him. Yet another damaged front wing though.
Adrian Sutil – Very unfortunate day for Sahara Force India. Wheel nut related issues led to a double retirement, their first since the 2010 Japanese GP! Had it not been for their retirements, a dry track was just what both drivers needed to score yet another massive chunk of points. The team still holds 5th place in the Constructors' Championship with 10 points.
Paul Di Resta – Showed quick race pace and was often quicker than Sutil. This team-mate rivalry will be fun to catch this entire season.
Fernando Alonso – And Fernando, what on earth was he thinking! A rare driver error saw him damage his front wing. The error was repeated when he and Ferrari (don't know yet who took the call!) decided not to pit at the end of lap 1 for a change. Yes, it made sense to try and wait to see if they could've stayed out and pitted once and for all for wing and tyre change. However, an early end to his race means he left Sepang points less! Whereas his immediate competitor (Vettel) won and scored maximum. Given the competition (Red Bull vs Mercedes vs Lotus vs Ferrari and with Mclaren expected to join soon), this early season deficit may just be a tad too difficult to crawl back.
In my view, Alonso should've waited, given that he's one of the drivers who has always maintained that the race is never won on the first lap or the first corner. Somehow, this incident reminded me of the Alonso in his earlier days at Renault. Hasty and overconfident and while I know I am judging him on one move, I hope that this is only a one-off. In 2012, in a slower F2012, Alonso's deficit to the competition was much less than what it is today! Some food for thought!
The 2013 Malaysian Grand Prix would be remembered more for the emotions and tensions post-race than for the good on-track action that we witnessed (WEB vs VET, HAM vs ROS, HUL vs RAI, BUT vs ROS). The tension in the Red Bull Racing garage was infact so high that they cancelled the post-race team photo to celebrate their 1-2 finish. While all of this seems like a soap opera, I would love to be a fly on the wall in the post-race debriefs at a few teams; Red Bull Racing, Mercedes and Sahara Force India!
While the 2013 Chinese Grand Prix may put test tensions and emotions yet again, what will be interesting to note is the patience levels of Formula1 fans as they wait an agonizing three weeks for the F1 circus to set shop in Shanghai!
However, Rishi and I will offer some respite to fans missing the F1 action by providing some of our own! Watch out for our podcast tomorrow!