After Sebastian Vettel Claimed Pole Position In Australia From The Rain, predictions were that we would have a 'New Pecking Order In Malaysia' (Yes, click on those links!). I think qualifying this season is going to have two or three focus points.
First, the top mid or top team drivers who would face elimination in Q1. Second, tyre strategy and usage by the mid and top teams to avoid the Q1 elimination. Third, tyre usage in Q3, which could also mean non-participation.
Here's how the 22 drivers fared in the 2013 Malaysian GP Qualifying:
Top 10:
Sebastian Vettel – on pole again! 38th pole, second pole of 2013. Will he have the race pace though?
Felipe Massa – ahead of Alonso for the 4th race in a row! Front row start since a long long time!
Fernando Alonso – will finish ahead of Massa tomorrow! (Sigh!)
Lewis Hamilton – should've been higher given the conditions.
Mark Webber – 2.5 secs off Vettel!
Nico Rosberg – should be disappointed with P6.
Kimi Raikkonen – would've expected him to be higher, again given the conditions. But he won the 2013 Australian Grand Prix from here!
Jenson Button – rain aided result I would assume
Adrian Sutil – impressive! Only three tenths behind Button.
Sergio Perez – 5 seconds off Vettel, 1 second off Button!
A rain affected session meant that drivers had a choice of intermediate or wet weather tyres to use and all drivers preferred the inters. The bigger advantage for the top 10 was that they would have an open choice of dry tyre to use at the start of the race. Putting the immediate followers (P11 and P12) at a disadvantage!
Adrian Sutil was the only mid-field driver to have broken into Q3. Given his one season absence from the sport, it did look as though he was taking some time to get used to the mixed track conditions. He loves the rain in any case, but had it been dry, he would've probably qualified higher up the grid.
Mclaren prayed for rain before the session and their prayers were answered as the weather conditions helped their drivers qualify higher than what their car was capable.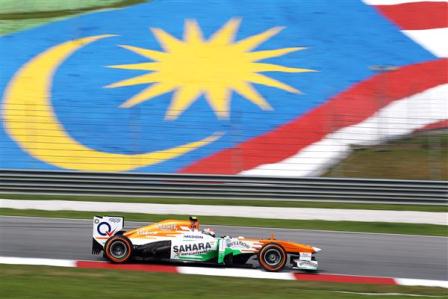 Q2 Eliminations:
Romain Grosjean – missed Q3 by 3 tenths. Laptime was a second off Raikkonen's.
Nico Hulkenberg
Daniel Ricciardo
Esteban Gutierrez
Paul Di Resta – Unfortunate to have rain spoil his attempts. Should've been in top 10.
Pastor Maldonado – didn't even set a laptime!
Essentially the session where we see mid field teams try to punch above their weight and qualify for Q3. This session saw slight drops of rain which would've seen the late runners (Paul Di Resta, Grosjean) at a little disadvantage. The session once again confirmed that Sahara Force India had the pace to fight the top teams in Formula1. Ferrari, Mclaren and even Red Bull Racing struggled to match the pace Sutil set in this session. The Mercedes drivers claimed P1 and P2 (Rosberg ahead of Hamilton)
Q1 Eliminations:
Jean Eric Vergne – not surprised!
Valtteri Bottas – Williams vs Toro Rosso vs Marussia it seems it will be for P17 & P18.
Jules Bianchi – only 2 tenths off the WilliamsF1! And half a second off Q2! Best rookie!
Charles Pic
Max Chilton – 1.2 secs off Bianchi. Not what the team would expect.
Giedo Van Der Garde – Going to be Pic vs Chilton vs Garde for P22 all of 2013 Formula1 Season
Interesting tyre strategy in this session too! While Ferrari's preferred the hard compounds, Red Bull Racing, Lotus, Mercedes, Sahara Force India, etc. chose the medium compounds. A hint that different teams could have different tyre strategies on Race Day!
And wonder what were Red Bull Racing thinking! Both drivers struggled on their timed laps to get into the top 10. The best part of this session was Adrian Sutil claiming P1! (Woohoo!) And P1 to P16 were separated by a little over a second.
Not checked weather reports for Race Day tomorrow, but rain or no rain, Sepang will excite! Stay tuned as I head off for some afternoon sailing!
And hear the 2013 Malaysian Grand Prix Podcast! For those missing Narain Karthikeyan on the grid, read his 2013 plans here: 'Narain Karthikeyan Switches From Formula1 To AutoGP In 2013'.