Before I get on with my views on the race, I must say that the Red Bull Ring was one helluva spectacularly beautiful racing circuit. And I don't just mean the race track, but the adjoining terrain as well. After witnessing the race today, the Red Bull Ring has been added to my list of 'must visit' circuits! (Read: Just What Formula1 Should Be)
Nico Rosberg won the 2014 Austrian Grand Prix. Many expected to, I almost didn't. I expected Lewis Hamilton, possibly the faster of the two Mercedes drivers, to return to his winning ways and beat Nico Rosberg, possibly the mentally stronger of the two. And on most occasions in Austria, it was Hamilton who was faster, but that Rosberg won almost convincingly possibly proves that this title fight may not be about outright pace after all.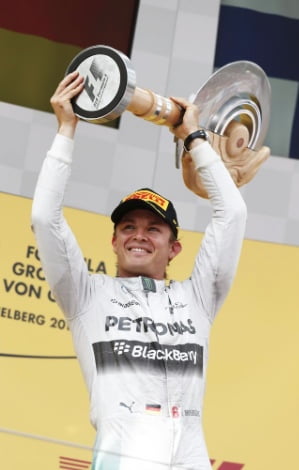 Rosberg's worse finish in the 2014 Formula1 Season has been second place! And with this win, he surpassed his father and 1982 World Champion Keke Rosberg's overall win tally of 5! Proud father, I hope!
Hamilton's twin errors in Q3 of qualifying indicate that he is under pressure since he's doing all the chasing. What's worse is that Rosberg's win moves him more than a race win ahead in terms of crawling back points should there be a retirement from the current championship leader. And the championship is after all about points! (Read: Winning Matters In Formula1, Not Participation)
That said, Hamilton's opening lap is one of the best we've seen since a long long time and to go from P9 to P2 just goes to show the pace of the car and the confidence of the driver! Although from an entertainment point of view, I only wished his fight back wasn't as simple and short lived! Yes, I end up thinking and writing like a marketer sometimes! (Read: Red Bull Ring Became Mercedes Ring)
And for those wondering if Mercedes is purposely executing slower pitstops for Hamilton to give Rosberg that slight advantage on-track; the lesser said the better and this is me saying the least!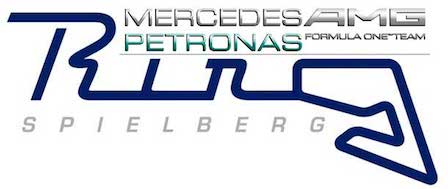 Williams will celebrate their much deserved podium and so will Bottas, his maiden Formula1 podium. I guess no body expected them to win, but everyone did expect them to put up a fight and in my view, they put up half a fight. In theory, had they pitted their drivers on the same or the next lap of the Mercedes drivers, they'd have possibly had a chance to be in the mix and not let Mercedes score their fifth 1-2 finish of the season. Post-race, what's worse to know is that Hamilton's pit-stops were relatively slower and maybe this is the chance Williams needed too. But I guess, given the points, stakes and the money, Williams were happy to score 'big' points than chase for win! Sigh!
Massa got pole, but I was certain that should a Williams finish in the top 3, it would be Bottas over Massa. The manner in which Hamilton overtook him into Turn 2 after the first round of pit-stops was almost shameful! And Bottas is now 7th out of the 8 Finns who have completed in Formula1 to step onto the podium. A high podium percentage for that nationality!
Sergio Perez's reverse tyre strategy and precise driving saw him leap from P16 and finish in P6 in a race which he briefly led too. The Mexican driver's surge of confidence and race craft management was reminiscent of his debut season in Sauber! The super consistent Hulkenberg finished 9th to register yet another double points finish for Sahara Force India. Strangely, Hulkenberg is the only driver to have been overtaken on the final lap two times (in separate races!) this season.
Alonso's P5 was possibly the best Ferrari could do whereas his World Champion team-mate Raikkonen could only manage P10 and a finish that was +30 seconds from the Spaniard. The other World Champions Button and Vettel failed to score and were out-scored by their rookie team-mates!
Strangely, every race this season where Mark Webber has been present, Sebastial Vettel has suffered from a retirement and such was the case in Austria too! Does that mean that this was the last we've seen of Webber for a long long time?
Up next is the 2014 British Grand Prix, which is vastly different from Canada and Austria in terms of circuit configuration. The sweeping bends at Silverstone will demand higher downforce from the cars and while I expect Mercedes to dominate as usual, we should see Red Bull Racing go back to being the primary challenger. Hopefully, Sahara Force India too will have the edge over Ferrari, Mclaren and Williams and add to their points haul.
Last but not the least, do tune in to the latest episode of the Inside Line F1 Podcast tomorrow where we will discuss the 2014 Austrian Grand Prix and some other ridiculous changes in the sporting regulations that the fans could see coming their way in the 2015 Formula1 Season.
Race Results:
Nico Rosberg
Lewis Hamilton
Valtteri Bottas
Felipe Massa
Fernando Alonso
Sergio Perez
Kevin Magnussen
Daniel Ricciardo
Nico Hulkenberg
Kimi Raikkonen
Jenson Button
Pastor Maldonado
Adrian Sutil
Romain Grosjean
Jules Bianchi
Kamui Kobayashi
Max Chilton
Marcus Ericsson
Esteban Gutierrez
Retired:
Jean Eric Vergne
Sebastian Vettel
Daniil Kvyat
Before I sign off, a note of thanks to Jim Bamber for entertaining us for so many years with his Formula1 cartoons and for inspiring us to add humour to the sport via the Inside Line F1 Podcast. And do check out this interesting graphic from Red Bull Racing on how many people actually worked in the scenes (behind and otherwise) to bring to you a successful Austrian Grand Prix!