Formula1 couldn't have scripted the 2014 Austrian Grand Prix week better. After losing 'share of voice' to Football across every possible platform and media, the sport pulled out two trump cards out of nowhere to somewhat try and balance the scales. On Twitter India trends, Massa was trending over Valencia and Xabi Alonso! (Yay!)
First, Michael Schumacher's exit from coma (Read: Michael's 92nd Victory) and now Felipe Massa's surprising and pleasing pole position in the Austria. I am hoping that the media in Brazil would be mad about something other than Football for a change!
Massa's pole position proves a few things true. First, nice guys do get pole position, sometimes. And second, which is more crucial, experience does score over raw pace, sometimes. Notice the use of the word 'sometimes'!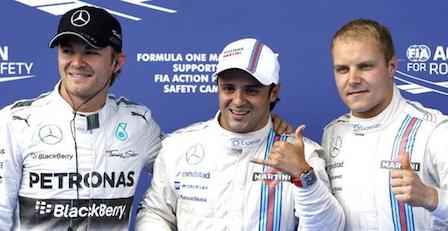 The Williams pair has been evenly matched and sometimes Massa has seemed a shade slower than Bottas, which isn't too surprising to many. Infact, Bottas was on provisional pole before a mistake on his final attempt couldn't help him go quicker. This is where Massa's experience let him keep calm and put in a lap in the dying minutes to clinch his first pole position since the 2008 Brazilian Grand Prix! If I were Bottas, I would be disappointed and I think he visibly was!
The qualifying times at the 2014 Austrian Grand Prix indicate that Formula1 cars are only a second slower than the ones used in the 2003 edition (V10s), which isn't too bad for the sport. Although, the FIA does seem to have gotten more stringent on their policing of the 'white lines' that define track limits.
A number of drivers saw their laps deleted after crossing over the white line on the exit of Turn 8. While strict policing is good for the sport, I wonder why the kerb between Turns 6 & 7 (sweeping left / right sequence) wasn't as strictly policed! And in a way I am glad that it wasn't. Seeing the cars go quickly through that sequence with fast directional changes is fun!
While Williams and Massa are the talk of the evening, the team in the Mercedes garage would be wondering where they went wrong in today's qualifying session. Strange that despite having the fastest car on the grid, they gave away victory in the 2014 Canadian Grand Prix and lost pole position today.
Was Hamilton a bundle of nerves as he goofed up his first attempt in Q3? And did something break on his car under-braking for Turn 2 on his second attempt? Some bit of information from Mercedes is due. A good result is needed to keep him within reach of Rosberg's championship advantage. (Read: Hamilton Deals With A Nico And A 'Nico'le)
As for Rosberg, he seemed certain that he could've got pole had Hamilton's spin not resulted in yellow flags which ultimately required him to back off to avoid a penalty. And someone needs to tell Hamilton that he needs to put a lap time faster than Rosberg before spinning to bring out yellow flags and hamper Rosberg's attempt!!
The last fortnight (Canada and now Austria) has made me value Ferrari's Schumacher era and their dominance even more. All it takes is one small mistake to ruin a perfect weekend and Mercedes have had two back to back errors already! And no wonder they say that a Formula1 season can be long, very long. (I guess Sauber feel that too!).
Ricciardo, Magnussen and Kvyat were the other drivers that impressed yet again as they managed to out-qualify their more experienced team-mates. In Ricciardo's case, this is the 6th time in 8 races where he's out-qualified his quadrule World Champion team-mate! Some soul (and speed too?) searching needed for Vettel!
In tomorrow's race, I expect Mercedes to win and given their starting positions Rosberg has a better chance than Hamilton. And I am relishing the prospect of seeing Hamilton climb his way back to the podium. For those wondering if Williams can hold positions in the race tomorrow, it'll be interesting to note that on super-softs, they are evenly matched in pace with the Mercedes, but on softs, the German team is probably quicker over the one-lap and over a race stint.
But, I will be disappointed if either of the Williams don't make it to the podium. Given FP times, I expect the Ferrari (Alonso in particular) to be quick enough to challenge for the podium and hopefully the Sahara Force India's too. Will Renault's power deficit hamper a Ricciardo challenge for the podium?
And in the race, I expect the pit-lane entry to stir up a controversy given that it hogs the apex of the super quick Turn 8. Also, will track limit be defined for attacking and defending tomorrow? I hope the FIA's ambiguity in this matter doesn't influence a good racing result. All in all, I expect a power packed race tomorrow, so tune in!
Qualifying Results:
Felipe Massa
Valtteri Bottas
Nico Rosberg
Fernando Alonso
Daniel Ricciardo
Kevin Magnussen
Daniil Kvyat
Kimi Raikkonen
Lewis Hamilton
Nico Hulkenberg
Sergio Perez
Jenson Button
Sebastian Vettel
Pastor Maldonado
Jean Eric Vergne
Romain Grosjean
Adrian Sutil
Esteban Gutierrez
Jules Bianchi
Kamui Kobayashi
Max Chilton
Marcus Ericsson
Hear our pre-Austrian GP episode of the Inside Line F1 Podcast: 
The Inside Line F1 Podcast is now available on various platforms and I would urge you to choose your platform to listen to the humour that we add to the otherwise serious and complex sport of Formula1. And while our podcast frequency is weekly, come 'like' the Inside Line F1 Podcast on Facebook and on Google+ for far frequent updates on the humour in the world of Formula1.
If you are an Apple user, you can subscribe to the Inside Line F1 Podcast on the iTunes Podcast Store or via our RSS feed (for Android/Windows/Blackberry users).
The Inside Line Formula1 Podcast is produced and hosted by Rishi Kapoor and Kunal Shah. Follow us on Twitter and on our Soundcloud, Spreaker, MixCloud and YouTube channels.