Nico Rosberg clinched his 6th pole position of the 2014 Formula1 Season. But that was sort of expected after Lewis Hamilton's Mercedes caught fire minutes into the session due to a suspected fuel leak. Failing to set a qualifying time, the British driver would need to start tomorrow's race from the back of the grid or from the pit-lane, which was the sensible decision the team took last weekend too in Hockenheim. (Read: 2014 F1 Season: Has The Dust Settled Yet?)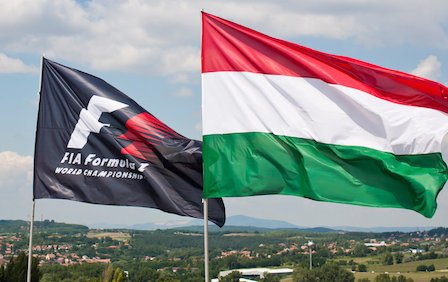 However, Hungaroring isn't a Hockenheim, it is more a Monaco, where starting position is crucial and overtaking is almost impossible. While I am dreading a processionary race tomorrow, Hamilton is dreading and mentally prepared to lose 20 points or thereabouts to his team-mate in the Drivers' Championship. Funny that in a year where the fastest driver is in the fastest car, he is chasing down a fellow rival, who is his team-mate.
Hamilton has suffered in qualifying in the last few races. Driver errors got the better of him in a few sessions and the last couple were lost to mechanical gremlins. Has Hamilton sorted his head out yet as he prepares for one of his fiercest title battles, one wouldn't know. But certainly, Mercedes need to sort out their mechanical issues. It would be unfair to settle this year's championship on the basis of car reliability, but what's worse is robbing the fans from witnessing a classic Hamilton vs. Rosberg duel like we did in a few races earlier in the year.
And while Hamilton fans mop over his second consecutive mechanical issue (and cook up yet another sabotage story), Rosberg deserves credit yet again. In changing conditions, he managed to keep calm and string a perfect qualifying lap in Q3 to qualify ahead of Vettel and Bottas. What was fun were his candid comments on missing a clean battle with his team-mate for pole! I don't know if he meant it, but I certainly do!
Q1 is certainly where the action has been this season as we saw Raikkonen exit too. Ironically, he was bumped off by Bianchi (P16!), who I believe has done enough to bump off the Iceman and claim his cockpit! A sign of times to come for Ferrari? And while Raikkonen has been 'blaming' Ferrari for their decision to not run again in Q1, I think the Finn needs to wonder (and ponder) why he didn't put a lap time as quick as Alonso in his first attempt itself! And for those who like their statistics, Raikkonen has scored seven podium finishes in Hungary. Is this is the last we see of Raikkonen? But Ferrari is known to hold on to their drivers long past their 'use by' date! (Read: Ferrari, Alonso, Raikkonen, 2014 And Beyond)
In the build-up to the 2014 Hungarian Grand Prix, there was an interesting observation that social media followers shared. Every time Hamilton has won here, Raikkonen has come second. I guess Raikkonen followed him off in Q1 to just keep up with the tradition! Podium would be a tall order for both the drivers tomorrow.
The lack of long straights allowed Red Bull to close the gap between themselves and Mercedes and Williams in this case. Vettel should be able to run a strong race tomorrow but wouldn't be in a position to challenge Rosberg for victory. And it was surprising to see crowd cheer as Vettel claimed provisional pole! (Read: Has Formula1 Given Formula E A Chance?)
Bottas is possibly the most 'complete' Finnish driver and I mean from a media point of view as well. His pace has never been in question and he is as good as finishing whatever is left of Felipe Massa's career. What's best is that he is audible in the media conferences!
Alonso qualified 5th in his Ferrari and this is his 33rd P5 slot! Ferrari seem to be the fourth fastest team in Hungary, which means that fans will be treated to yet another dose of Alonso magic as he tries to salvage the Scuderia's forgetful season! And there is speculation that Ferrari's position of fourth in the Constructors' Championship actually opens up the 'exit clause' in the Spaniard's contract!
Kevin Magnussen made a rookie error in Q3 as he misjudged the grip levels at the entry of Turn 1 and skid off into the barriers. A change of gearbox means an added penalty and the team has decided to start him from the pit-lane. Interestingly, in the World Series by Renault last year, Magnussen started 16th and finished 2nd in the wet.
But that isn't Mclaren's most interesting story this weekend yet. It is about Jenson Button's contract extension which is yet pending. If you were Ron Dennis, would you re-sign the 2009 World Champion for yet another season?
And a special mention to Sauber's Adrian Sutil who finally had a session where he could showcase his talent. His P12 was ahead of Sahara Force India's Perez (who had a hydraulic issue) and the Lotus cars of Grosjean and Maldonado. But can he score for Sauber and end their longest drought of championship points?
 Qualifying Results:
Nico Rosberg
Sebastian Vettel
Valtteri Bottas
Daniel Ricciardo
Fernando Alonso
Felipe Massa
Jenson Button
Jean Eric Vergne
Nico Hulkenberg
Kevin Magnussen
Daniil Kvyat
Adrian Sutil
Sergio Perez
Esteban Gutierrez
Romain Grosjean
Jules Bianchi
Kimi Raikkonen
Kamui Kobayashi
Max Chilton
Marcus Ericsson
Did Not Qualify:
Lewis Hamilton

Pastor Maldonado