Mark Webber finally managed to get his pole dance moves right as he was the only driver to enter the 1min 30sec barrier and clinch his first pole position of the 2013 Formula1 Season. In contrast, Vettel has secured 6 pole positions already and has out-qualified the out-going Australian 14-1! Now there's one of the reasons why I keep saying 'Helmets Off To Vettel'.
And just to keep things in perspective, like the Aussie driver put it in the post-qualifying conference, his pole position does seem a little 'hollow' as Vettel drove in Q3 minus KERS. In a mathematical context, Webber >= Vettel – KERS > All others with everything! Yeah, maths hasn't always been my strong subject, so ignore my error, if any!
The 2013 Japanese Grand Prix weekend has seen many accidents on track as drivers spent time learning, adapting and setting up their car to the circuit. And during qualifying, the 'under-fire' Gutierrez's car caught fire in his garage, while Vergne's Toro Rosso had his rear brakes over-heating to cause a small fire with lots of smoke; enough to cause a Red Flag in Q1. And this is where fans waited to see if the 'Fire Car' would make an appearance yet again; after all, 23 cars went racing in Korea…
The big disappointment of qualifying for me was Adrian Sutil, known to be a Suzuka specialist. After a crash in FP3, which led to a gearbox replacement and subsequent 5-place grid penalty, the German got eliminated in Q1 and will start the race from the back of the grid. The BIG faith that the driver and his fans can keep is that Sahara Force India have helped Paul Di Resta recover from similar situations earlier this year.
The 'Driver of the Day' for me would be Max Chilton, who finally 'max-ed' his car and outqualified not just his illustrious team-mate Jules Bianchi, but both the Caterhams too. It would be something (and will help seal a cockpit for the 2014 Formula1 Season) if he manages to beat them in the race as well!
And it was the day for the 'number 2' drivers in the team as Webber, Massa and Grosjean managed to out-qualify their World Champion team-mates with ease. Alonso and Raikkonen would certainly be disappointed with their P8 and P9 positions for tomorrow! What could make things worse is that they've got a Nico Hulkenberg to overtake en route to scoring big points and a possible podium!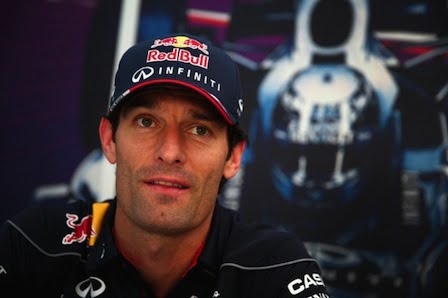 Should Vettel's KERS issues be solved before the race tomorrow, he is certainly the favourite to win. Will the slow-starting Webber lose the lead at the first corner itself? And given the race simulations in practice, the Lotuses look extremely strong too and could probably spring a surprise or two; possibly a double podium yet again?
Also, while Vettel wasn't boo-ed in Korea, will he be boo-ed in Suzuka? Or will we have a new face on the top step of the podium after all?
What are your predictions?
Qualifying Results:
Mark Webber
Sebastian Vettel
Lewis Hamilton
Romain Grosjean
Felipe Massa
Nico Rosberg
Nico Hulkenberg
Fernando Alonso
Kimi Raikkonen
Jenson Button
Sergio Perez
Paul Di Resta
Valtteri Bottas
Esteban Gutierrez
Pastor Maldonado
Daniel Ricciardo
Adrian Sutil
Jean Eric Vergne
Max Chilton
Charles Pic
Giedo Van Der Garde
Jules Bianchi
Hear the pre-Japanese Grand Prix episode of the Inside Line F1 Podcast. And for those of you who missed Apple's tribute to Sebastian Vettel, do hear it on our previous episode: iPhone5S-ebastian.