Mercedes AMG Petronas should've clinched yet another 1-2 in the qualifying session of their home Grand Prix in Hockenheim. However, it was 'German Engineering' that let Lewis Hamilton down again with a brake failure that spun the British driver in the barriers with an impact that measured up to 30Gs! It is surprising that while fans and most in the Paddock think that Mercedes have it easy this season, they too seem to be pushing their machinery on the limit in every session, which of course is good to know.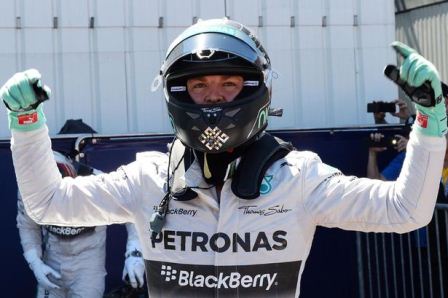 With Hamilton being forced to accept a P16 on the timing sheets, there was little doubt that Nico Rosberg would clinch pole position and he did. However, it wasn't a walk in the park as it has been in the earlier half of the season. Whether this is due to the FRIC ban or the high track temperatures one wouldn't know. I would expect the German-Finnish driver to claim race honours tomorrow and extend his lead in the Drivers' World Championship.
As for Hamilton, today's GP2 race result, where Mitchell Evans won the race from P15, should motivate him further to charge up the grid, which I am sure will be a sight to watch. And I am slightly disturbed by the conspiracy theorists who think that Mercedes purposely fitted faulty brake pads on Hamilton's car! Aside from the controversy, there's a discussion that the team is considering to ditch the Brembo brake pads and switch to an alternate supplier. I wouldn't be surprised if they did so given that the failure happened only in the 5th lap of the qualifying session. Fans should know that teams would put on fresh brake pads pre-FP3 and expect them to last till the end of the race.
Should Mercedes decide to change the brake pads, Hamilton's car will need to start from the pits given that it would mean a change in car configuration post-qualifying. If it ensures the driver's safety, I am sure that the team will exercise the option. And luckily they have the pace advantage over the field to do so.
Williams looked the best of the rest yet again as they claimed P2 and P3 with Bottas out-qualifying Massa. Will Massa join Raikkonen and Button as the list of drivers who could be replaced in 2015? I expect the movements in the driver market for 2015 to get more exciting than the Mercedes vs. The Others battle we are witnessing.
The pace difference between Mercedes and the rest seemed the least amongst all races concluded yet. Does this mean that Williams could challenge Rosberg in the race tomorrow? I wouldn't think so, but I do hope that their pit-wall allows their drivers a fair chance to fight in the pit-stops by coming up with an aggressive tyre strategy.
Ferrari and Red Bull Racing have a chance to score a podium tomorrow with rain expected and even though Button could only manage a P11, I would keep a watch out for him. The other driver who could do with some rain advantage is Nico Hulkenberg who qualified ahead of Perez in P9.
While the TV broadcast didn't focus much on him, my 'Driver of the Day' would be Daniil Kvyat who out-qualified his much experienced team-mate Vergne to P8. It is always heartening to see young drivers do well and this holds true for Ricciardo and Magnussen who also qualified ahead of their World Champion team-mates.
Bianchi's performance needs a highlight as much Raikkonen's dismal one. The French racer qualified P18 and ahead of a Lotus (of Maldonado) who claimed that the FRIC ban has affected their performance drastically. Raikkonen looked completely out of sync with his car as he struggled to P12. Are Ferrari already considering a replacement this early in the Iceman's second stint with them? I would think so!
Qualifying Results:
Nico Rosberg
Valtteri Bottas
Felipe Massa
Kevin Magnussen
Daniel Ricciardo
Sebastian Vettel
Fernando Alonso
Daniil Kvyat
Nico Hulkenberg
Sergio Perez
Jenson Button
Kimi Raikkonen
Jean-Eric Vergne
Esteban Gutierrez (penalty applicable)
Romain Grosjean
Lewis Hamilton
Adrian Sutil
Jules Bianchi
Pastor Maldonado
Kamui Kobayashi
Max Chilton
Did Not Qualify